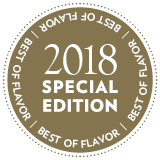 Classic Beef Rossini gets a modern makeover at DB Bistro Moderne, Daniel Boulud's New York restaurant serving traditional French bistro fare with updated twists. The main components of Beef Rossini—beef, foie gras and truffles—are taken to new heights in Executive Chef Chris Stam's popular rendition.
He begins with a 7-oz. pan-seared filet mignon that's sliced and served over pommes lyonnaise. "The sweetness of the caramelized onions and potatoes complement the meaty beef flavor," says Stam.
The tenderloin is topped with pan-seared foie gras, fresh-shaved Périgord truffles, and a beef jus featuring red wine and truffle. "The foie gras and truffles perfume the dish, as well as lend the gamey buttery notes everybody loves in this dish," he says. "The truffled beef jus rounds it all out by having a little of all the flavors concentrated into a few drizzles of sauce."
A side of creamed spinach is accented with Parmesan and fresh horseradish. Beef Rossini is a great dish to riff on—Stam has swapped the creamed spinach for carrots roasted in bone-marrow butter, and substituted pommes lyonnaise with deep-fried pommes dauphine.
"As long as you stick to the main three—filet mignon, foie gras and truffles—your options are pretty limitless," says Stam.