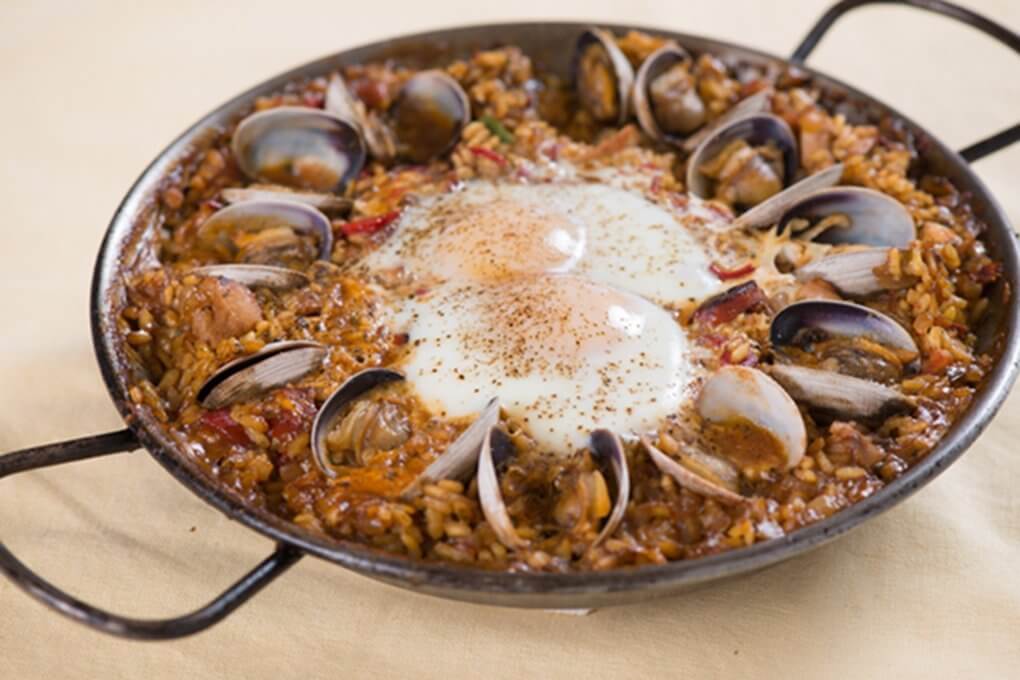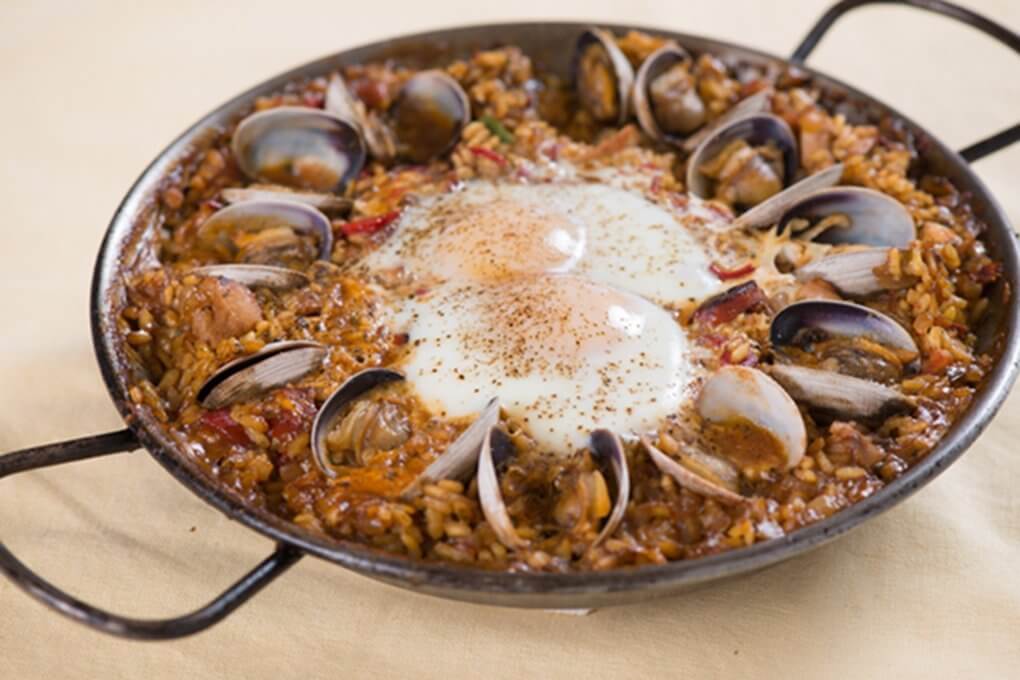 This paella with shirred eggs is an example of how dinner dishes are showing up at breakfast and egg dishes are growing dramatically on dinner menus. Many consumers are searching for culinary adventure and this paella delivers — providing an intriguing backdrop for eggs and showcasing their considerable versatility. Adding eggs to paella increases its protein and gives you an appealing signature dish for your menu. Breakfast, lunch or dinner, this hearty paella is sure to be a hit with your guests.
INGREDIENTS
1/4 cup extra-virgin olive oil
1/2 lb. chorizo sausage cut into 1/4″ slices
1 lb. chicken thighs
1 teaspoon salt
1/2 teaspoon ground black pepper
1 cup yellow onion small dice
2 tablespoons garlic minced
3 tablespoons Italian parsley minced
2 cups tomato medium, dice
1 tablespoon tbsp. tomato paste
2 cups Arborio rice
2 bay leaves
1 tablespoon rosemary chopped
1 tablespoon sage chopped
1 teaspoon saffron threads
1/4 teaspoon crushed red pepper
6 cups chicken stock warm
1/2 cup roasted red peppers peeled, diced
1 lb. clams cleaned
8 eggs
Maldon salt as needed
Olive oil as needed
Garnish
Lemon wedges as needed
Cerignola olives as needed
INSTRUCTIONS
Preheat the oven to 400º F.
In a large paella pan over medium, heat olive oil. Add chorizo sausage and sauté until brown. Remove and reserve. Add the chicken thighs and cook on both sides until nice and brown. Remove and reserve, and season with salt and pepper.
In the same pan, sauté the onion and garlic until soft and starting to color, then add the parsley and cook for another 2 minutes. Add the tomatoes and cook until the mixture develops a nice color and most of the water from the tomatoes cooks off, about 3 to 4 minutes. Add the tomato paste, bay leaves, rosemary, sage, saffron and crushed red pepper and cook another few minutes.
Sprinkle the rice over the mixture and stir-fry to coat the rice grains. Add the chicken stock and bring to a simmer for about 10 minutes to absorb the liquid; move the pan and stir so that the rice cooks evenly.
Add the cooked chorizo, chicken and peppers and bring to a simmer; add the clams. Cook another 4 to 5 minutes or so to let the clams open up.
Crack the eggs in the center, sprinkle with salt, pepper, and olive oil, and place in the oven for about 8 to 10 minutes to cook the eggs.
Let the paella stand for 5 minutes.
Serve the paella in bowls. Garnish with the lemon wedges and olives.
RECIPE NOTES
Courtesy Of American Egg Board