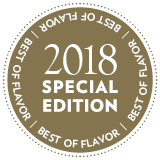 At Pistache French Bistro, Chef de Cuisine Isaac Cerny creates a unique, multilayered flavor experience with his Grilled Venison Tenderloin. In fact, it has become one of the most successful plates on the menu.
The venison, after having been marinated in whole-grain and Dijon mustards, is coated with toasted juniper berries, Demerara sugar, orange zest and clove.
Caramelizing on the grill, the crust provides sweet, floral and slightly bitter notes that complement the venison's naturally strong flavor.
The tenderloin is served over butternut squash purée, roasted mushrooms, sautéed snow peas, caramelized pears and a red currant jus.
The dish is a favorite among Pistache's patrons. "It's one of our best-selling items because it is unique and inspired," says Cerny. "People are surprised how good this dish is when they try it." The venison tenderloin has sparked innovation on Cerny's menu.
"The success of this dish allows us to try out additional recipes using more uncommon products," he says. "These types of dishes add a dimension to the menu that people are looking for."