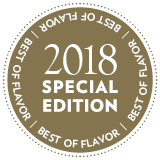 As poke continues to prove itself as a sustaining trend, innovation and interpretation mark the next opportunity. By playing with poke's format and flavor, operators are capitalizing on its momentum and giving it a signature spin.
Sujan Sarkar, Executive Chef at Indian bistro Rooh, does just that by offering the Tuna Bhel, a craveable Indian-inflected poke. "This is one of our best-selling items on the menu and is very well received by customers," says Sarkar.
Inspired by bhel puri, a traditional Indian chaat made from puffed rice, vegetables and tamarind sauce, Sarkar developed the Tuna Bhel to build on that flavor system. Fresh ahi tuna is mixed with crispy puffed black rice, crunchy fried sev (chickpea snack), boiled potatoes, red onion, green apple and green mango, baby radish and avocado. This robust medley of ingredients is seasoned with chaat masala, togarashi and chutney. The dish is an artful display of balance in flavor and texture.
"Sweetness comes from tamarind and date chutney, sour from green mango and green apple, salt from chaat masala and pungency from radish, cilantro and mint chutney," says Sarkar. As for texture, "creaminess comes from tuna and avocado, crunch from sev, green apple, radish and puffed black rice."