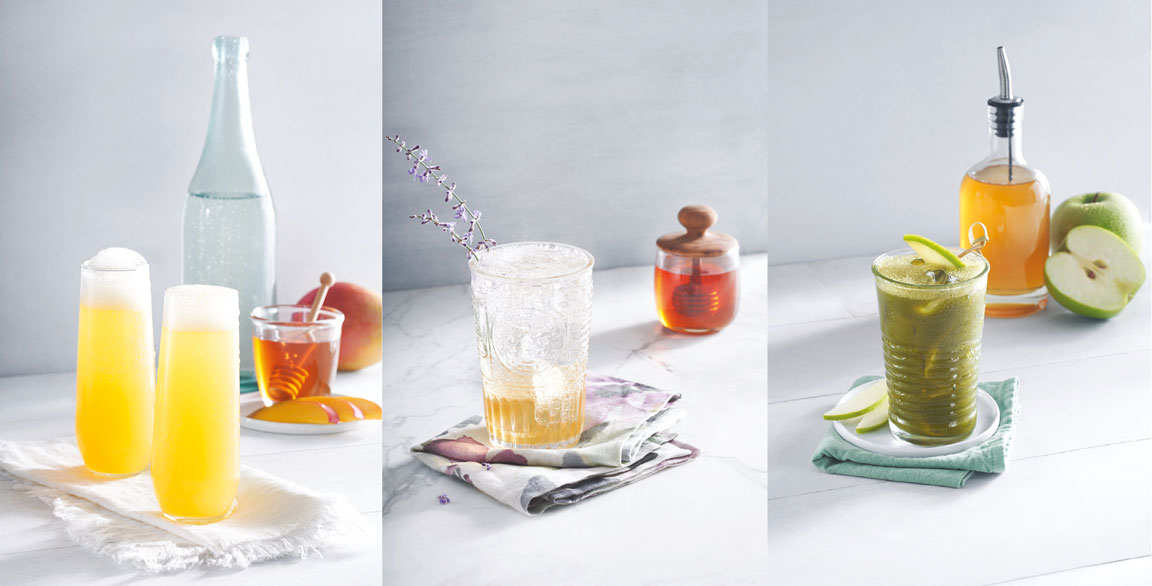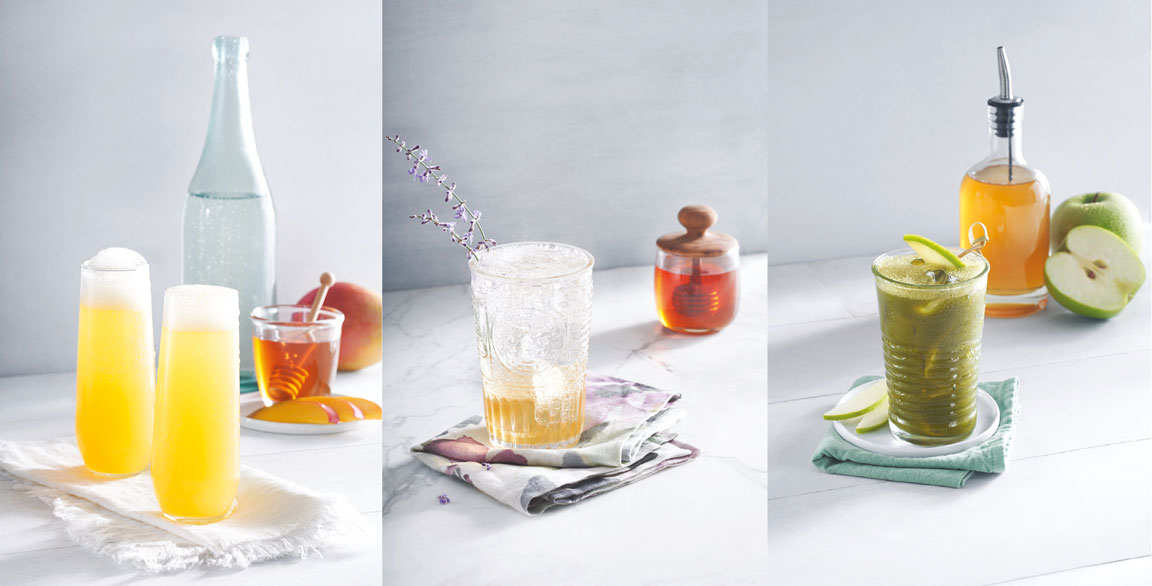 By Flavor & The Menu
September 4, 2020
Honey bees are an integral part of the food system, playing a major role in the pollination of fruits, vegetables, nuts, spices, and more. To showcase the special connection between honey bees and beverage ingredients, the National Honey Board tapped master mixologist Kim Haasarud, founder of Liquid Architecture beverage consultancy, to develop a series of on-trend beverages made possible by the honey bee. Featuring all-natural honey simple syrup and a bevy of fresh ingredients, these drinks are poised to resonate with guests from a flavor standpoint as well as a storytelling perspective.
"When one thinks of bees and pollination of agriculture, most people think of food that we eat, not necessarily ingredients used in drinks and cocktails," says Haasarud. "This particular collection highlights popular ingredients that bees make possible through pollination." With consumers more focused than ever on what they are consuming and how it impacts the planet, these drink builds provide the perfect opportunity for operators to connect with guests by telling the story of hard-working honey bees and how dependent we are on the fruits of their labor.
Of course, honey bees are best known for producing all-natural honey – increasingly featured on beverage menus and as a substitute for granulated sweetener in simple syrups. Plus, says Haasarud, honey offers a unique way of looking at regionality and seasonal ingredients. "One of the amazing things about honey is the sheer number of varietals, how different they are, and how they can enhance existing flavors in fruits, vegetables, juices and spirits," she says.
Thanks to the efforts of tiny pollinators, beverage developers can set their menus apart by featuring these drinks that carry a "better for you, better for the planet" sensibility.
PLAYING UP POLLINATION
11 Trend-Forward Beverage Builds for Today's Menus
Haasarud's creative beverage development not only leverages the versatility of honey and relies on its positioning as a natural sweetener, but highlights other ingredients in the drink that are part of the pollination process.
1. Honey Mango Mimosa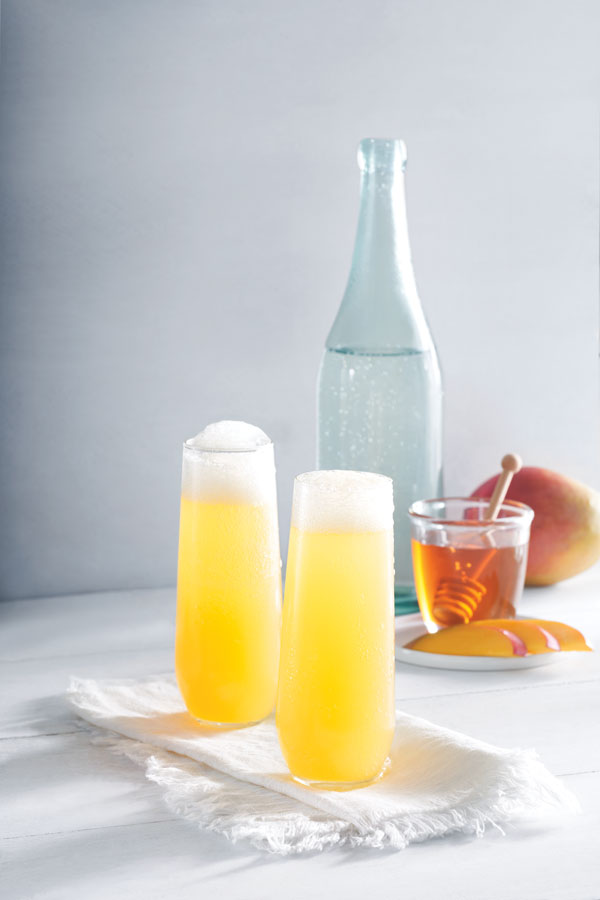 Mango groves are one of the many places that bees thrive, and they help pollinate the fruit and other produce grown nearby. In this tropical twist on a classic mimosa, Haasarud combines Aperol or Campari with mango nectar, orange juice and housemade orange blossom honey simple syrup in a shaker with ice, strains it, then tops it with prosecco. For a zero-proof version, she suggests omitting the Aperol or Campari and swapping in club soda for the prosecco. If a "fluffier" drink is more suited for the menu, Haasarud recommends blending all of the ingredients with one or two ice cubes before adding prosecco and serving over ice.
2. Honey Lavender Fizz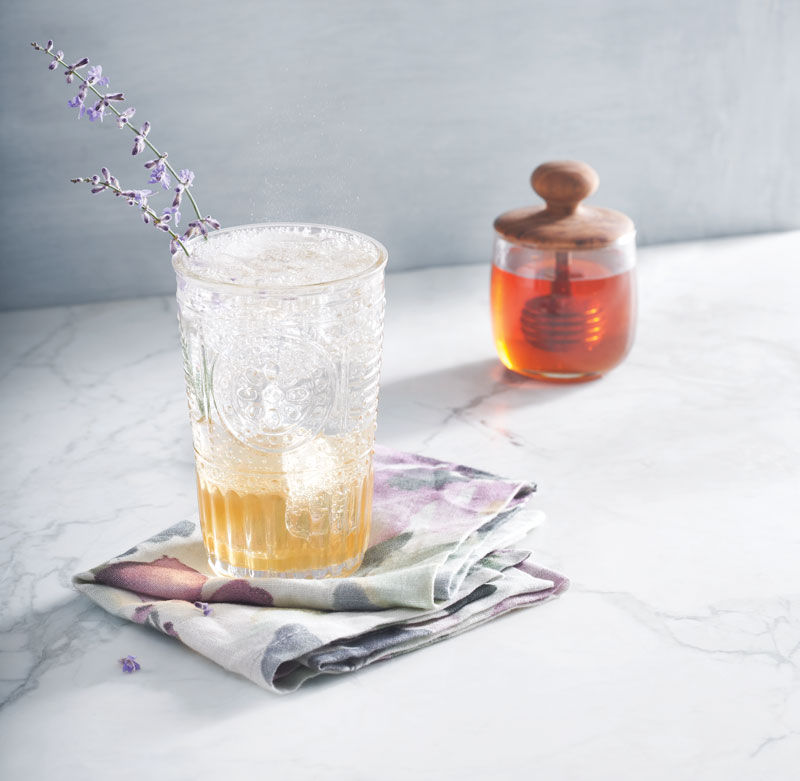 Bee-friendly plants, such as lavender and other herbs used on menus, help support the hard work of the small but mighty pollinators. For this herbaceous drink, Haasarud draws the connection between the honey produced by honey bees and the lavender that aids in their ability to thrive. She pairs the two by simmering wildflower honey with water and lavender sprigs to make a versatile honey lavender simple syrup, which can be made in advance, bottled and refrigerated until needed. Once that's made, this easy-to-execute drink combines equal parts of the honey lavender syrup and club soda over ice, with the optional addition of blanc vermouth.
3. Honey CocoBerry Cooler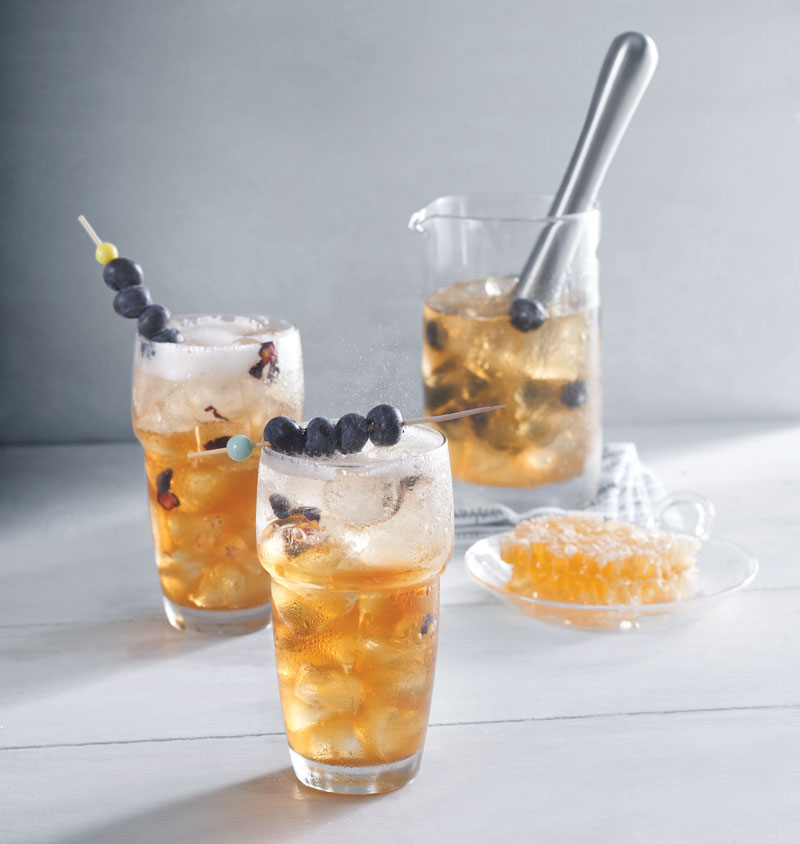 Blueberries, a key ingredient here, rely heavily on honey bees to pollinate their plants. In an ode to the hard work done by these tiny pollinators, Haasarud muddles fresh blueberries with a wildflower honey simple syrup (made by dissolving 2 cups of wildflower honey in 1 cup of water), then adds coconut water and tops with ice before shaking vigorously. She strains the drink into an iced glass and tops it with a splash of club soda before garnishing it with fresh or frozen blueberries for an eye-catching finish.
4. Honey Hibiscus Spritzer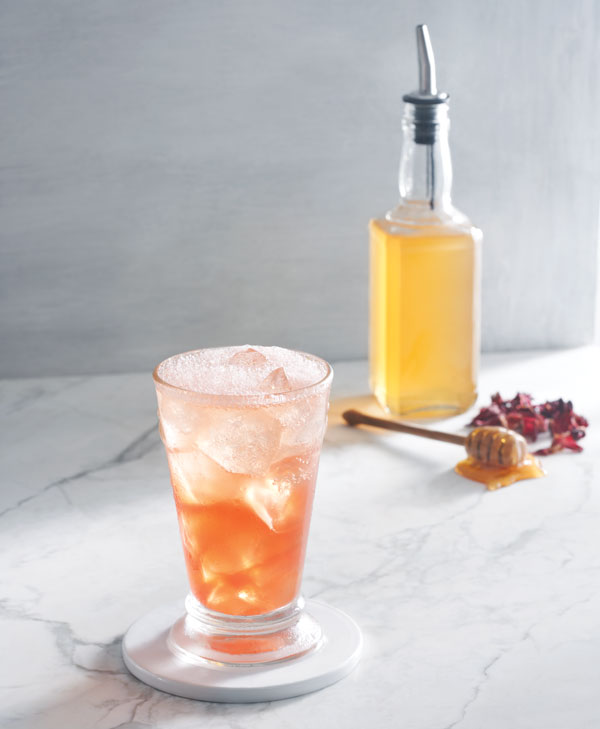 Honey bees are of course fond of flowers. For this cocktail, Haasarud taps into two flowers beloved by pollinators—hibiscus and orange blossoms. To create a honey hibiscus simple syrup as the base for the drink, she combines and steeps hibiscus flowers, hot water and orange blossom honey. Once strained and chilled, the honey hibiscus water is poured in a tall class with ice, topped with club soda, and garnished with an attention-grabbing hibiscus flower that'll make guests think back to the garden where bees are hard at work.
5. Honeymelon Cooler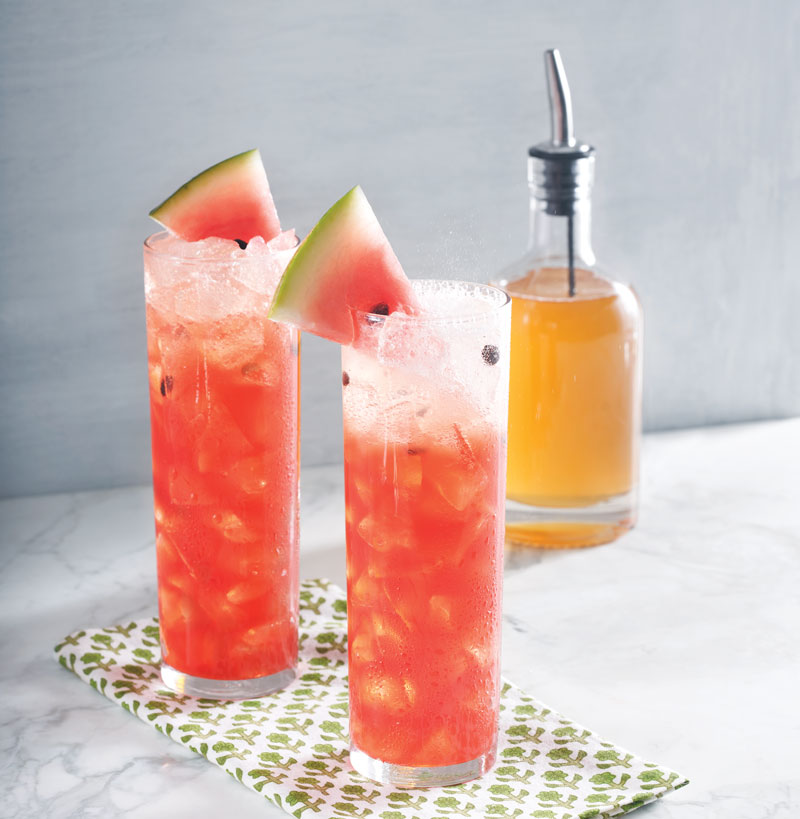 For a fun summertime cocktail with a pink hue, Haasarud combines fresh watermelon juice with a housemade wildflower honey simple syrup and club soda. Honey bees collect nectar from a range of floral sources, including wildflowers, to produce different types of honey. In their efforts to sustain themselves and support our ecosystem, they also pollinate flowering plants which produce many of our favorite ingredients, including watermelon. To highlight the melon that was grown with the help of honey bees, the cocktail is garnished with a slice of watermelon and watermelon candy seeds.
6. Golden Pineapple Soda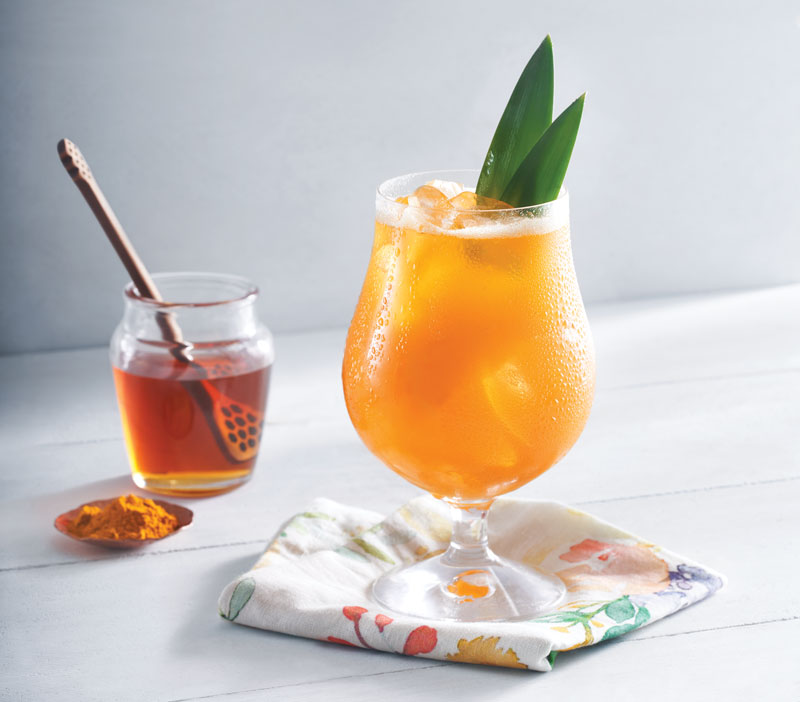 Fresh pineapple juice, clover honey and ground turmeric make this a standout nonalcoholic offering. Haasarud blends the ingredients on high with two ice cubes, pours it into an ice-filled glass and tops it with club soda. To add a bit of depth to the honey story here, beverage developers can share with guests that while clover honey is the most commonly made honey in the United States, it still varies in color based on where the clover plant is grown and what type of clover it is.
7. Green with Envy Honey Splash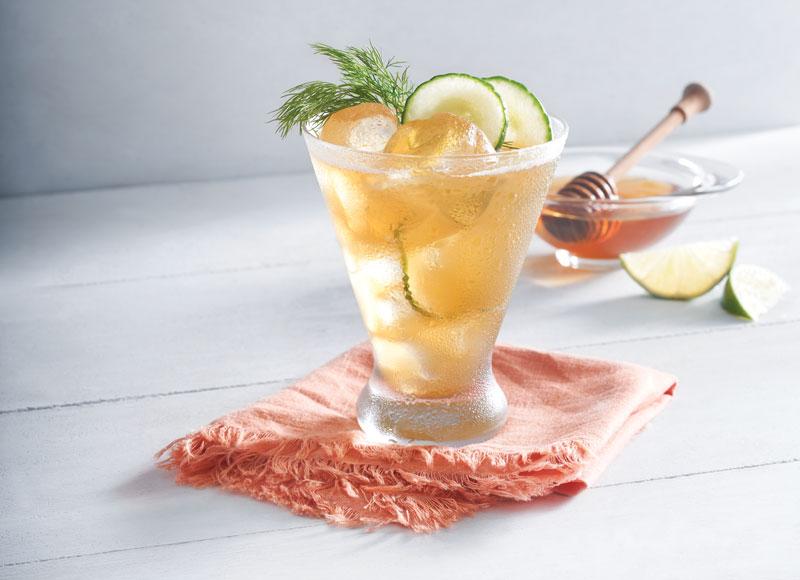 Showcasing the greener side of honey bees' efforts, this beverage highlights the cucumber, a member of the gourd family, made possible through pollination. Haasarud makes a honey green tea syrup (2 cups of honey dissolved into 1 cup of hot brewed green tea), muddles cucumber slices and pollinator-friendly dill with the chilled syrup, adds lime, tops it with ice and shakes it. As a nod to its "better-for-you" and even savory appeal, the drink is garnished with cucumber slices and a dill sprig.
8. Matcha-Honey Refresher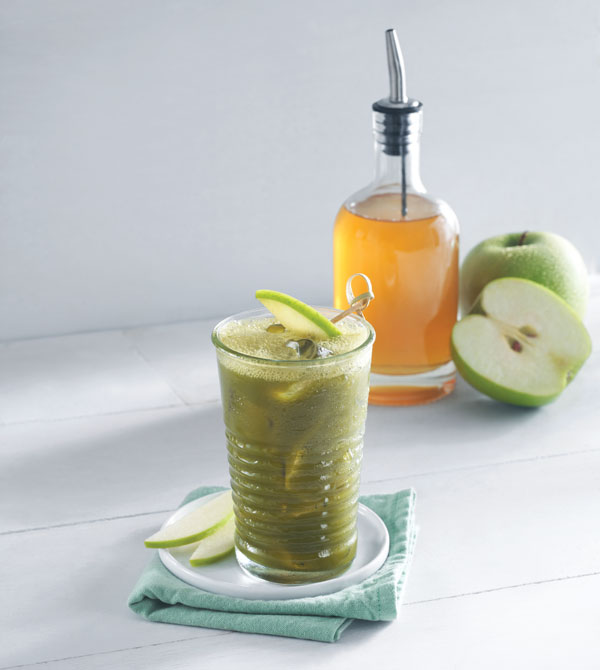 For this fall-inspired beverage, Haasarud begins by dissolving alfalfa honey, a mild honey that's light in color, in hot water. Once cooled, she combines the alfalfa honey water with matcha tea powder, lime juice, apple cider and ice in a cocktail shaker, and serves it over ice. For a cocktail twist, beverage developers can add silver tequila. With the inclusion of apple cider, the drink puts an additional spotlight on apples, which honey bees play an essential role in pollinating and helping to produce.
9. Honey Coco-Cold Brew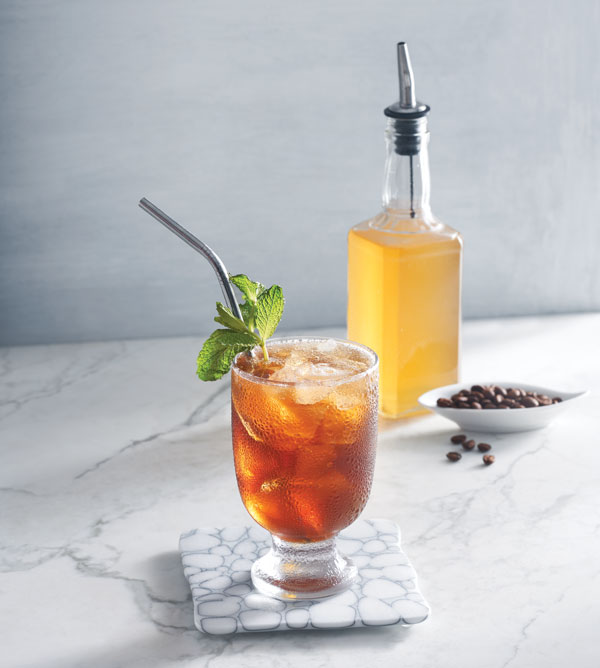 Coffee and cold brew cocktails are trending, and honey provides an all-natural, sustainable way to add just the right touch of sweetness to these drinks. For this recipe, Haasarud begins with a buckwheat honey simple syrup, made with this dark, full-bodied honey varietal (although any honey will do). She combines it with cold-brew coffee, coconut water and mint leaves, shakes, then strains it and tops the drink with a splash of club soda and a mint sprig to add freshness to the pick-me-up drink.
10. Honey Chai Delight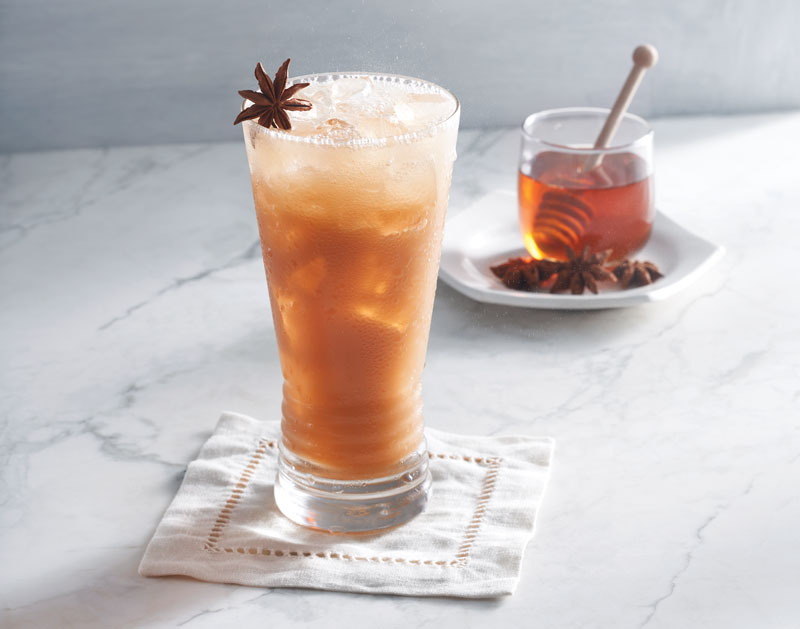 For a cocktail with a warmer profile that's ideal for winter months, Haasarud begins by making a chai honey (chai tea bags, clover honey and hot water). This flavor-packed infused honey is then combined with coconut milk and dark rum, strained, served over ice and garnished with star anise. For a lighter, fizzier version, beverage developers can also stir in club soda.
11. Honey Rose Blush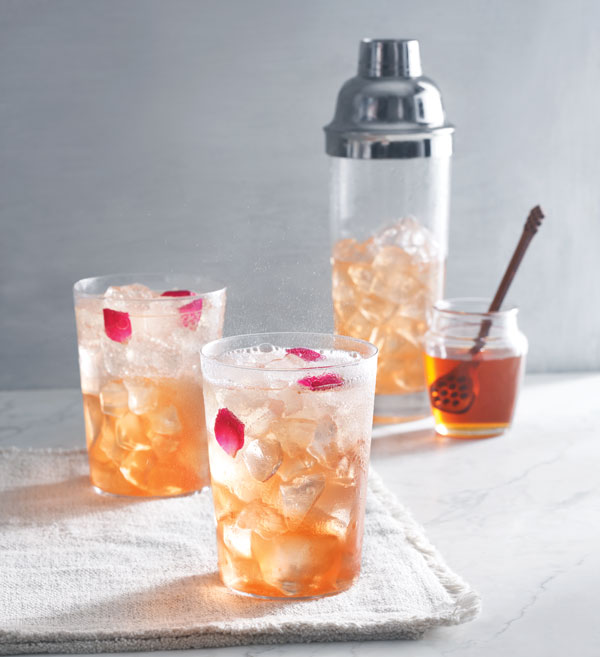 Citrus fruits and honey bees have a close relationship through pollination. Here, Haasarud celebrates that relationship by introducing orange blossom honey and lemon into this drink, along with floral notes from rose water. She begins by pairing orange blossom honey with rose water, heating them together until dissolved, then refrigerating the mixture. She combines this honey rose syrup with lemon juice and ice, shakes and strains it, then tops it with a splash of club soda and garnishes it with a rose petal or rose bud to accent the floral flavors in this refreshing beverage. Truly garden to glass, delightfully refreshing, and gorgeous to boot.
CONNECTIONS AND COLLABORATIONS
Haasarud emphasizes the value of promoting the connection between honey, bees, and pollination as part of beverage menus, especially among today's eco-conscious consumers. She encourages operators to consider using digital marketing strategies like QR codes, videos and social media engagement to help tell that story. Restaurants can also turn to partners who have deeper reach on the subject, such as the National Honey Board, to help amplify the narrative behind these recipes and encourage engagement through menuing and marketing collaborations and awareness campaigns.
For more information on bees and honey, visit honey.com, or contact Andrea Schepke, on the National Honey Board's foodservice team, at aschepke@ehy.com.