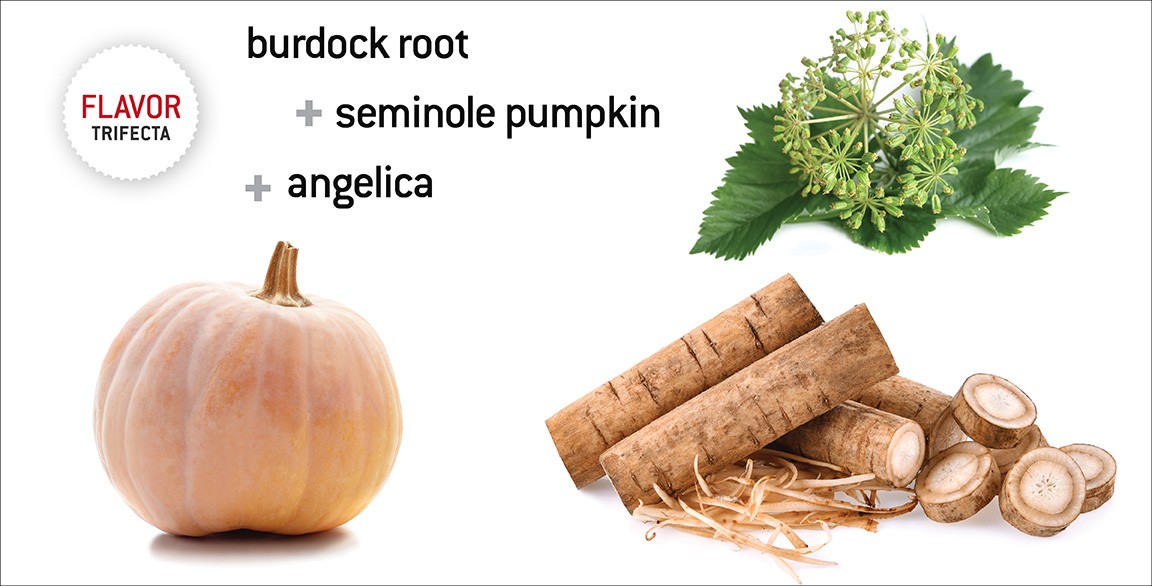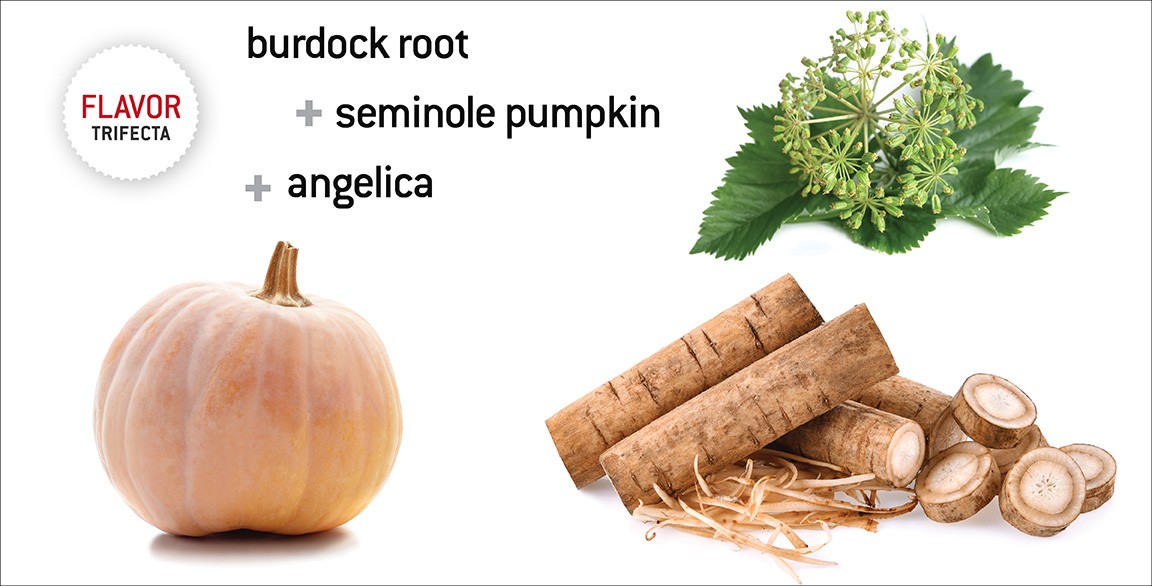 When we asked John J. O'Leary, director of culinary operations and executive chef of the Wee Burn Country Club in Darien, Conn., to share a trio of flavors that inspires him, he took us back in time. "It's a fun journey into the past, which can be the best part of a meal—to experience something unexpected and unknown, but in some ways so familiar," he says.
The three ingredients O'Leary chose—angelica, burdock root and Seminole pumpkin—each carry intrigue. When whipped into a trifecta, something extra special happens. "The flavors emit a balance of earthiness reminiscent of kohlrabi and celery root and variations of sweetness," he says.
He discovered angelica years ago on the Isle of Sark in the Channel Islands. "It has a whole Dr. Seuss appearance to it as it blossoms. I originally thought I had found lovage growing wild and then cracked a branch and experienced a floral smell I had never encountered before," says O'Leary. "It provides a ridiculously unique citrusy and earthy flavor.
Burdock root is an intimidating, rough-looking root, but once you peel away a few layers, you find this vibrant, sweet texture in the core very similar to salsify, but much better."
To track down the elusive Seminole pumpkin, he worked with a farmer in Naples, Fla. "It's crazy that something so rooted in the history of Florida was so hard to find. They are never uniform in color or size, but the sweetness is unmistakable. And when is the last time you saw a pumpkin hanging out of a tree?" he says, referencing the Seminole people's clever practice of planting them below trees so the lengthy vines have a natural trellis.
To build the trifecta, O'Leary simmers the burdock root in vegetable stock infused with fennel wood, angelica and a little palm sugar reduced to a caramel. He confits the pumpkin in the oven with rendered chorizo fat, shallots and garlic, infusing a touch of heat from the spices released from the chorizo. "When the pumpkin is tender to the touch, we emulsify enough chorizo fat and honey to balance the flavors and create a smooth purée, then add toasted angelica seeds," he says.
The story behind the food is important to O'Leary. "It gives me the opportunity to bring diners on a journey where they can experience flavors that used to be the main food source for a community or tribe, like that of the Seminole pumpkin," he says. "So when cooked properly and eaten together in a thoughtful balance, it's a flavor bomb with so many recognizable flavor notes."