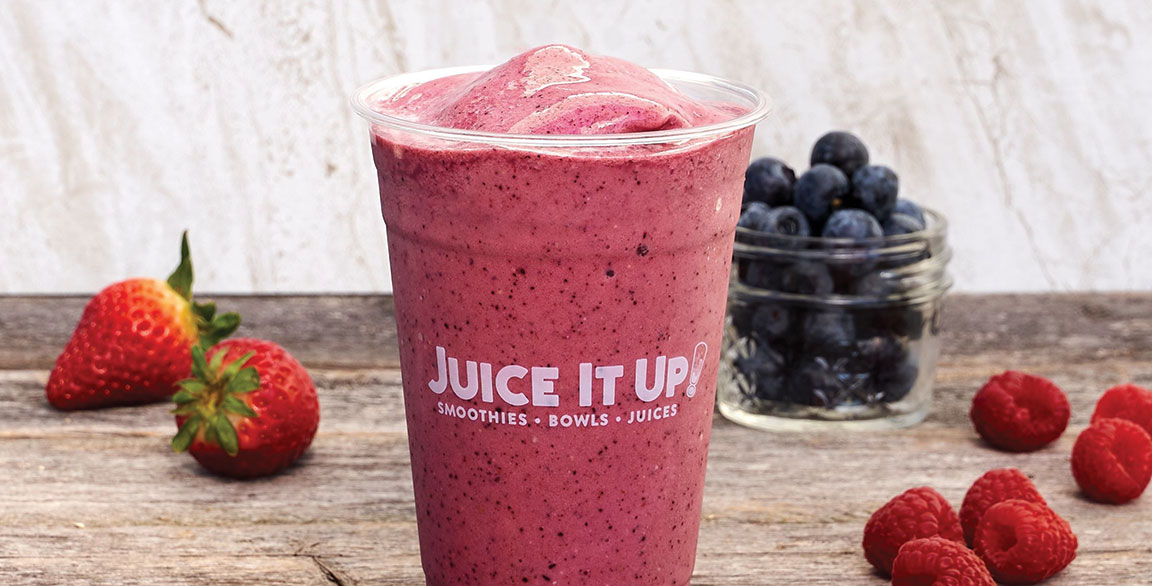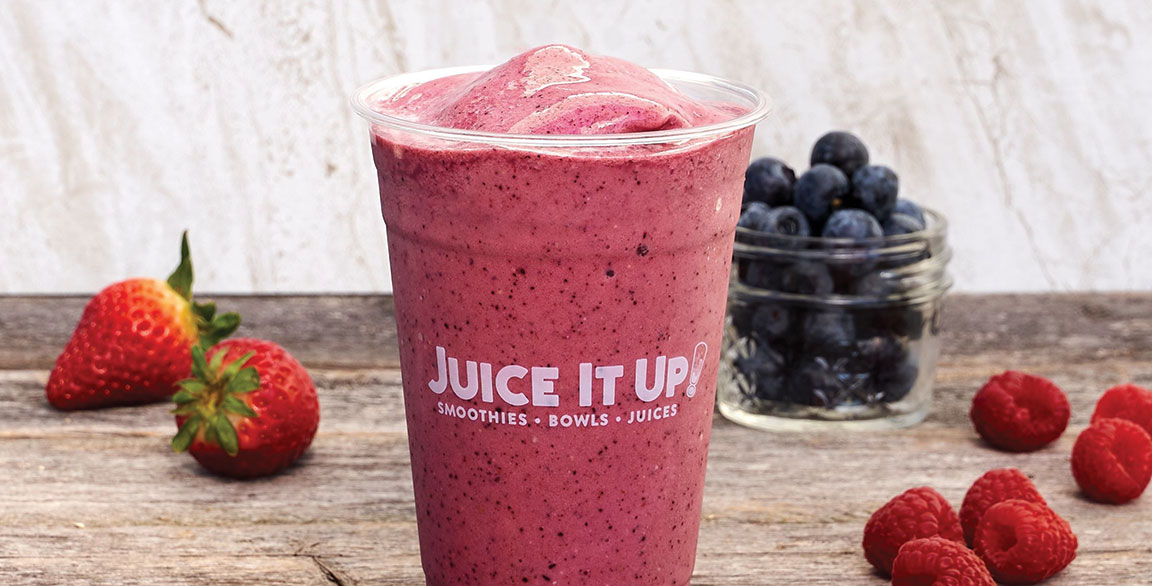 By Flavor & The Menu
September 13, 2020
Innovating can be tricky in a vacuum, but as we've seen time and again over the last few months, menu developers are both resourceful and tenacious. Noah Burgess is the director of R&D with Juice It Up!, a chain based in Irvine, Calif., that specializes in handcrafted smoothies, raw juices and superfruit bowls. Without being able to source new ingredients, conduct sensory panels or travel to trend-focused industry conferences, he looked to other sources for inspiration.
Burgess knew that customers facing these challenging times would be seeking out products with immunity-boosting benefits. He also knew that Juice It Up! was ideally suited to offer those benefits—packaged in flavorful smoothies, juices and bowls. That led him back to the challenges of innovating during isolation. "I created a mini R&D station in my house," he says. "I also decided to go back through our rich archives and look to the past to make something new." That review of winning flavor combinations in previously run limited-time offerings (LTOs), coupled with a reflection on brand learnings throughout the years, helped guide him toward a sound strategy designed for today's market.
Juice It Up! focused its messaging on helping consumers identify the most nutrient-packed products that could give them a natural immunity boost. "Our goal was to take the products that have been on our menu and educate the customer on how good they are for them," says Burgess. "We also brought back two powerhouses of nutrition—the Superfruit Smoothie and the Mighty-C Immunity Shot."
The former boasts 810 percent of the daily recommended amount of vitamin C, thanks to the inclusion of acerola, a Brazilian superfood. It also includes fresh ginger, banana, orange, pineapple and passionfruit juice. "It's all about nutrient density," he says. "And we can offer that in really delicious ways."
The Mighty C, last seen on the menu in 2016 as an LTO, has been pulled out of retirement and is now a permanent fixture. A welcome salve for these troubled times, it features pineapple, ginger, red grapes and lemon juice, promising to aid digestion and help absorb protein.
Powering Up
Juice It Up! is curating a list of its healthiest menu items for its customers—from handcrafted superfruit smoothies to immunity-boosting raw juice shots. Directing attention to those nutrient-rich beverages is a smart strategy, given the urgency in maintaining or achieving optimal health in the face of the pandemic. Although the brand is showcasing existing drinks and relaunching previously menued ones, it's also amplifying its wellness authority with its upcoming focus on protein as an immunity booster.
"We are highlighting protein as immune health," says Noah Burgess, director of R&D with Juice It Up! "It's vital in fighting viral infections. We think that's an important message to relay to our customers, and we want to offer it to them in a convenient way." Late this summer, the brand is rolling out a protein-based LTO lineup, leaning into protein's immunity-boosting benefits. "The flavors for our summer LTO are orange cream, raspberry cream and passionfruit cream. The 'cream' comes from the nonfat yogurt, and the customer will have a choice of one of our protein options: soy, whey or collagen," he says. "They're protein dense with light flavors for summer."
Burgess doesn't see this promotion as just a marketing push. As a food scientist and nutritionist, he's committed to health and wellness, looking to develop menu items that deliver micronutrients that promote health. "Flavor and functionality—that's the balance we look for, especially in today's world," he says.