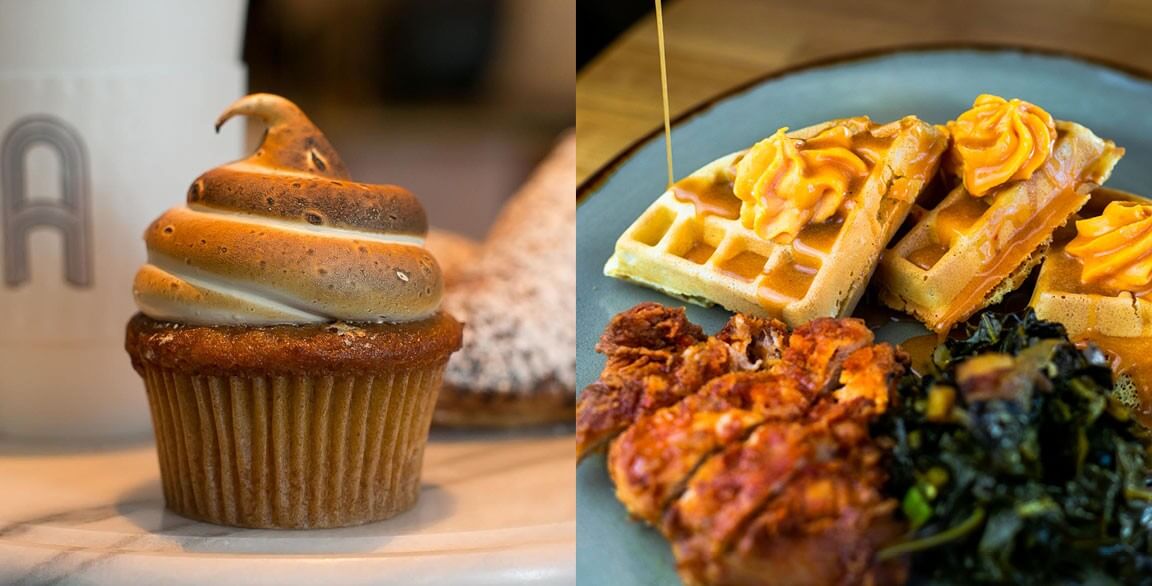 Although fall/winter superstars like pumpkin and beets command much of the limelight today, the humble sweet potato offers tremendous menu versatility and opportunity for inventive recipe development, while still serving up the nutrient density and gorgeous color that resonates with diners. Here are trend-forward applications that maximize sweet potatoes, creatively integrating them across the menu, via seven easy points of entry.
1

Toast

Toast builds continue to garner space on menus. Switch up the avocado with sweet potato and accentuate both savory and sweet applications.
Harvest Toast: Extra-thick sliced toast spread with caramelized sweet-potato hummus, topped with spiced apple butter and pomegranate seeds
24/7 Toast: Cinnamon-raisin toast spread with kaya jam, topped with roasted sweet potato slices
2

Pancakes/Waffles

These breakfast mainstays are experiencing an exciting wave of innovation, proving that they are ideal vehicles for flavor exploration. Add an enticing dimension via a sweet potato base.
Sweet Potato Campfire Pancakes: Sweet potato buttermilk pancakes topped with melted marshmallow, red miso-caramel drizzle and candied walnuts
Spicy Chicken & Sweet Potato Waffle: Sweet potato and pepper-Jack waffle topped with crispy chicken tenders tossed in "hot" maple syrup
3

Hash Browns

Brunch demands perpetual innovation and flavorful, crave-inducing introductions. Expand the use and appeal of traditional hash browns with sweet potatoes.
Roasted Root Hash: Pan-roasted diced sweet potatoes, butternut squash, golden beets, red onions and chickpeas seasoned with za'atar
Sweet Brown Benny: Shredded sweet potatoes flavored with grated onion-apple then formed into patties and griddled golden, topped with Virginia country ham, fried egg and cream cheese hollandaise
4

Tacos

Tacos are ripe for featuring plant-based deliciousness. Pair sweet potatoes with a global flavor to ramp up the excitement.
Thai Me Up Taco: Flour tortilla loaded with velvety chunks of red-curried sweet potatoes, mung bean sprouts, pickled rainbow carrots, Thai basil leaves and crushed salted peanuts
Gaucho Taco: White corn tortillas loaded with grilled garlic-lime sweet potato fingerlings, peppers, chimichurri and queso fresco crumbles
5

Chili

The comfort of chili benefits from the infusion of premium ingredients. Sweet potatoes add enticing pops of color and luscious body to both vegetarian and meat chilis.
Sweet Potato Chili: Sweet potato, ground plant-based burger, red beans, tomato vegetarian chili, topped with puffed brown rice and scallion
Deluxe White Bean Chicken Chili: Classic white bean chicken chili (using roasted sweet potato purée as part of the base) topped with crispy fried sweet potato haystack
6

Bowls

Buddha-style bowls resonate, thanks to their complementary colors, textures and flavors. Sweet potatoes are a natural fit here.
Asian Power Bowl: Roasted/smashed/chilled sweet potato base (spread over base of bowl) topped with black rice, wakame seaweed salad, watermelon radish, shelled edamame and gingered tahini dressing
Sweet Buddha: Frisée, smoked paprika-roasted thick-sliced sweet potato rounds, black beans, quinoa, pepitas and creamy honey-mustard dressing
7

Sweets

Salted caramel and miso caramel are paving the way for adventure-seeking taste buds. Sweet potato caramel is a comforting yet adventurous dessert topping or swirl-in that diners will find intriguing and delicious.
Sweet Cake: Sour cream and sweet potato pound cake topped with golden raisin-pecan relish and sweet potato caramel
"Sweet" Caramel Bourbon Milkshake: Vanilla ice cream blended with fresh pear and bourbon, swirled with sweet potato caramel