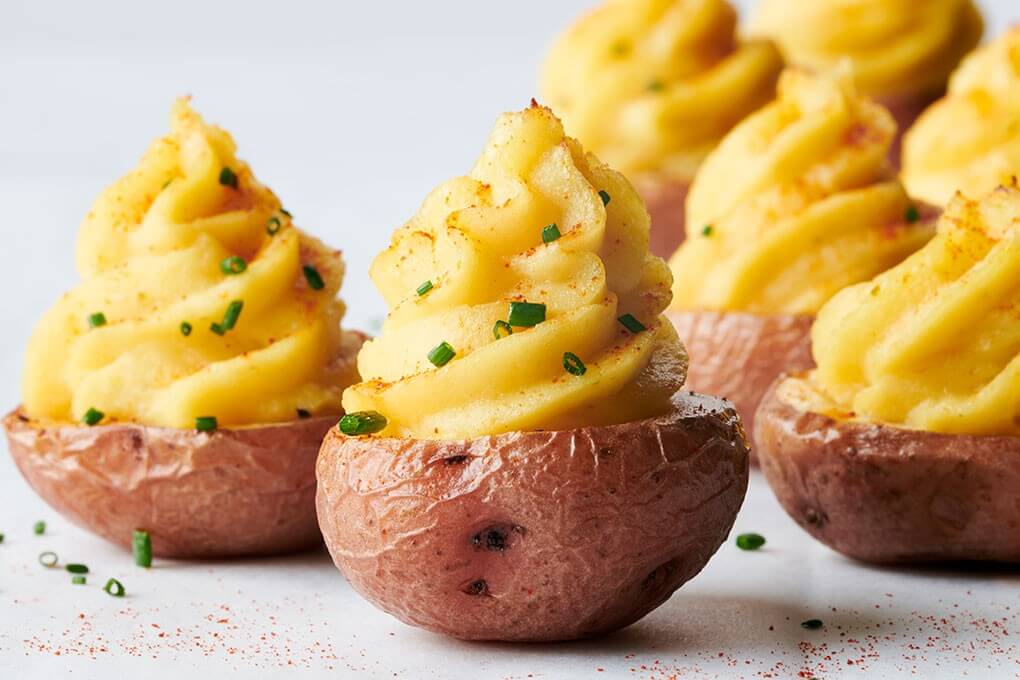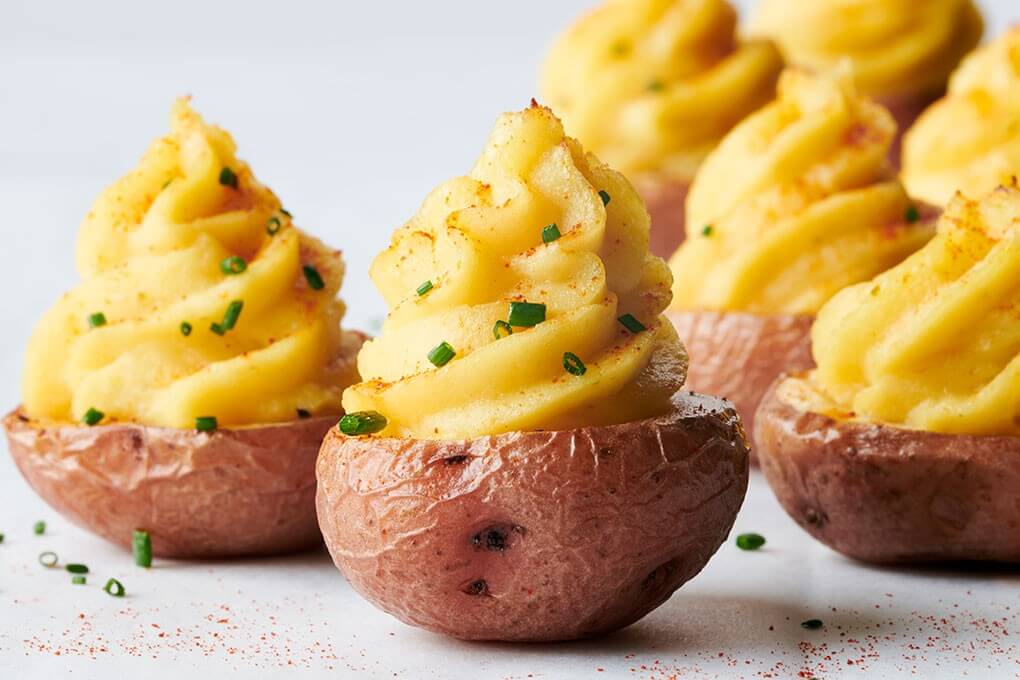 This devilishly delicious vegan starter is a tasty twist on the beloved, classic egg recipe, complete with a mustardy mashed Idaho® Potato filling and tangy tomato jam topping.
Ingredients
Potatoes
3 lb Baby Red Idaho® Potatoes
1 cup Vegan Mayonnaise
1/2 cup Sweet Pickle Relish
1/3 cup Prepared Yellow Mustard
1 tsp Worcestershire Sauce
olive oil
Smoked paprika
Chives, minced
Vegan Mayonnaise
1/2 cup Aquafaba (liquid from 2 15-oz. cans of Chickpeas)
3/4 cup canola oil
1/4 cup olive oil
kosher salt
Cracked Black Pepper
Tangy Tomato Jam
1 tbsp olive oil
1/4 cup Red Onion, diced
1 clove garlic, minced
1.5 cup Tomato, finely diced
1/4 cup Granulated Sugar
3 tbsp Plain Rice Vinegar
1 tsp lemon juice
2 tsp Fresh Thyme, minced
1/4 tsp Kosher salt and black pepper as desired
Instructions
Preheat oven to 350°F. Cut 15 potatoes in half, lengthwise. Place on greased sheet pan and brush tops with olive oil. Season with salt and pepper.
Bake 15-20 minutes until centers are softened. Cool. Scoop out centers with a melon baller, leaving a rim to resemble egg halves. Reserve scooped potato for filling.
Boil remaining potatoes in salted water until soft. Drain. Cool slightly, remove skins while warm.
Vegan Mayonnaise
Blend aquafaba in a blender until frothy.
Gradually blend in canola oil, then olive oil until mixture is thickened. Season with salt and pepper.
Tangy Tomato Jam
Heat olive oil in a saucepan. Sauté onion and garlic on medium heat until translucent.
Stir in tomato, sugar, vinegar and lemon juice. Simmer, stirring frequently until reduced by half and consistency becomes jam-like.
Stir in thyme and salt.
Deviled Filling
Combine 1 cup vegan mayonnaise, pickle relish, mustard, and Worcestershire in a bowl. Mix in scooped potato centers and boiled potato. Mix until smooth.
Transfer mixture to piping bag with a star tip. Pipe into scooped potato shells. Dust tops with paprika.
Bake at 350°F for 6-8 minutes until filling sets slightly. Garnish with Tangy Tomato Jam and chives. Serve warm.
Recipe Notes
For more Idaho® Potato recipe inspirations: idahopotato.com/fspro