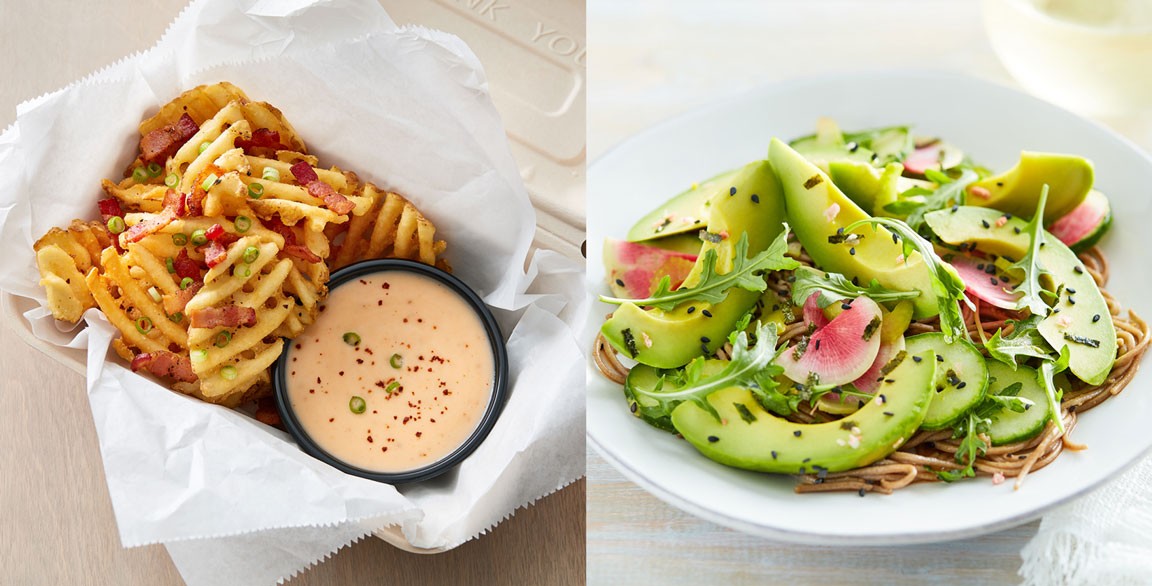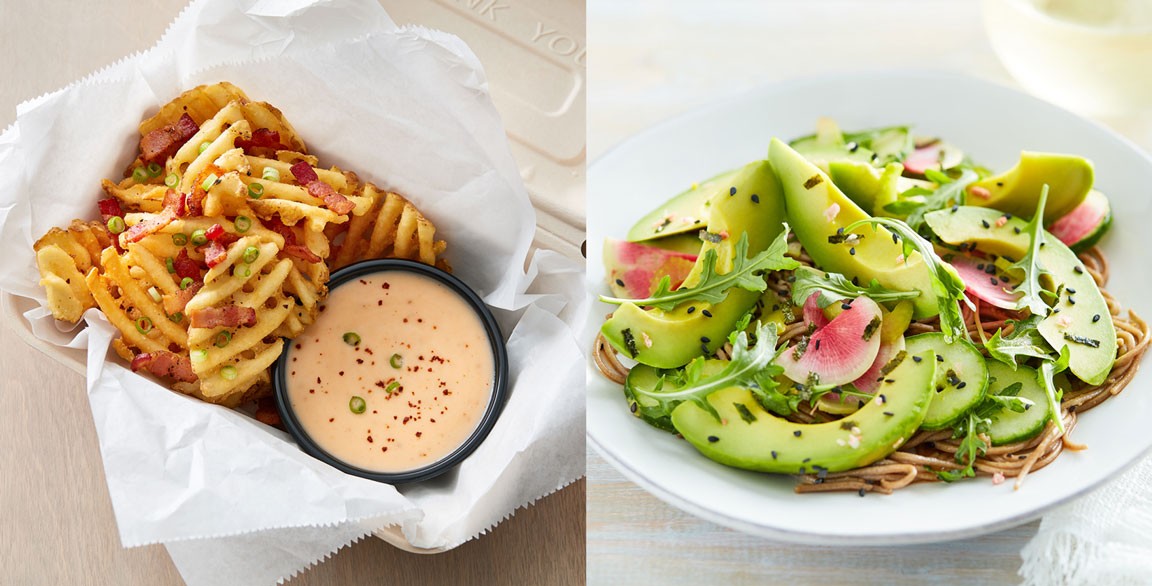 By Flavor & The Menu
June 15, 2020
Kitchen Collaborative is a recipe-development initiative formed by Summit F&B and Flavor & The Menu. To fuel flavor innovation, a group of talented chefs partnered with sponsor brands and commodity boards to create recipes that showcase the passion and potential of our industry.
CHEF SPOTLIGHT: KEITH BRUNELL
Keith Brunell's storied culinary career—including his current role as corporate chef for Nordstrom restaurants—gives him an ease of expression when it comes to culinary inspirations. He taps that for two recipes he developed as part of the Kitchen Collaborative project, both from timely inspiration sources. In his recipe for California Avocado & Miso Ginger Soba Noodles, Brunell brings a California vibe to a warm weather Japanese dish, and the inspiration for Crispy Waffle Fries Poutine with Spicy Cheese Sauce was born out of a craving for indulgent pub fare amid lockdown.
California Avocado & Miso Ginger Soba Noodles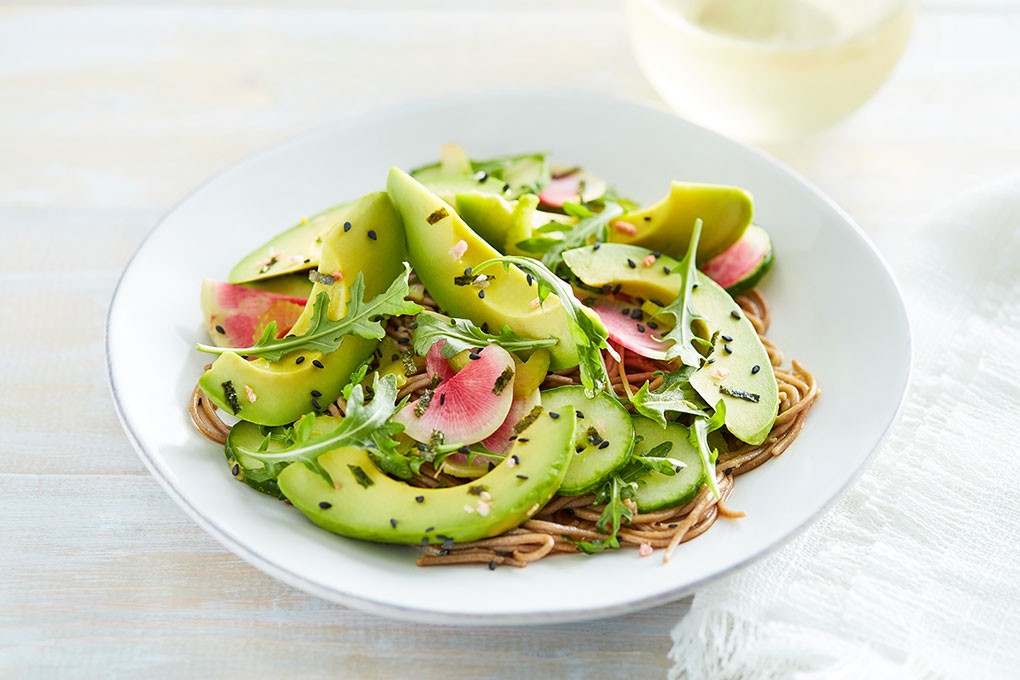 Photography: Carlos Garcia // Food Styling: Peg Blackley & Bree Williams
The inspiration for this recipe comes from chilled soba noodle dishes commonly served in Japan during hot summer months. "This is a twist on a refreshing buckwheat noodle dish, with a more vibrant vinaigrette laced with miso, orange and ginger, with fresh, creamy California avocados acting as the hero," he says. For the build, the cooked and cooled noodles are gently tossed in the vinaigrette, which is a blend of miso, garlic, ginger, honey, orange, rice wine vinegar, sesame and canola oils, and salt and pepper. The noodles form the base of the dish, and arugula and quick-pickled vegetables are added. Brunell quick pickles cucumbers and celery in a blend of rice wine vinegar and salt, with freshly grated turmeric adding depth to the brine. Fresh California avocado wedges and slices of watermelon radishes are added atop, locking in stunning visual appeal. A sprinkle of furikake seasoning serves as the finishing touch. "The quick-pickled turmeric cucumber and celery and watermelon radish add acidity and textural crunch, while the furikake and arugula bring more earthy elements like the warmth of pepper and toasty seaweed from the ocean," says Brunell.
Crispy Waffle Fries Poutine with Spicy Cheese Sauce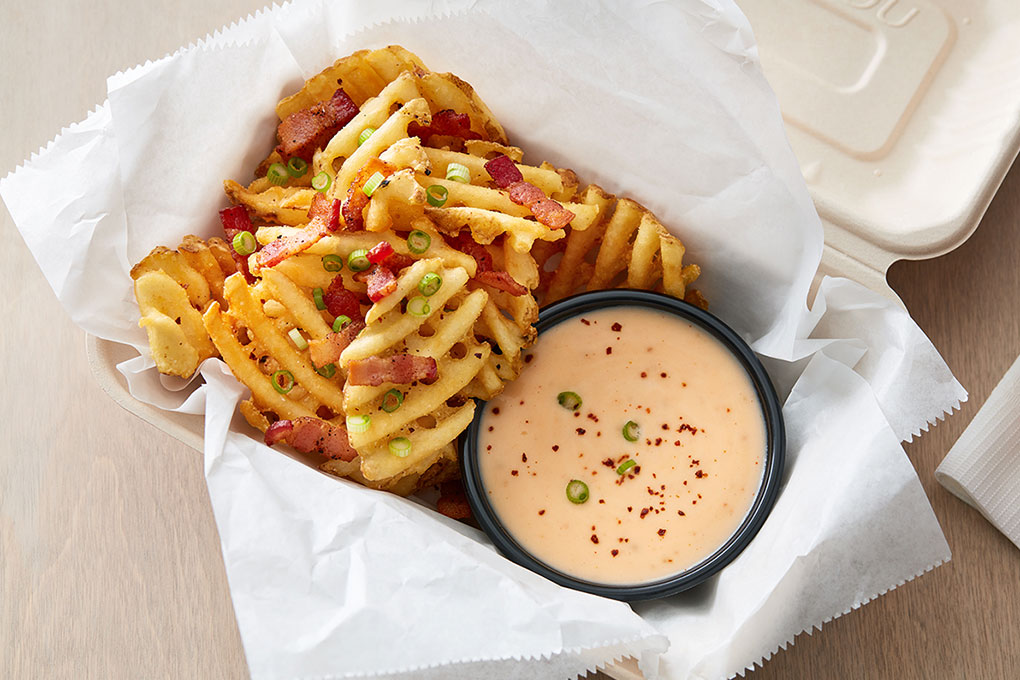 Photography: Carlos Garcia // Food Styling: Peg Blackley & Bree Williams
For his recipe for Crispy Waffle Fries Poutine, Brunell's inspiration was a craving for classic pub fare during Covid-19 lockdown, without access to a fryer. "Knowing the U.S. has the best frozen retail potato products, I chose to use frozen waffle fries as the base because of their ability to carry a rich, creamy and spicy cheese sauce," he says. Brunell bakes the waffle fries for this recipe. The cheese sauce is a creamy, indulgent mix of cream cheese, sharp cheddar and pepper Jack cheeses, with a spike of flavor from smoked paprika and chile flakes. Brunell uses Korean chile flakes which he appreciates because of the consistency of the heat they deliver. The cheese sauce can be served on the side for takeout. The poutine gets a classic finish of crisp bacon and green onions. Brunell describes the satisfying result well: "a warm, smoky, spicy cheddar and Jack cheese sauce served over a base of hot baked crispy waffle fries, topped with crisp smoked, salty bacon and fresh chopped green onions." All components of this recipe tap into craveable cues.
Project Management: Summit F&B
Photography: Carlos Garcia // Food Styling: Peg Blackley & Bree Williams