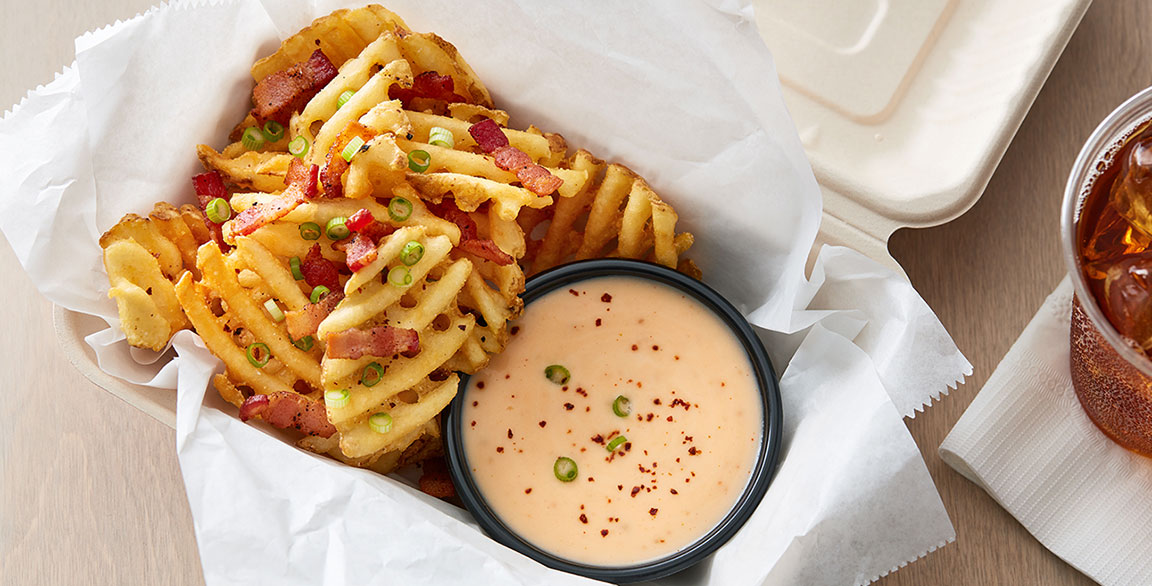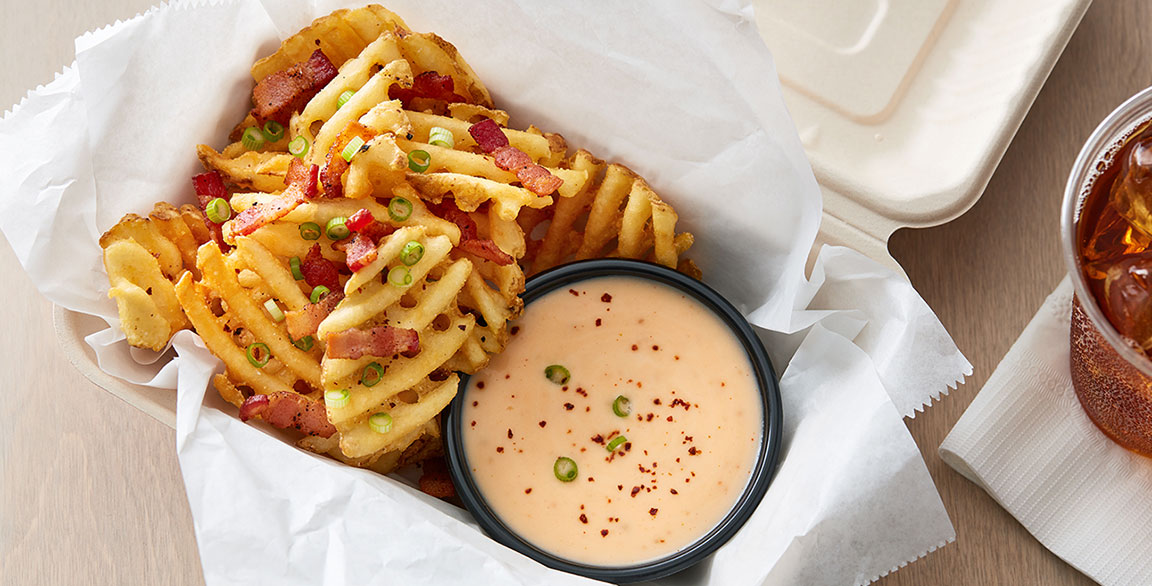 Crispy Waffle Fries Poutine with Spicy Cheese Sauce
Recipe courtesy of Keith Brunell, Corporate Chef, Nordstrom Restaurants
Sponsor: Potatoes USA
Servings: 24
Spicy Cheese Sauce:
8 ounces Sharp yellow Cheddar cheese, grated
7 ounces Pepper Jack cheese, coarsely grated
1/8 teaspoon Korean or red chile flakes
1 teaspoon Smoked paprika
6 ounces Water
6 ounces Whole milk
2/3 ounce Sodium citrate
3 1/3 ounces Cream cheese, softened
2 teaspoons Cider vinegar
Crispy Waffle Fries:
3 pounds Waffle fries
2 teaspoons Kosher salt
6 ounces Smoked bacon, cut into 1/8-inch pieces, cooked
3 ounces Green onions, cut into 1/8-inch pieces
1 teaspoon Korean chile flakes
Directions:
For the Spicy Cheese Sauce: In a bowl, combine the Cheddar and Jack cheeses, the chile flakes, and paprika.
In a pot, combine the water, milk, sodium citrate, and cream cheese over low heat until the cheese is melted.
Pour the milk mixture over the cheese mixture in the bowl. Cover and allow to sit for 5 to 7 minutes for the cheeses to melt.
Whisk together the ingredients, adding in the vinegar. Use a stick blender if needed. Hold the cheese warm over a water bath.
For the fries: Cook one serving of fries as the manufacturer directs, or until they are golden brown and crispy. Drain and season with salt.
Plate and top with warm cheese sauce and garnish with bacon, green onions, and chile flakes.
Chef Notes:
Waffle fries may be fried or baked. If they are the frozen, pre-seasoned and baked variety, do not add the kosher salt.
You may use a premade spicy cheese sauce; about 18 to 24 ounces is needed.
Project Management: Summit F&B Photography: Carlos Garcia // Food Styling: Peg Blackley & Bree Williams