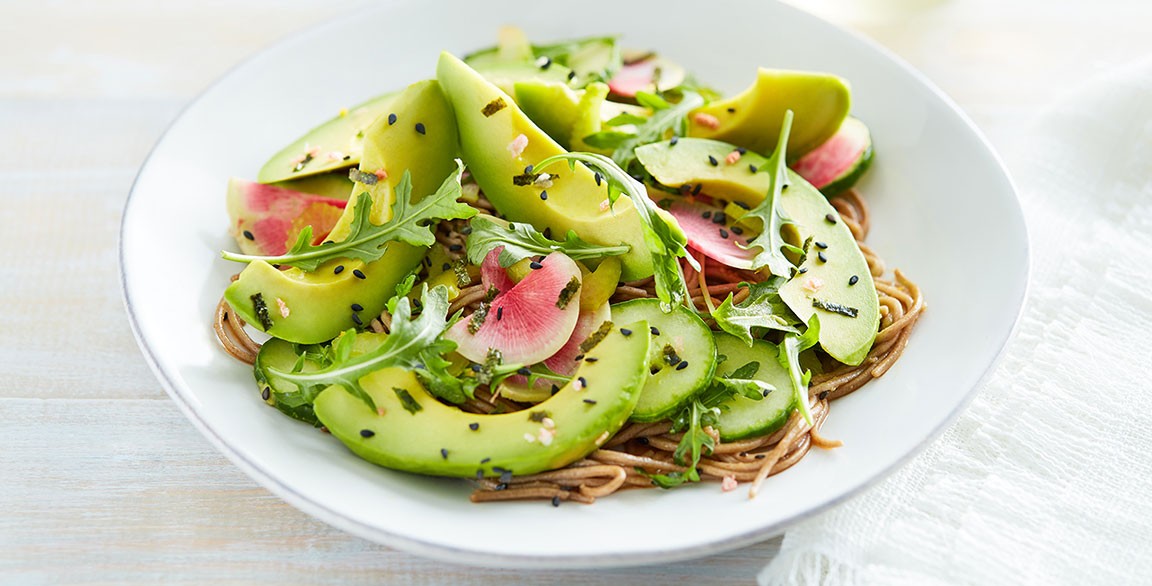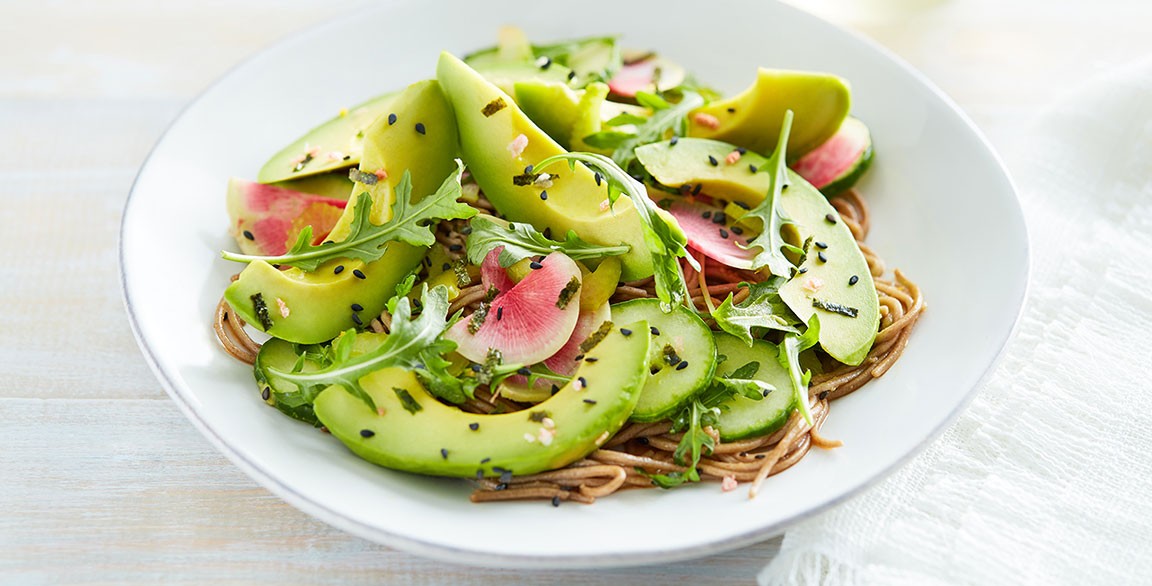 California Avocado & Miso Ginger Soba Noodles
Recipe courtesy of Keith Brunell, Corporate Chef, Nordstrom Restaurants
Sponsor: California Avocado Commission
Serves: 20
INGREDIENTS
24 oz. Quick Pickled Cucumbers & Celery (recipe follows)
Miso Ginger Vinaigrette (recipe follows)
5 lbs. Marinated Soba Noodles (recipe follows)
4 oz. arugula
10 Fresh California Avocados, each cut into 6 wedges, lengthwise
6 oz. watermelon radish, peeled, sliced 1/12″
¼ cup furikake
Quick Pickled Cucumbers & Celery
(Yield: 24 oz.)
16 oz. Japanese cucumbers, sliced 1/8″
8 oz. celery, sliced 1/8″
4 oz. rice wine vinegar
½ tsp. kosher salt
1 tsp. turmeric, freshly grated
Miso Ginger Vinaigrette
(Yield: 24 oz.)
½ cup rice wine vinegar
1 large orange, zested and juiced
¼ cup honey
3 Tbsp. miso, white
1 Tbsp. garlic
2 Tbsp. ginger
1 ½ tsp. kosher salt
8 oz. canola oil
4 oz. sesame oil
1 tsp. black pepper, ground
Marinated Soba Noodles
(Yield: 4 lbs.)
2 lbs. soba noodles, cooked, cooled
8 quarts water, boiling
3 Tbsp. + 2 tsp. kosher salt, divided
18 oz. Miso Orange Vinaigrette (recipe follows)
INSTRUCTIONS
Quick Pickled Cucumbers & Celery:
In a non-reactive medium bowl, combine the rice wine vinegar, turmeric, salt. (NOTE: ½ tsp. dried turmeric bloomed by heating with 1 oz. rice wine vinegar can be substituted for fresh.)
Add the cucumbers and celery, mix to combine all ingredients and allow to sit for a minimum of 15 minutes.
Pickled vegetables can be made up to 2 days in advance of use. Store in refrigerator.
Miso Ginger Vinaigrette:
In a food processor, place the rice wine vinegar, orange juice, honey, white miso, minced garlic, minced ginger and kosher salt and blend on medium speed for 25-30 seconds until ingredients are smooth.
Increase speed to medium/high speed and begin to add both oils until emulsified and a nice velvety viscosity is achieved.
Decrease speed to low and add the orange zest and ground black pepper. Mix to combine. Reserve.
Soba Noodles:
Bring water, with 3 Tbsp. salt, to boil on high heat.
Add soba noodles and cook according to "completely cooked" stage. Immediately drain noodles, then rinse with cold water until cool to the touch. Drain completely, and pat noodles dry with a few paper towels.
Place soba noodles in 2″ full size hotel pan, in an even layer, then add 2 ¼ -2 ½ cups Miso Orange Vinaigrette and salt. Gently massage to ensure all noodles are marinated evenly, allow to rest for 5 minutes.
Noodles may be used immediately or be held for 1-2 days under refrigeration.
Assemble:
Place chilled noodles in the bottom of a service pan or evenly distribute in serving dishes.
Evenly distribute the arugula and drained Quick Pickled Cucumbers & Celery evenly over the top of all the noodles.
Place the sliced avocado wedges on top of the ingredients.
Place watermelon radishes between the avocado wedges and evenly dust the top of the entire dish with furikake.
*Large avocados are recommended for this recipe. A large avocado averages about 8 ounces. If using smaller or larger size avocados adjust the quantity accordingly.
Project Management: Summit F&B
Photography: Carlos Garcia // Food Styling: Peg Blackley & Bree Williams