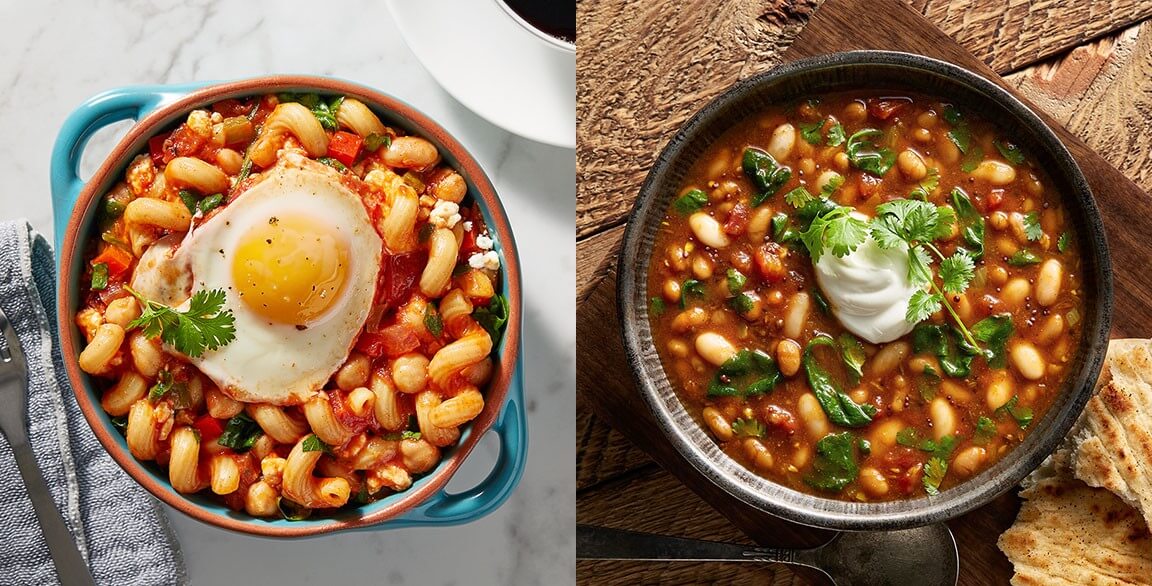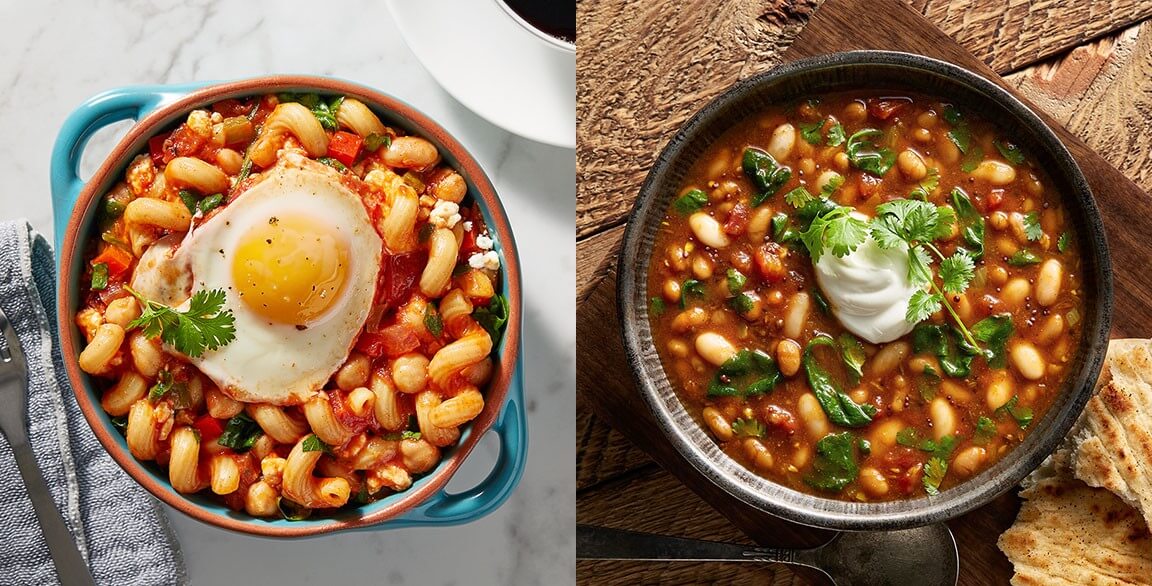 By Flavor & The Menu
June 24, 2021
Kitchen Collaborative is a recipe-development initiative formed by Summit F&B and Flavor & The Menu. To fuel flavor innovation, a group of talented chefs partnered with sponsor brands and commodity boards to create recipes that showcase the passion and potential of our industry.
CHEF SPOTLIGHT: JEFFREY QUASHA
In working up distinctive new takes on trending ingredients and dishes, chefs are spinning compelling flavor tales. Jeffrey Quasha, Corporate R&D Chef at Morrison Healthcare, a division of Compass Group, proves to be a master storyteller with two recipes created for Kitchen Collaborative. His Huevos Diablos with Sambal reimagines the shakshuka to deliver an exciting new player in the breakfast/brunch space, while his Indian Spiced Baked Beans Dal is a flavorful and intriguing mashup guided by multiple influences.
Huevos Diablos with Sambal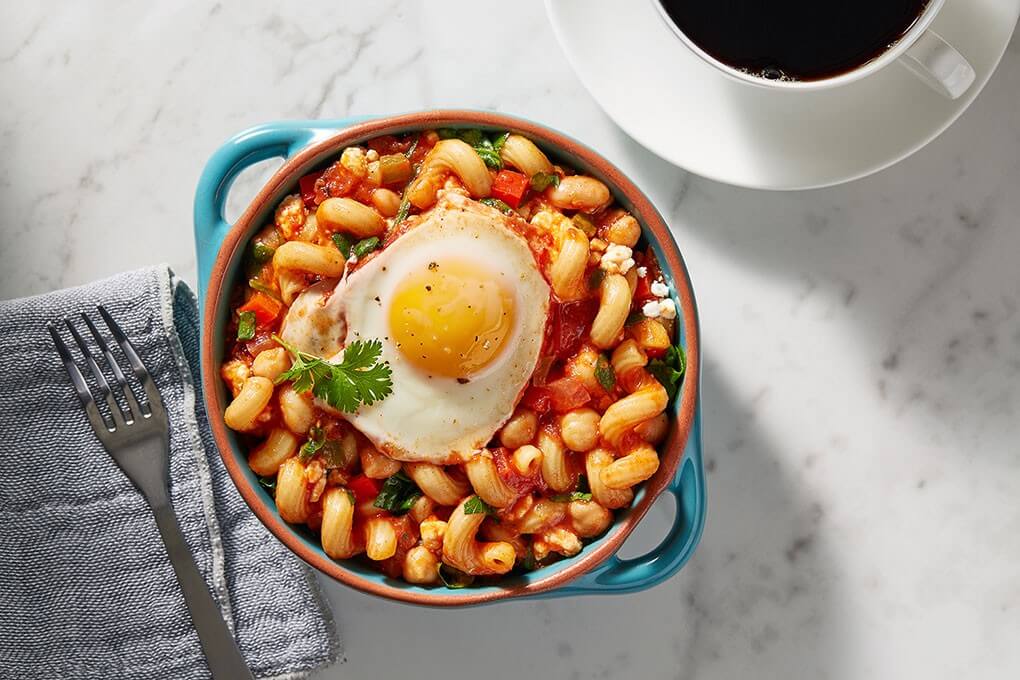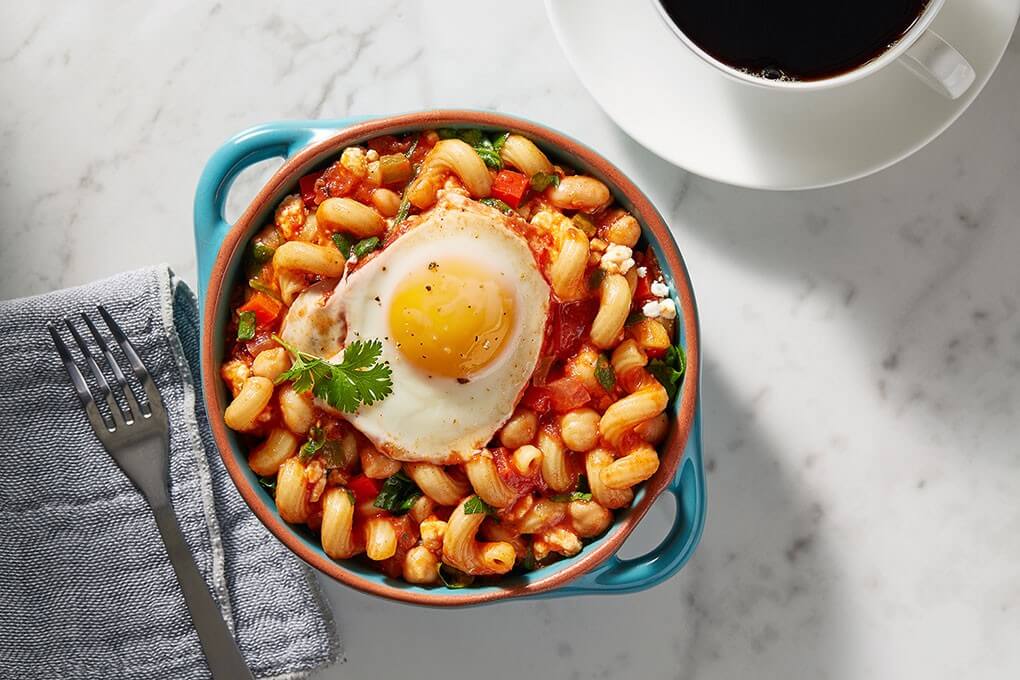 Photo: Carlos Garcia // Food Styling: Peg Blackley & Bree Williams
With an awareness of the growing demand for breakfast and brunch items that are cleaner, veg-centric and keto-friendly, Quasha found inspiration in the spicy basted egg profile of the shakshuka for his Huevos Diablos with Sambal. It's a hearty dish, featuring Barilla Cellentani with goat cheese, cannellini and garbanzo beans slowly cooked in a rich, tomato-based ragu with spicy sambal, herbs and baby spinach, topped with an eye-catching basted egg. The corkscrew-shaped pasta features a tubular center and ridged surface well-suited for capturing sauces.
With "diablos" in its name, should diners be braced for serious heat? "I think ingredients in dishes are like chapters in stories," Quasha says. "All should flow together to complement each other and tell a story. The heat from the sambal is a controlled burn that can easily be smoothed or tamed with the yolk from the egg and the goat cheese."
After cooking the pasta until al dente, Quasha assembles the ragu, first sautéing diced red onions plus green and red peppers, then adding garlic, sambal, cumin seeds, smoked paprika and balsamic vinegar. Once these are cooked down, he adds lime juice, diced tomatoes and tomato puree and lets it all simmer before mixing in garbanzo beans, cannellini beans, the cooked pasta and crumbled goat cheese. Baby spinach, chopped cilantro and oregano are folded in at the end. For each individual serving, Quasha heats one cup of the spicy tomato ragu, cracking a raw egg on top and basting it until the white is fully cooked and the yolk begins to set. The dish is plated with a cilantro sprig and a sprinkle of fresh cracked pepper. Dipping applications are endless, says Quasha, citing fresh-baked Naan, baguette slices or even an herb-and-citrus-zest lavosh as ideal accompaniments.
Indian Spiced Baked Beans Dal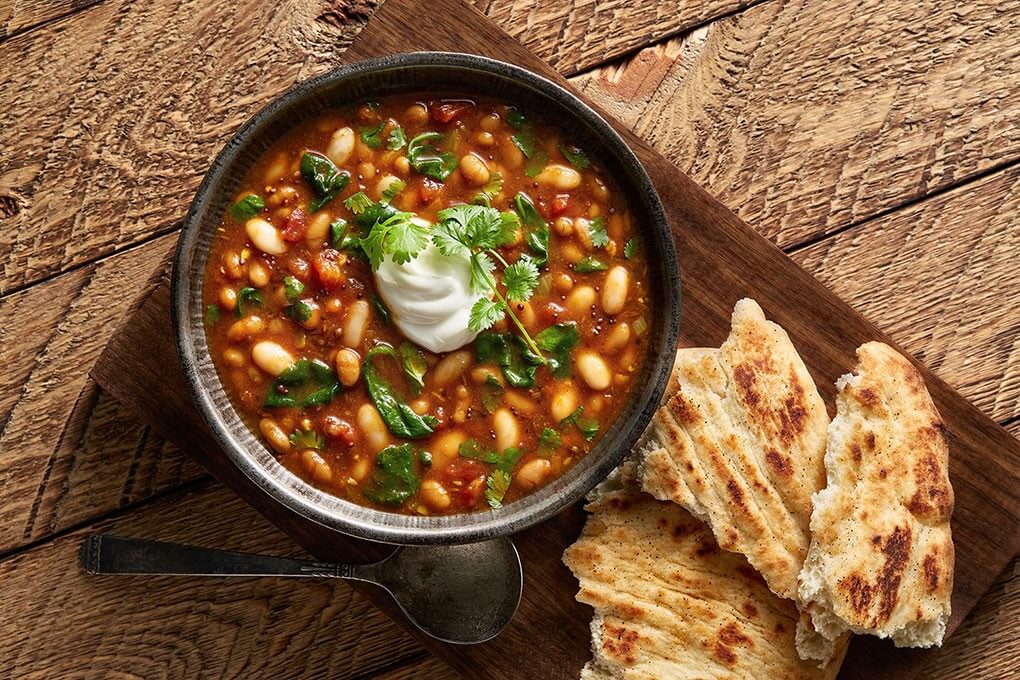 Photo: Carlos Garcia // Food Styling: Peg Blackley & Bree Williams
When Kitchen Collaborative came knocking, Quasha had been playing with modern spins on classic comfort dishes, focusing on the growing trend of using immunity-boosting herbs and spices. "Couple that with how barbecue has become a global craze, I felt that a global-inspired barbecue side dish would be an easy menu addition that didn't push the needle too far, but excited the palate and left guests asking for more," says Quasha, describing his inspiration for Indian Spiced Baked Beans Dal.
Using Bush's Baked Beans as his foundation, Quasha adds cannellini beans in an effort to deliver a complementary look and texture to the dish. "There needed to be some elements that adapt the conceptual ideology of baked beans," says Quasha. Preparation is deceptively simple, toasting several spices before adding onions, tomatoes, the beans plus spinach and cilantro. But this belies a complex flavor build constructed from an array of spices and seasonings that include toasted mustard, coriander and cumin seeds, fresh garlic and ginger, curry powder and sambal. "The layers of spices, slowly cooked, allow the aromatics to leach out into the oil before the other ingredients are added," says Quasha. He credits a recent collaboration with Food Network Canada's "Spice Goddess" Chef Bal Arneson. "She reintroduced me to the importance of roasting or toasting whole spices to bring out their natural oils and flavors."
Quasha's vision for his version of dal is as an elevated side dish or topping. "Imagine the umami explosion of a cauliflower mac-and-cheese layered with the Indian Spiced Baked Beans Dal, topped with a citrus cabbage slaw and a dollop of schug," he says.
Project Management: Summit F&B
Photography: Carlos Garcia // Food Styling: Peg Blackley & Bree Williams