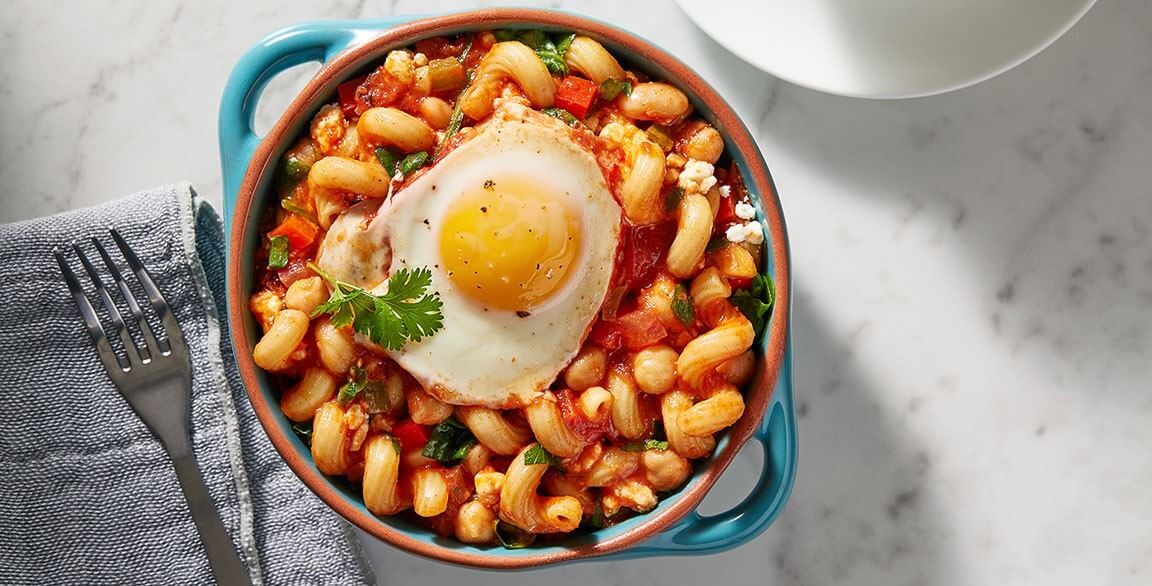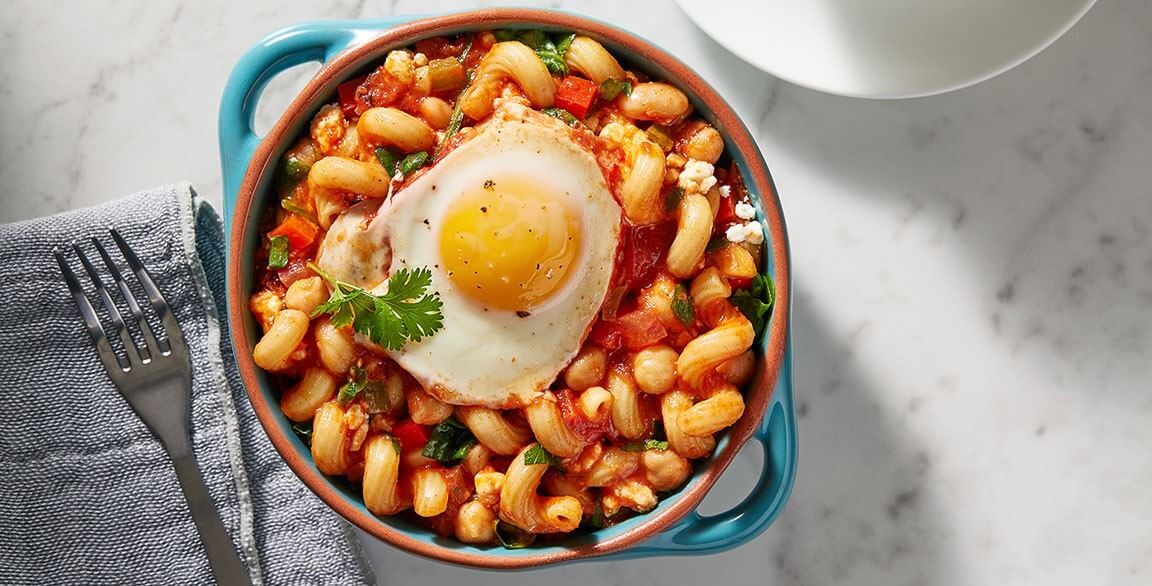 Barilla Cellentani "Huevos Diablos" with Sambal
Recipe courtesy of Chef Jeffrey Quasha
Sponsor: Barilla
Serves: 24
Ingredients
2 cups Barilla Cellentani pasta
1/2 cup extra-virgin olive oil
2 cups diced red onions
2 cups diced red peppers
2 cups diced green peppers
6 Tbsp finely chopped garlic
1/2 cup sambal
2 Tbsp cumin seeds
1/4 cup smoked paprika
1 cup balsamic vinegar
4 ea limes, juiced
4 cups fresh diced tomatoes with juice
4 cups tomato puree
4 cups cooked, drained garbanzo beans
2 cups cooked, drained cannellini beans
1 cup crumbled goat cheese
4 oz fresh cilantro, chopped
2 oz fresh oregano
2 cups baby spinach
To taste kosher salt
To taste fresh cracked pepper
24 ea whole eggs, raw or cooked sous vide
8 oz cilantro sprigs
Directions
In a large pot of salted boiling water, cook the Barilla Cellentani until al dente. Drain.
In a large skillet or sauté pan, heat the oil over medium heat. Add the onions and peppers and sauté for 4 to 5 minutes.
Add the garlic, sambal, cumin seeds, smoked paprika, and balsamic vinegar to the onions and peppers. Cook down the mixture for 2 minutes before adding the lime juice, diced tomatoes, and tomato puree. Simmer the liquid for 5 minutes before adding the garbanzo beans, cannellini beans, goat cheese, and cooked pasta. Fold in the chopped cilantro, oregano, and baby spinach. Simmer for 2 minutes before adjusting the flavor with salt and pepper. Cool and refrigerate.
For each serving: Heat 1 cup of the spicy tomato mixture in a skillet or frying pan. Once it comes to a boil, crack a raw egg on top. Baste the egg until the white is fully cooked and the yolk begins to set. Pour the sauce and egg into a wide bowl and garnish with a cilantro sprig and fresh cracked pepper.
Project Management: Summit F&B
Photography: Carlos Garcia // Food Styling: Peg Blackley & Bree Williams