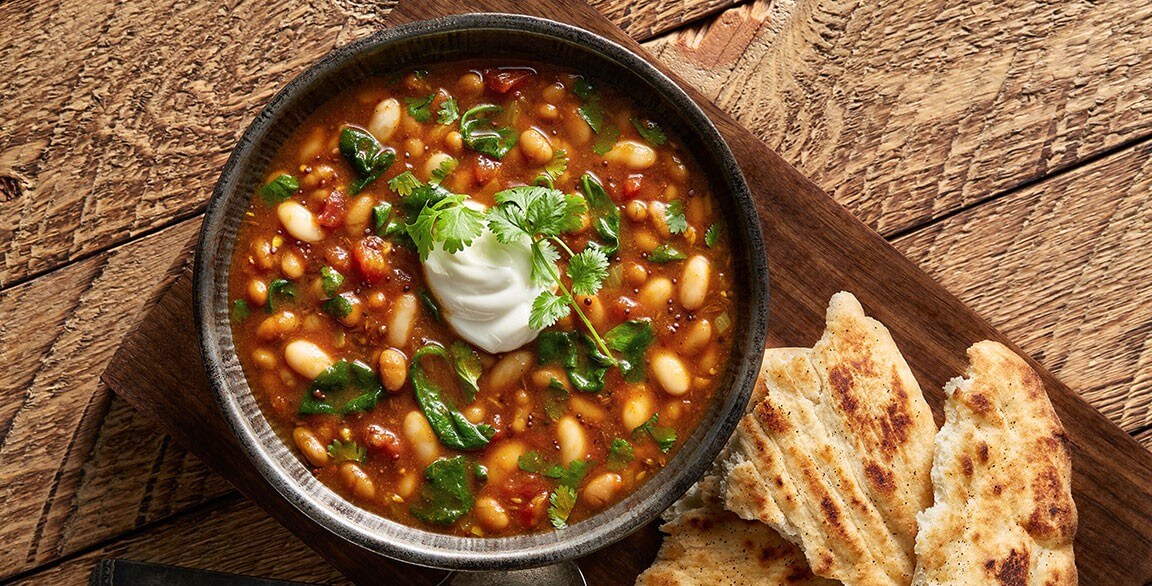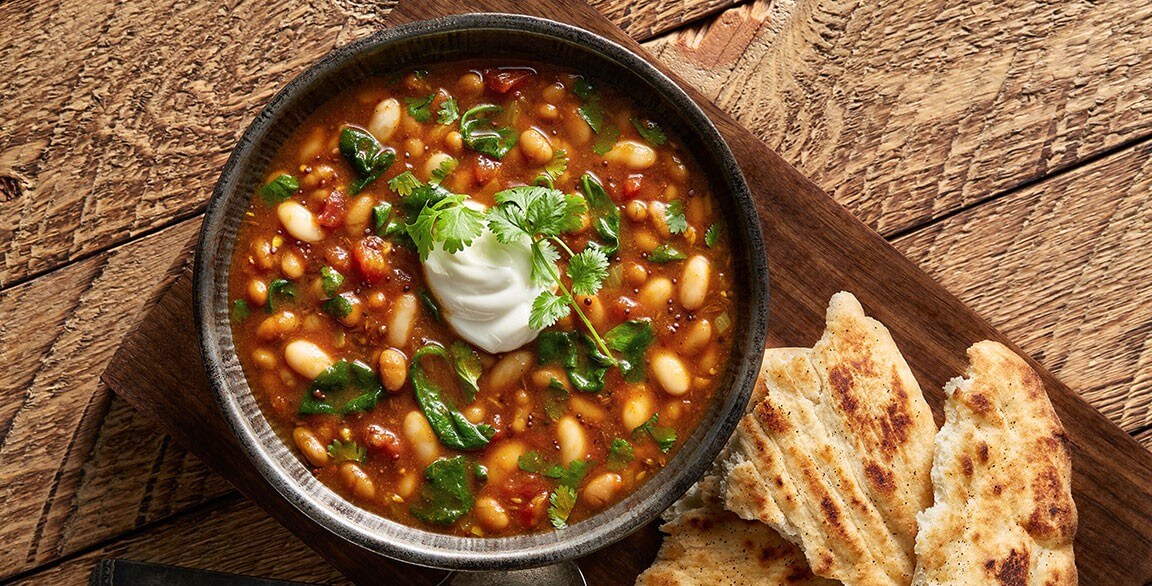 Indian Spiced Baked Beans Dal
Recipe courtesy of Chef Jeffrey Quasha
Sponsor: Bush's Baked Beans
Servings: 24
Ingredients
1/2 cup extra-virgin olive oil
1/4 cup mustard seeds
1/4 cup coriander seeds
1/4 cup cumin seeds
¼ cup finely chopped fresh garlic
¼ cup finely chopped fresh ginger
2 cups diced Vidalia onions
1/4 cup curry powder
2 Tbsp sambal
8 ea limes, juiced
4 cups fresh diced tomatoes with juice
2 cups tomato puree
8 cups Bush's Baked Beans
4 cups cooked cannellini beans
3 cups raw baby spinach
1 cup chopped fresh cilantro
To taste kosher salt
To taste fresh cracked pepper
3 cups plain Greek yogurt
As needed chopped fresh cilantro
Directions
In a large skillet or sauté pan, heat the oil over medium heat. Next, add the mustard, coriander, and cumin seeds. Toast the spices for 2 to 3 minutes.
Add the garlic and ginger and cook for 2 minutes, making sure to keep stirring to prevent burning.
Add the onions, curry powder, and sambal to spices and cook for another 5 minutes.
Deglaze the pan with the lime juice and then add the diced tomatoes and tomato puree.
Simmer the liquid for 5 minutes before adding the Bush's baked beans and cannellini beans.
Fold in the spinach and cilantro. Simmer for 2 minutes before adjusting the flavor with salt and pepper.
Serve a family-style side of 8 oz of this dish; top it with 2 Tbsp Greek yogurt and garnish with fresh chopped cilantro.
Project Management: Summit F&B
Photography: Carlos Garcia // Food Styling: Peg Blackley & Bree Williams