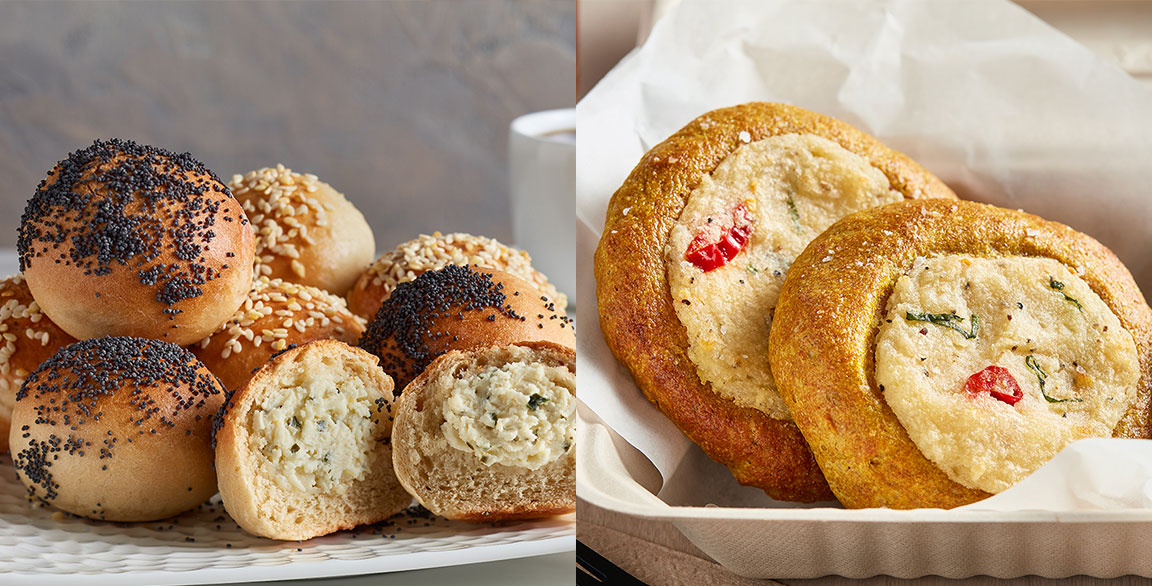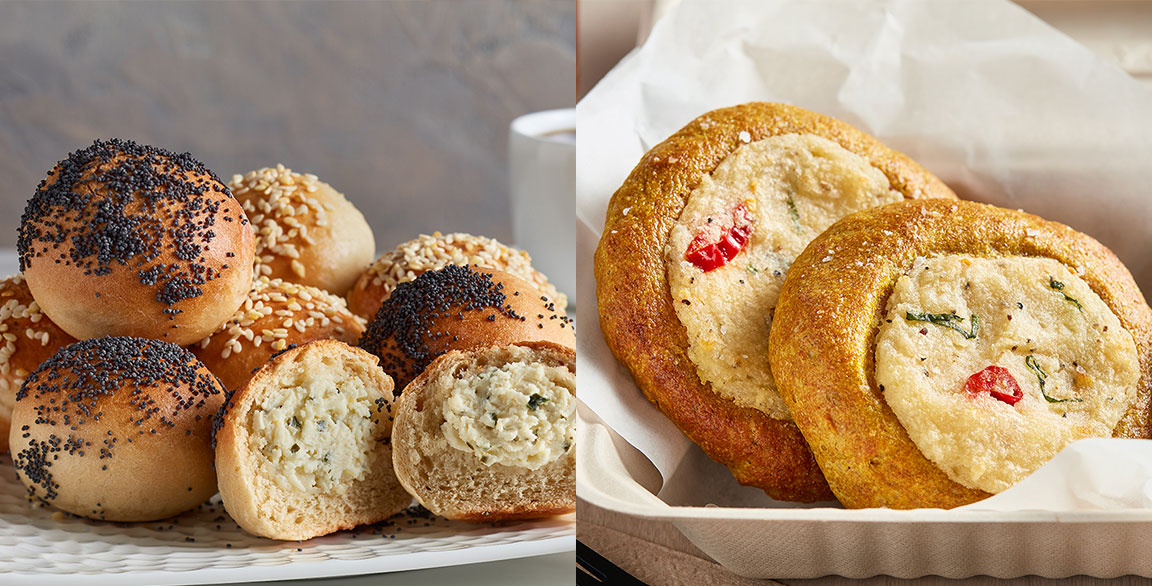 By Flavor & The Menu
January 31, 2021
Kitchen Collaborative is a recipe-development initiative formed by Summit F&B and Flavor & The Menu. To fuel flavor innovation, a group of talented chefs partnered with sponsor brands and commodity boards to create recipes that showcase the passion and potential of our industry.
CHEF SPOTLIGHT: Brad Kent
Brad Kent knows his way around dough. As co-founder and Chief Culinary Officer of Blaze Pizza, a fast-casual concept based in Pasadena, Calif., he has spent years perfecting classic, high-rise and keto-friendly pizza dough. He also has been tinkering with bagel dough because he's developing a new pizza-by-the-slice and bagel shop, called Bagel + Slice, slated to open later this year. So, when given this challenge, it's no surprise that Kent provided two recipes featuring well-crafted dough wrapped around his star ingredients. His Boursin® Bagel Bites are filled with savory, rich flavor and ideal for breakfast on the run. And his Idaho® Potato Bialys with Tomato Chutney spin this New York classic into an unexpected, but decidedly appealing handheld.
Bagel Bites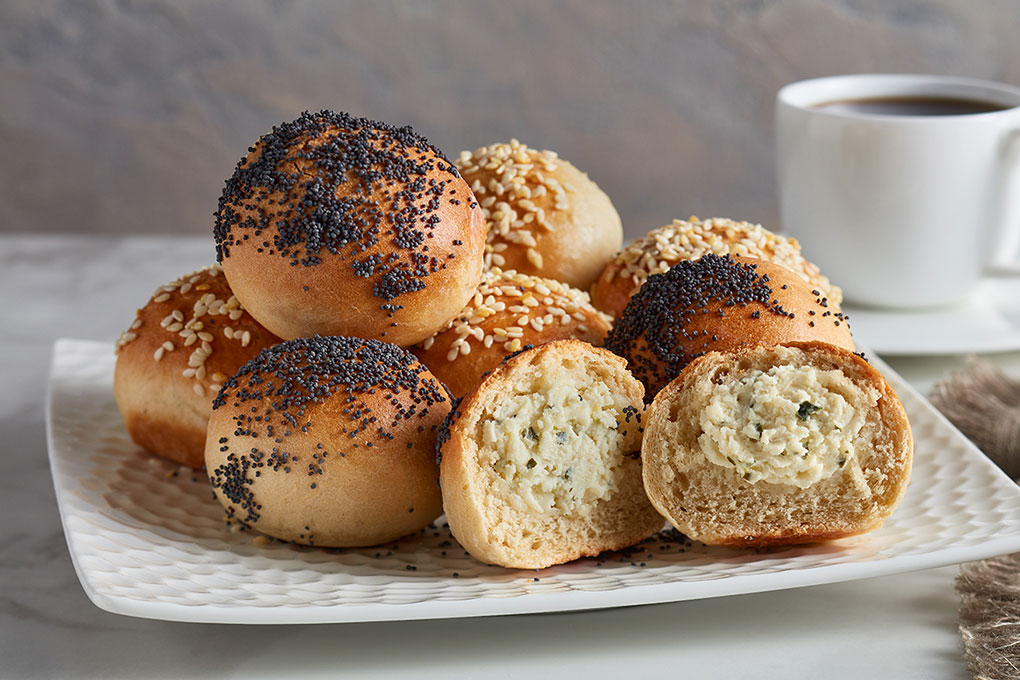 Photo: Carlos Garcia // Food Styling: Peg Blackley & Bree Williams
Kent makes a clever all-in-one "bagel and a schmear" with his recipe for Boursin® Bagel Bites. He crafts the dough, ensuring the proper hydration to maintain the ideal shape and texture, then fills pieces of it with Boursin, wrapping the dough around the soft, savory cheese and rolling it into a ball. After proofing the filled dough balls, he boils them and coats them in either sesame or poppy seeds. For this application, Kent used Boursin® Professional IQF Frozen Cubes. "They made portioning really easy. If I were using the refrigerated Boursin®, I may have used a pastry bag or scoop to portion the filling for the bites," he says. "I liked that the Boursin® was already fully seasoned—that made for an easier scalable solution for making a signature product." Ideal for takeout menus and infinitely customizable, Kent suggests a few other bagel filling ideas. "This platform opens up to a whole world of combinations," he says. "Boursin® with steak, smoked salmon, jam, scrambled eggs, or crab—all would be delicious."
Get the recipe for Boursin Bagel Bites
Idaho Potato Bialys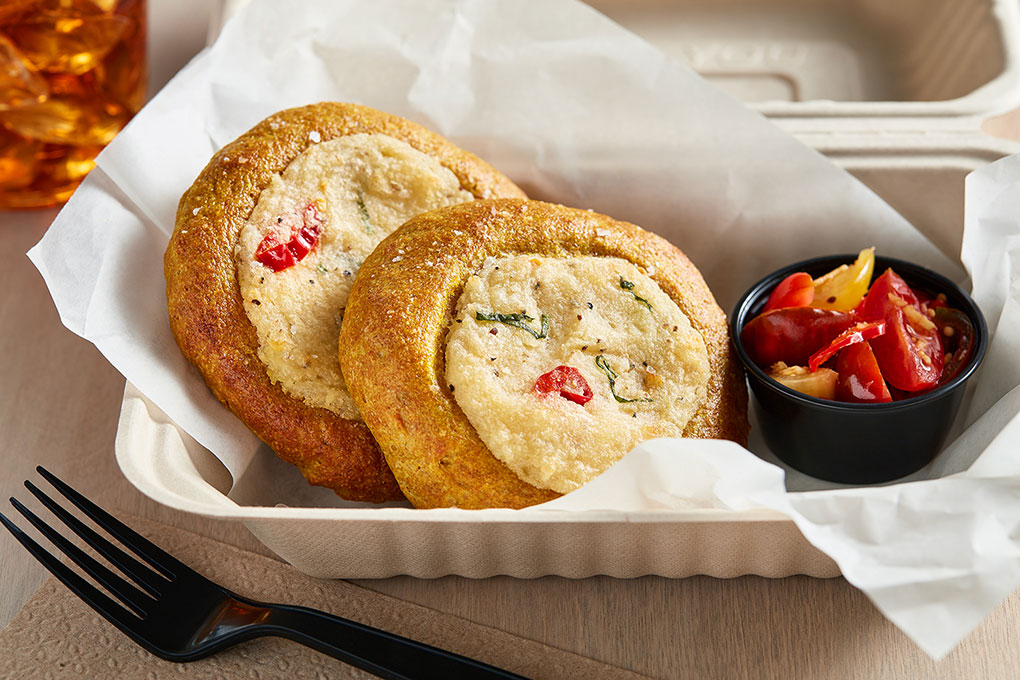 Photo: Carlos Garcia // Food Styling: Peg Blackley & Bree Williams
Like the bagel, the bialy is a round and chewy roll that hails from New York. But unlike the bagel, it has an indentation in the middle instead of a hole (often filled with something flavorful) and it's baked not boiled. Kent's Idaho® Potato Bialys with Tomato Chutney are a study in sublime texture, color and flavor. He changes up the classic dough by incorporating riced potatoes, potato cooking water and turmeric. "The potatoes make the dough really soft and tender," he says. "I tried both russet and golden potatoes and both worked well, but I prefer the creamier texture of the golden potatoes," he says. "The turmeric gives the bialys a beautiful golden hue while providing an earthy flavor that complements the flavor of the potatoes in the dough." To move the bialy into a more substantial handheld, he fills the indentation with a rich, flavorful mashed potato mixture that features Idaho russet potato, roasted garlic, butter, Parmesan, extra-virgin olive oil and Calabrian chiles. He pairs the bialy with a heat-laced tomato chutney. "There is something really satisfying in the mouth and in the soul when eating mashed potatoes," says Kent. "Combining the tart-sweet-spicy taste of the chutney with this comfort food adds interest and complexity, as well as balances out the inherent richness of this recipe."
Get the recipe for Idaho Potato Bialys
Project Management: Summit F&B
Photography: Carlos Garcia // Food Styling: Peg Blackley & Bree Williams