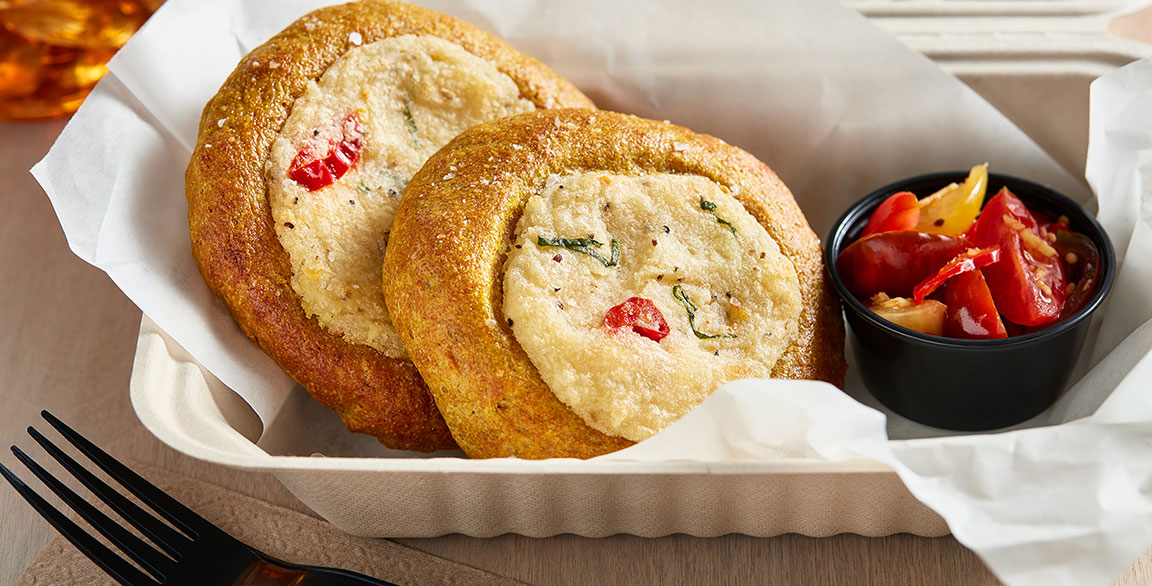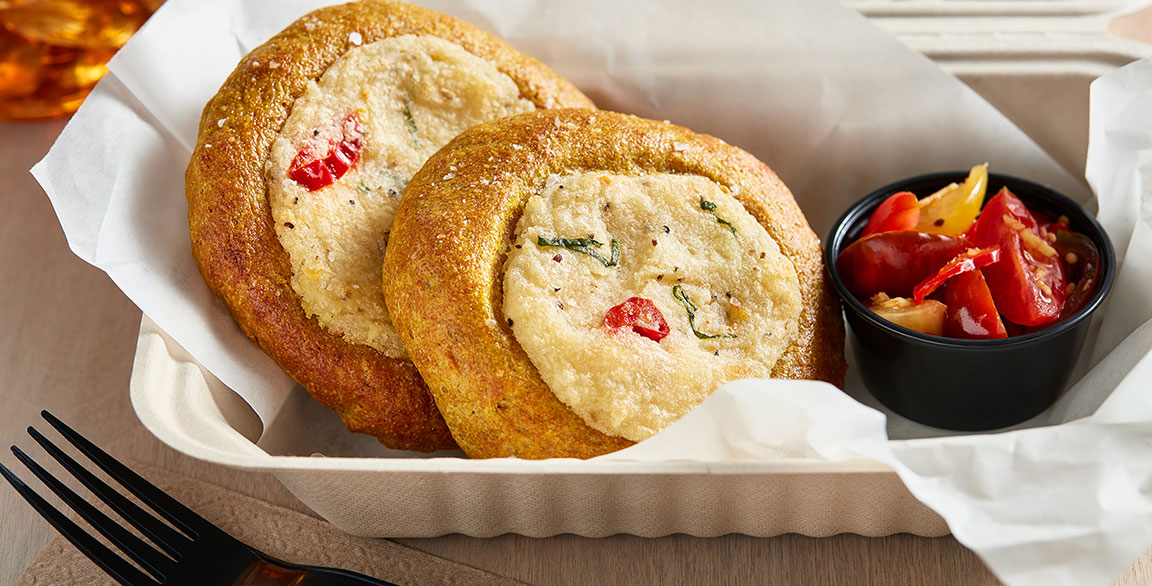 Idaho
®

Potato Bialys with Tomato Chutney
Recipe courtesy of Chef Brad Kent
Sponsor: Idaho Potato Commission
Servings: 12 to 14
Ingredients
Bialy Dough:
170 g Potato cooking water
100 g Idaho® Potatoes, cooked, riced
55 g Egg, beaten
30 g Unsalted butter, softened
390 g Whole wheat flour, high gluten
4 g Active dry yeast
10 g Granulated sugar
5 g Ground turmeric
30 g Extra-virgin olive oil
10 g Salt
Mashed Idaho® Potato Filling:
250 g Idaho® Russet Potatoes, peeled, cubed, cooked
13 g Roasted garlic cloves, julienned
2.5 g Basil chiffonade
25 g Unsalted butter, softened
25 g Extra-virgin olive oil
5 g Salt
12 g Calabrian Chilies in oil, sliced into rings
13 g Parmesan cheese brunoise
1.5 g Ground black pepper
Tomato Chutney:
150 g Heirloom cherry tomatoes, quartered
8 g Fresh ginger, chopped
2 g Basil chiffonade
4 g Mustard seeds (black or yellow), toasted
75 g Thai sweet chili sauce
6 g Serrano chile, sliced
Directions
For the Bialy Dough: In a mixer bowl, combine the cooking water, riced potatoes, egg, and butter. Attach the dough hook and add the flour, yeast, sugar, and turmeric. Mix on low speed for 2 minutes. Turn off the mixer, scrape down the sides, and add the oil and salt. Mix on low speed for 8 minutes. Remove dough from mixer and place in a covered container to bench proof at about 70 degrees F for 2 hours, or until dough approximately doubles in size.
For the Mashed Idaho Potato Filling: Rice the potatoes into a bowl. Add the remaining ingredients and gently mix to incorporate. Store refrigerated until ready to assemble the bialys.
For the Tomato Chutney: Combine all the ingredients in a bowl. Gently stir to incorporate. Store refrigerated until service.
Once the dough has doubled, deflate it and divide into 60 g portions. Proof the 60 g portions until doubled in size.
On a floured surface, deflate the center of each dough ball and gently pull on the sides like shaping a pizza with a ½-in perimeter crust. Place 25 g of the potato filling in the center of each dough disc and press out the mashed potatoes to the edges of the crust (leaving the ½-in perimeter). Bake on a pizza stone in a 500-degree F oven for 6 to 8 minutes, or until the crust has risen all around and is golden brown. Remove from the oven and serve with the tomato chutney.
Project Management: Summit F&B
Photography: Carlos Garcia // Food Styling: Peg Blackley & Bree Williams