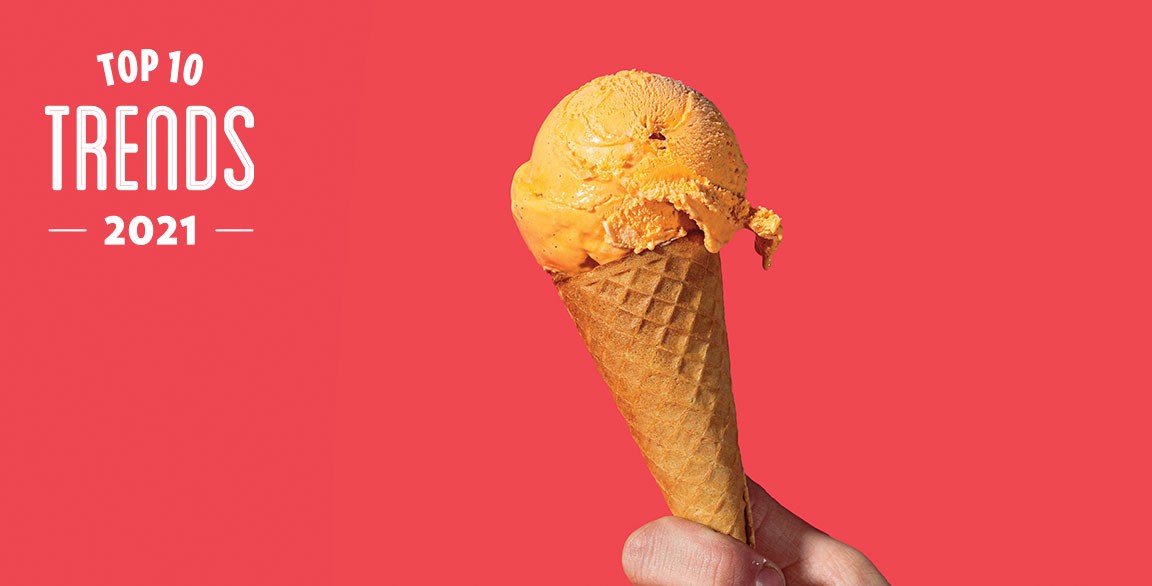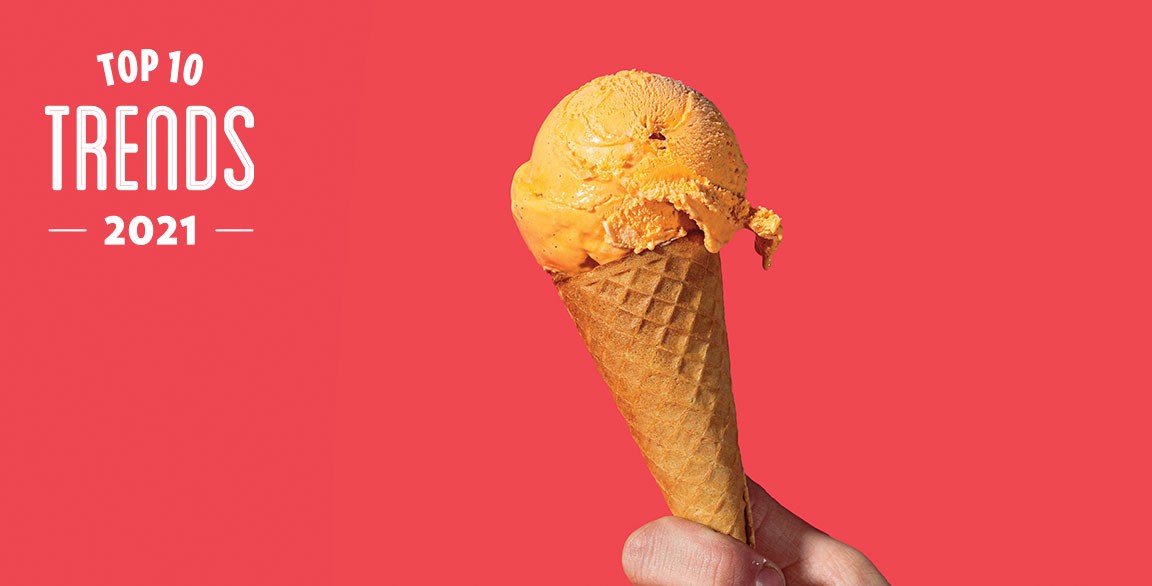 By Katie Ayoub
January 28, 2021
The flavors, colors and textures that make Thai tea Insta-worthy, playful, refreshing and indulgent, are being pulled apart by baristas, mixologists, chefs and pastry chefs, then put back together again in gloriously fun ways. And isn't a bit of fun just what the American public needs right now? Menu developers have an opportunity today to capture Thai tea's unique profile and lighthearted spirit, then present it in delightful ways to their customers.
A primer on how the original version from Thailand, called cha yen, is typically created may be in order, although it is important to note that the build, like most street-cart fare, varies from vendor to vendor.
Traditionally black tea leaves—usually Ceylon or Assam—are steeped with warm spices, vanilla and either orange food coloring or crushed tamarind seeds; however, a pre-mixed Thai tea blend is more commonly used today. Once the tea is steeped and strained, sweetened condensed milk and sugar are stirred in, followed by evaporated milk for a boost of creaminess. Once combined, the drink is shaken or poured in such a way to create a bit of foam, and, while the tea is still hot, it is poured over crushed ice to chill it evenly and quickly. A drizzle of evaporated milk finishes the profile. Of course, many variations exist. The result is a refreshing, sweet, creamy and aromatic drink—one that is primed for creative play in beverages, cocktails, desserts, brunch items and more.
Pim Techamuanvivit, a Michelin-starred Thai chef and restaurateur based in San Francisco, demonstrates the fun to be had. At Kin Khao Dogpatch, a takeout/delivery-only fast casual, she menus a Thai Iced Tea Slushie and a Thai Tea Soft Serve using a blend of condensed and regular milk.
In Silver Spring, Md., a Thai-inspired dessert café called Sweeteria handily moves the flavors into a brunch-ready Thai Tea Toast drizzled with sweetened condensed milk and served with a scoop of roasted coconut ice cream.
Fern Bar in Sonoma, Calif., melds the Thai tea profile with a Tiki vibe in its Long Thailand Iced Tea, using Thai-tea infused coconut water, vanilla vodka and falernum, then lightening the build by replacing the traditional condensed milk with coconut cream. A flourish of whipped coconut foam tops the cocktail and keeps the drink accessible to those seeking out a plant-based boozy treat.
"It's funny, but the drivers that will probably propel Thai tea forward in 2021 have absolutely nothing to do with its culinary heritage or origin," says Maeve Webster, president of Menu Matters foodservice consultancy. "It lacks a certain cultural gravitas, which means it is less likely that there will be a minefield for operators to navigate around in terms of authenticity or cultural appropriation. Thai tea's color is optimistic and cheerful, and my guess is this will be a big theme for this year, so any product that features Thai tea will inevitably be influenced by that gorgeous orange color."
Steeped in Coffee Culture
Thai tea has good momentum, thanks to its youthful vibe and its pedigree as a hip specialty beverage originating in Asia. It joins the ranks of Vietnamese iced coffee, Dalgona coffee and milk tea, making it a flavor system with credibility among younger consumers. Its versatility also lets it meld into those profiles and others.
Dalgona coffee (that whipped, frothy coffee drink made with instant coffee, sugar, water and milk) can filter through the Thai tea lens for a specialty beverage that is entirely new, but still part of the gang. A Thai tea Dalgona coffee is a riff on the original, featuring whipped brewed Thai tea, instant coffee powder and sugar, atop a mixture of milk and condensed milk, over ice.
"Coffeehouse culture continues to draw inspirations from the East," says Dina Paz, culinary director at Sterling-Rice Group culinary agency. "Texture play is huge here, with creamy, decadent, whipped experiences that float, swirl and layer beautifully in the glass. There's also an opportunity for warm and bold spice combinations to evolve and take on a complexity beyond the ubiquitous—and still beloved—pumpkin-spice profile."
San Francisco-based Farmhouse Kitchen gives guests a sensory experience with its Thai Iced Tea, thanks to a sweetened condensed milk "snowball" that floats over the aromatic black tea in a highball glass.
And Best Quality Daughter, a newly opened American-Asian restaurant in San Antonio, serves a cheeky boozy boba called "I Used to Live in Thailand," made with aged rum, Clement Créole Shrubb, Thai tea and Angostura bitters.
Thai Bloom!, with locations in Portland and Beaverton, Ore., pulls out Thai tea's sweeter side with its Thai Tea Kicker: vanilla vodka, amaretto, Thai tea and whipped cream.
Beyond Beverage
With broadly pleasing flavors and eye-catching visuals, Thai tea finds a happy home in ice creams, desserts and brunch fare. "Thai tea is a very simple flavor system that becomes almost infinitely versatile across both beverages and foods," says Webster. "As it's deconstructed, it can swing toward either the sweet or the savory sides of the spectrum, depending on the elements chefs want to pull out. There's no reason for operators to be stuck offering Thai tea as-is, which might be especially discordant at non-Thai restaurants. Instead, other concepts can put their own stamp on it."
Sam Mason, former pastry chef of WD-50 in New York, tinkered with Thai tea as a flavor base, looking for a way to make it work at his modern ice cream shop OddFellows, with several locations in Brooklyn, N.Y., and one in Chestnut Hill, Mass. He landed on Thai Tea ice cream featuring a lemongrass-condensed milk swirl.
"We started out with just Thai tea ice cream, then we decided to add an inclusion because it needed something gooey, something crunchy," he says. "We thought about what plays well with Thai tea—ginger, coconut, palm sugar, lemongrass, makrut lime. Lemongrass is what we decided on."
Mason adds sea salt to the lemongrass-infused condensed milk, which counters the sweetness nicely.
The Basque Thai Cheesecake at Go Cakes, a custom cake shop in San Marino, Calif., gets its unique flavors from the heavy cream that's steeped in Thai tea, imparting the signature warm spiced flavors into the dessert.
Indo, a modern Asian restaurant in St. Louis, calls on Thai tea ice cream to round out its fun offering of a Coconut-Persimmon Cake topped with Pocky biscuit crunch.
Thai tea's approachability and whimsy, coupled with its craveable and indulgent flavors, fuel consumer excitement. The ease with which the profile can morph into different formats makes menu ideation centered around Thai tea rich with possibility.