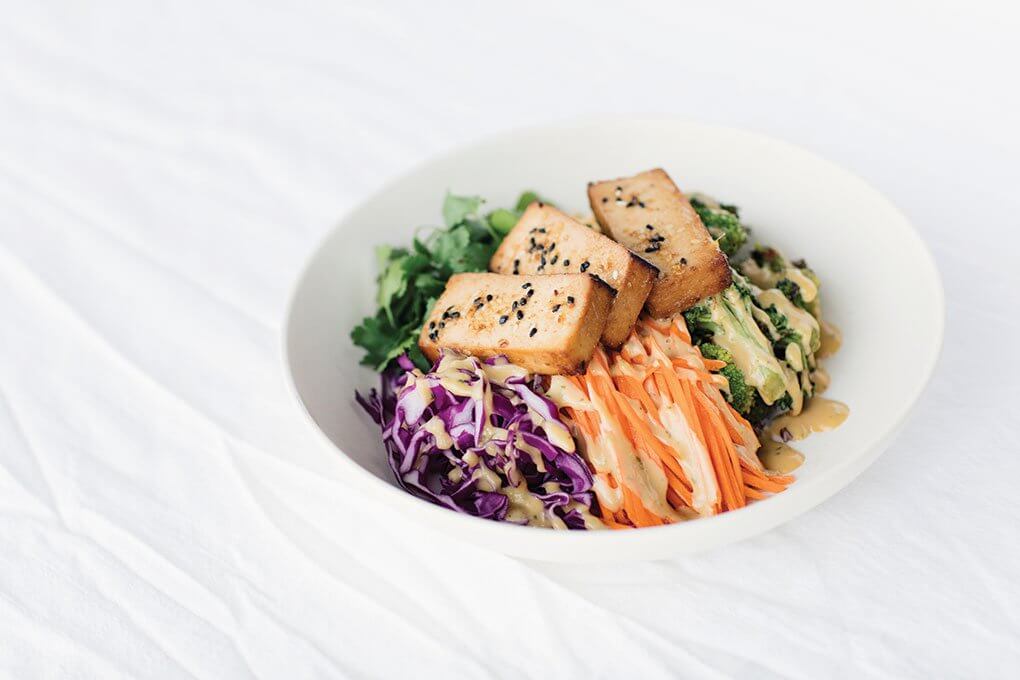 Bowl builds are scoring wins across foodservice, but especially in the fast-casual segment. The challenge now isn't introducing diners to the concept, but differentiating them in the heavily saturated marketplace. We talked to three fast casuals that are doing just that.
One restaurant brand crowd-sourced its R&D, yielding a bowl build that is now a top seller chain-wide. Another used the bowl platform as a way to test out tofu, relying on the bowl's familiar and popular status to help carry the tofu to victory. The third fast casual tapped into the red-hot Eastern Med trend while cleverly mashing it with high-impact ingredients from Mexico.
Cuba Wins Big
The fans have spoken. Fast-casual California Tortilla runs a March Madness promotion that pits eight previous menu items against each other to win a spot as the brand's next limited-time offer.
"The Cubano Bowl beat out seven other competitors after more than 4,400 votes poured in," says Keith Goldman, Co-Founder/Corporate Chef. "It was the clear winner. Since making it a menu offering, The Cubano Bowl has lived up to its champion status and has been a best seller chain-wide." Rice and beans are topped with mesquite chicken, mango salsa, avocado, sour cream, cilantro and tostones. It's then drizzled with a housemade Havana sauce, which blends barbecue sauce with the flavors of lime juice, orange juice, crushed chile peppers, tomatoes, Mexican spices and herbs.
"The dish has both sweet flavors from the fresh mango salsa and a savory-citrusy tone from our Havana sauce," Goldman says. "The fresh, made-daily sauce is a favorite within Cal Tort nation, and our fans voted to bring The Cubano Bowl back for a reason—it packs a punch. The dish and its flavors are unique and can't be ordered anywhere else in the fast-casual segment."
Bowl'd Moves
The Buddha Bowl was put on the seasonal menu at fast casual Modern Market in hopes of offering a tofu-based dish that both vegans and meat eaters would enjoy. It performed so well that it's now a core signature item that ranks among the brand's top sellers.
Developed to highlight Modern Market's new sesame-glazed tofu, the bowl build stars warm heirloom rice, spicy roasted broccoli, carrot, citrus cabbage slaw, toasted peanuts, cilantro and peanut-mango sauce. "This dish hits the five flavor notes that you often find in a lot of Asian cuisines—sweet, sour, salty, bitter and spicy," says Josh Chesterson, Creative Culinary Director. "There is also a heavy umami quality in the tofu marinade, so we are adding a sixth flavor profile as well, which really takes the dish over the top."
Although it's a vegan dish that appeals to a broad consumer base, Chesterson points to a few of its components that help guests customize the bowl to their liking. "The spicy broccoli and sweet peanut-mango sauce work well with any of our proteins, so we find a lot of our guests customize the bowl with chicken, pork, salmon or our new grass-fed beef," he says. "This has been so universally well received by our guests that it quickly became one of our best sellers."
Greeking Out
The perfect marriage of loaded fries and a modern bowl, the El Greco Street Bowl at Luna Grill, a Mediterranean "luxe casual" with more than 40 locations in Southern California and Texas, features premium gyros paired with french fries, feta, tomato, Serrano pepper, green onion and a spicy cucumber yogurt sauce.
"The El Greco Street Bowl brings together some of the most well-loved flavors in Mediterranean cuisine—gyros and cucumber yogurt sauce—with a new south-of-the-border inspired spiciness and flair from the addition of Serrano peppers and green onions," says Maria Pourteymour, Co-Founder and Chief Cuisine Officer.
The inaugural item in Luna Grill's bowl category, the El Greco Street Bowl debuted as a limited-time offering, but was so successful that it earned a permanent spot on the menu and inspired a whole new category for the chain. Luna Grill now offers a chicken version of the El Greco Street Bowl with rice or salad substitutions, as well as a veg-centric Better Beet Bowl.