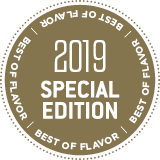 Although chefs have been leveraging fish sauce for years, they're now starting to weave it into their menu descriptions, proudly displaying its role in building an aggressive flavor profile. That shift in menu language and flavor development is yet another signal that diners today seek out dishes that promise adventure. Fish sauce delivers.
This flavor bomb explodes with savory, sweet, salty and funky notes. It's the latest star in the fermented firmament, offering big potential for both deep flavor impact and menu intrigue. Daniela Soto-Innes, chef/partner at Mexican-inspired Cosme in New York, serves this condiment at brunch in her Arctic Char Tostada with salsa macha, salmon roe and caramelized fish sauce vinaigrette.
Andy Ricker, chef/owner of Pok Pok Restaurants, with outposts in Portland, Ore. and New York, highlights the ingredient in a chicken wings build: The Ike's Vietnamese Fish Sauce Wings stars chicken wings marinated in fish sauce and sugar, deep fried, then tossed in caramelized fish sauce and garlic, served with pickled vegetables.
Is fish sauce the next Sriracha? No, but its days of singing behind the curtain are over. It now stands center stage, proudly belting out its seriously rich flavor notes.
Fish Sauce on Menus
Thai-style Jerky: Dried strips of pork or beef that are fried and served with a dipping sauce of fish sauce, chili flakes and toasted rice
Secret Thai, Chalmette, La.
Pho-spiced smoked short rib with spiced seasonal fruit salad and fish sauce caramel
Phuc Yea, Miami
Meakong Salad: Laos-style papaya salad with julienned green papaya, green beans and tomatoes with a mellow fermented fish sauce
Laos in Town, Washington D.C.