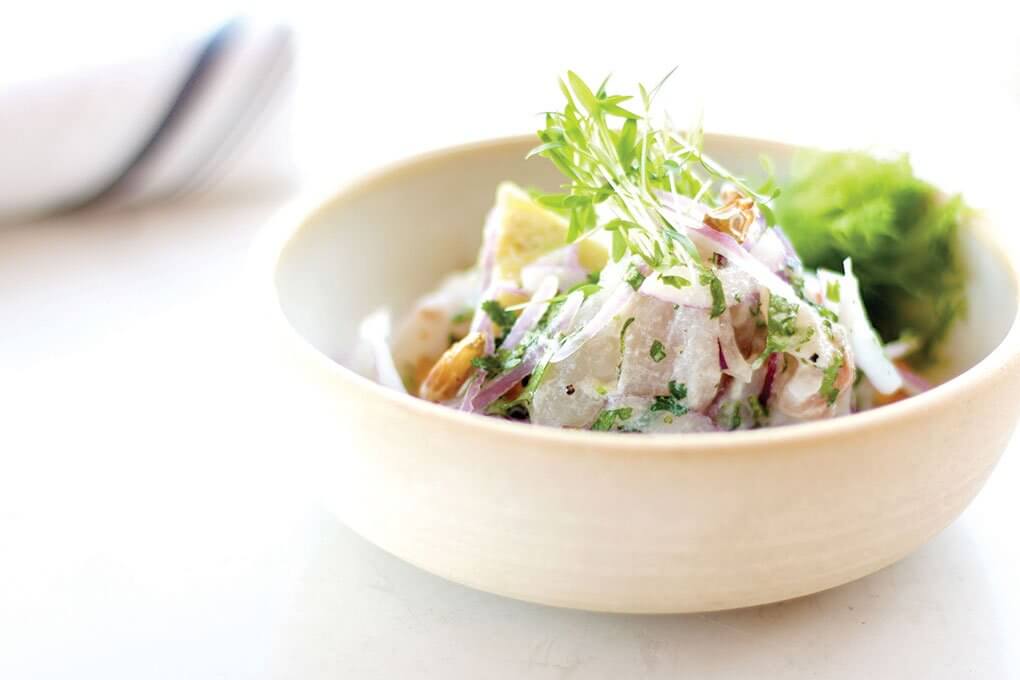 By Flavor & The Menu
April 19, 2019
A country's cuisine is informed by its indigenous people and its immigrants, often resulting in miraculous flavor combinations. Peru's version of ceviche is a perfect example, where Japanese influence is combined with South American traditions. The Cebiche Clásico at Yuyo, a contemporary Peruvian seafood restaurant, celebrates that melding of cultures.
"Peru, like most of Latin America, used to marinate its fish in lime juice for hours to 'cook' and to kill bacteria," says Maribel Rivero, Executive Chef. "Once the Japanese immigrated to Peru in the early 1900s, Peruvians adopted the idea of preserving the texture of freshly cut fish and incorporating the citrus marinade known as leche de tigre minutes before a ceviche is served."
Yuyo's Cebiche Clásico combines striped bass with leche de tigre, aji limo, Japanese sweet potato, choclo (Andean corn), yuyo (seaweed) and micro cilantro.
"Components of leche de tigre include ginger, garlic, celery, onion, white fish scraps, lime juice, cilantro, aji limo, and salt," she says. "This combination creates an ultimate umami flavor while preserving the buttery texture of fresh fish."