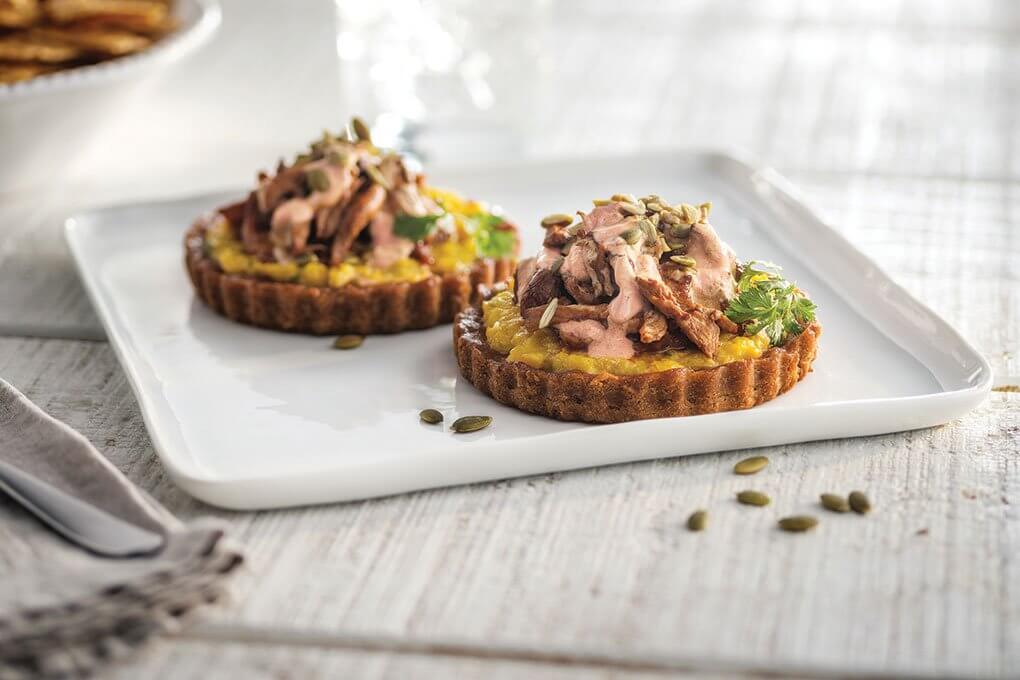 SPONSORED CONTENT
You know you've got a runaway hit when your dish wins the grand prize in a national recipe contest. Barry Greenberg, Executive Chef of University Dining at the University of Iowa, took top honors in last year's Minor's® Flavor Expedition Recipe Contest for his craveable and creative dish, the Carnita Tamale Tarts.
The Flavor Expedition is presented annually to celebrate the commercially ambitious chef, recognizing culinarians who use distinctive flavors and demonstrate craftsmanship. Greenberg was awarded $10,000 and a trip to the Bocuse d'Or competition in Lyon, France, as well as a commemorative chef coat autographed by Bocuse d'Or founder, Chef Paul Bocuse.
Greenberg's winning dish is a clever play on tamales, moving the masa dough into tart form, then filling it with a red-adobo spiked carnitas. "I actually use the Minor's Red Chile Adobo in three different ways in this recipe because it packs a really great flavor punch, delivering earthy, warm and fiery flavors that have a wonderful Southwestern feel," he says. Greenberg infuses a little of the flavor concentrate into the masa dough itself. He also adds it to the pork shoulder, which he then sous vides. Once the pork is cooked, he crisps it in a pan. To build the tart, he starts with a dollop of fresh corn purée, then spoons the carnitas on top. He garnishes the tart with a sour cream crema that's flavored with Minor's Red Chile Adobo Flavor Concentrate, lime and cilantro. "The adobo adds flavor and body to this recipe, and helps make it memorable and craveable," says Greenberg. He points out the versatility, too, suggesting that the adobo-flavored carnitas would work well in a taco, burrito or bowl build.
"The great thing about Minor's Flavor Concentrates is their consistency and versatility—on top of the fact that they really help you boost the complexity and depth of flavor in a dish," says Greenberg. "I also like that you can add a few ingredients to the concentrates, making them signature for your operation."