By Flavor & The Menu
December 15, 2019
Are there two platforms that promise more free rein with creative ideation than quesadillas and tostadas? Quesadillas have long been a part of American comfort-food culture, where anything goes as long as cheese is involved. Tostadas are less common on American menus, but with their crunchy, giant cornflake shape, they offer a canvas for fun innovation.
Both quesadillas and tostadas can easily jump into any number of menu trends, from veg-centricity to global mash-up. The key—today more than ever—is clever, bold flavor play. The Kalua Kimchi Quesadilla, at Marination Station in Seattle, offers a meat-centric, globally inspired combination of kalua pork, kimchi and cheese, along with Korean-style crema and pickled jalapeños.
Broken Spanish in Los Angeles serves a quesadilla featuring rich flavors spiked with heat by combining oxtail, plantain, habanero and salsa quemada.
At Comida in Aurora, Colo., the Stella's Pork Carnitas Tostada employs an approach similar to a toast build—slow-cooked pork shoulder in Stella Artois over smoked Gouda-sweet potato mash with pineapple-habanero salsa.
Nixta Taqueria in Austin, Texas, swings into a plant-forward build with its Beet "Tartare" Tostada, with roasted beets, salsa macha aïoli, avocado crema, fresh horseradish and lime. Not surprisingly, tacos today have forged the path for innovation here, signaling safe passage for eclectic builds.
Tostadas in the A.M.
Data points to an astounding growth of breakfast terms linked to "tostadas" on menus over the last four years. Such significant growth bolsters the idea that tostadas present significant opportunity in the breakfast space.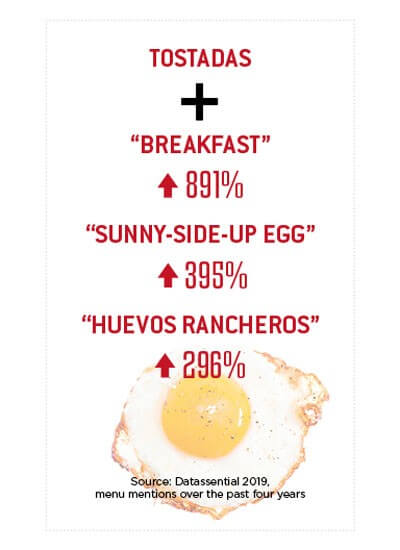 Here are a few trend-forward breakfast tostadas that demonstrate the wide-open, flavor-filled possibilities:
Tostada Chilaquiles with tomatillo salsa, fried eggs, black beans, housemade queso fresco, pickled onion, radish, jalapeño, cilantro
—Hola Arepa, Minneapolis
Avocado Tostada with fried eggs, arugula, endive, chile-tomato vinaigrette
—Tatanka, Aspen, Colo.
Pork Carnitas Tostada topped with a fried egg, white beans, roasted corn relish, poblanos, micro greens, romaine, lime crema and Cotija cheese
—C Casa, three locations in California
French in the Fold
As we see French cuisine continue its move into more casual, mashed-up fare on American menus, it makes sense some classically prepared French ingredients are finding a home in the king of casual: quesadillas.
Bartaco, a "beach-culture inspired" restaurant brand based in Norwalk, Conn., mashes Mexican and French in its Duck Quesadillas by combining duck confit and caramelized onions with Mexican cheeses and tomatillo sauce. "It marries international flavors, and the format serves them in an approachable package, which encourages guests to try them," says Sabato Sagaria, president of Bartaco.
While Bartaco is a taco joint exploring French ingredients through a familiar, on-brand format, Brabo Tasting Room in Alexandria, Va., is a French restaurant exploring the quesadilla format using familiar, on-brand French ingredients. Its Seasonal Fruit & Vegetable Quesadilla stars roasted vegetables, pears, apples, ricotta and cheddar. "This combination was inspired by a fabulous fruit and vegetable cocotte I used to make early in my career when I worked along the French Riviera," says Sebastien Rondier, Brabo's executive chef.
Adobo Abounds
In a few subtle yet sublime flavor moves, Punch Bowl Social, a modern dining and entertainment chain based in Denver, moves a chicken quesadilla into a menu standout. Its Roasted Chicken Quesadilla features Monterey Jack, Serrano chile, corn, tomato, pickled red onion, cilantro and salsa adobo. The adobo is an interesting choice, hitching a lesser known, bold ingredient to the familiar, comfort-focused quesadilla.
"The adobo sauce is piquant, creamy and smoky, incorporating the right depth of flavor to round out the quesadilla," says Sheamus Feeley, chief culinary and beverage officer. Datassential reports that adobo has grown 25 percent on menus over the last four years, and predicts continued growth of 19 percent over the next four. Its color is certainly appealing, along with its sweet, smoky and spicy flavor profile.
"We love our adobo," says Feeley. "In fact, we love it on tacos and burritos, and sometimes sneak it on a chicken sandwich."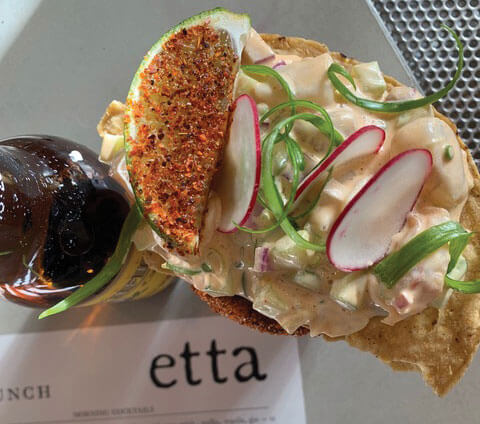 Etta
Topping Off Brunch
Etta, a New American restaurant in Chicago, expands tostada's role into a beverage "garnish" on its brunch menu. A ceviche tostada perches atop a spicy michelada. Both the rim of the drink and the wedge of lime are coated in a colorful spice blend for picture-perfect drama.
Seaworthy Pairings
The monumental popularity of shareables and the proliferation of creative, flavorful seafood dishes set the scene for a happy partnership with tostadas. Datassential reports that seafood paired with tostadas has been growing over the last four years, particularly when it comes to ahi tuna, octopus and ceviche.
Inventive, layered flavor play is key here. For example, at Plado Tasting Bar in New York, the Tuna Tostada is topped with fresh seared tuna, avocado, sour cream, jalapeño and marinated Granny Smith apples.
Supremo Taco in Atlanta menus an Aguachile Tostada with shrimp, onion, cucumber and puya chile.
Black Market in Indianapolis makes octopus more approachable with its Octopus Tostada with avocado, black beans, morita salsa aïoli and pickled onion.
At Juniper and Ivy, a modern American restaurant in San Diego, the tostada experience is miniaturized with its Baja Yellowtail Tostada, served on mini tostada discs and spiked with a spicy aïoli.