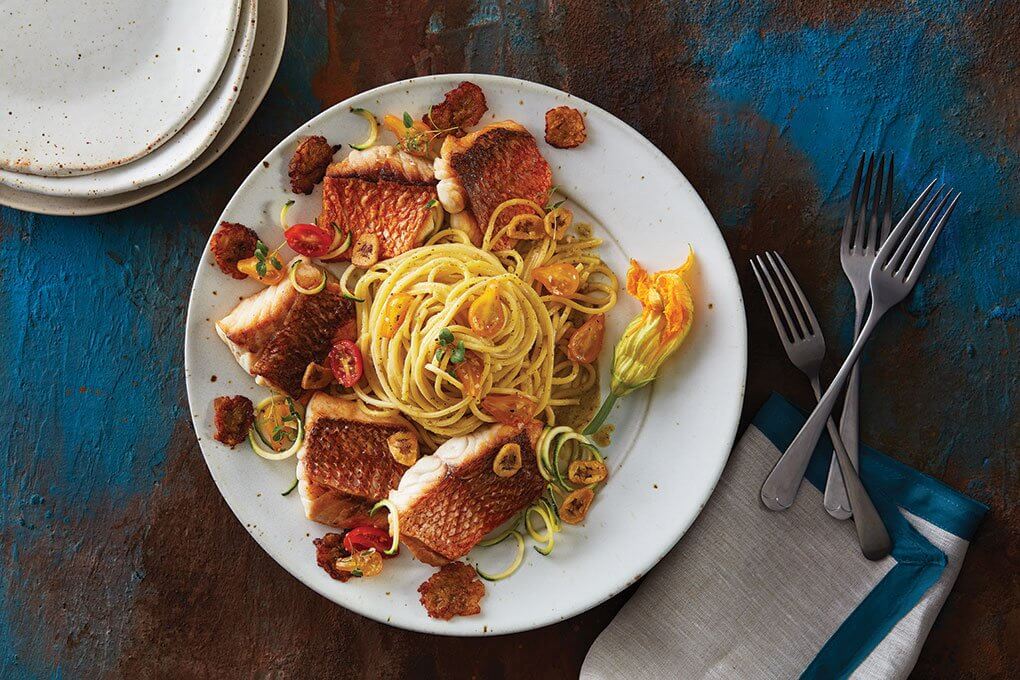 SPONSORED CONTENT WITH BARILLA
For us, a "best of" flavor has to hit on a number of levels. It has to deliver great flavor while keeping a healthier profile. It should be shareable, good for gathering people together at the table. And finally, it should be eye-popping for Instagram. Rickie Perez, Executive Chef/Founder of Logan Oyster Socials, a traveling oyster bar in Chicago, serves up a seafood pasta that is a perfect 10.
Relying on his Puerto Rican heritage, Perez created the Pargo Rojo, a pasta dish starring a light, fresh sauce of citrus and olive oil, al dente Barilla Collezione Spaghetti, and crisply-seared red snapper, or "pargo rojo" in Puerto Rican parlance. A finishing splash of pique, a spicy fermented pineapple vinegar, along with baby tostones, complete the dish. All of the elements in the pasta tell a great flavor story, giving it a beautiful sense of place while delivering a familiar, well-loved format—pasta.
Perez reminds us that pasta is a universal comfort food. "Sometimes, it's forgotten that while Puerto Ricans are from a beautiful island in the Atlantic, we are Americans and we love to feed our families pasta," says Perez. "When Hurricane Maria hit the island in 2017, the first thing I sent to my family and donated were cases of Barilla pasta. I knew I would be able to feed a lot of people with that small blue box."