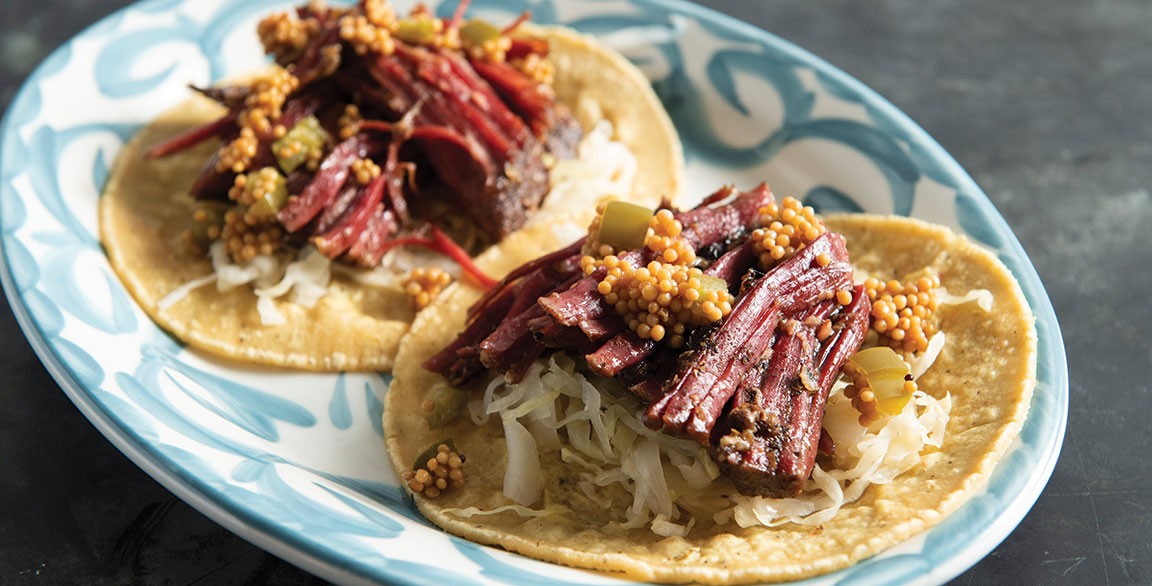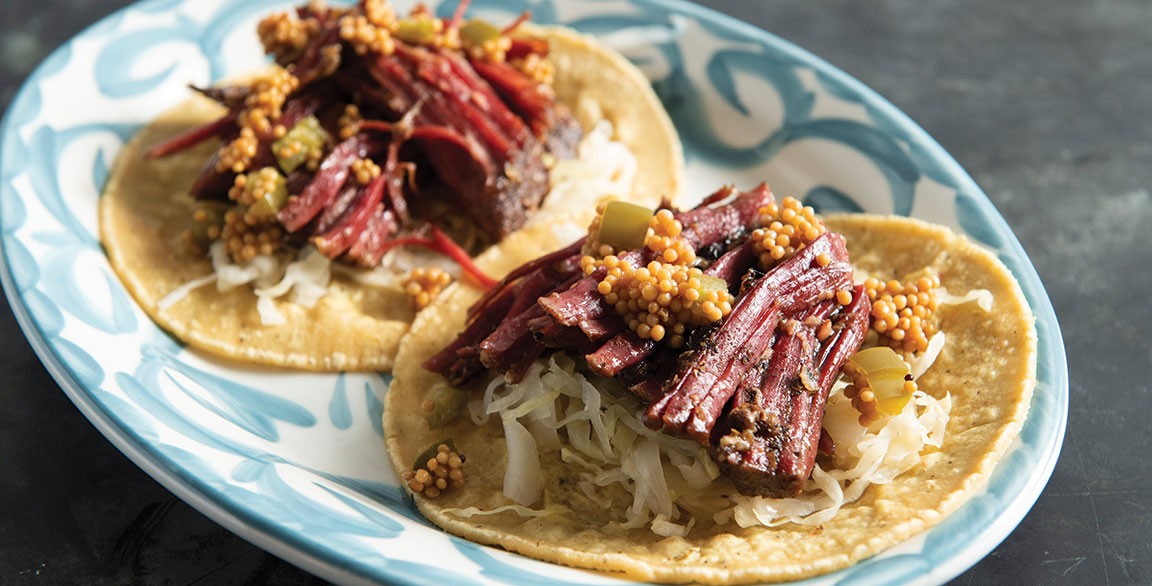 The neighborhood delicatessen boasts timeless favorites. Its longstanding relevancy is rooted in comfort, tradition and mainstream appeal—elements that can serve as a diverse platform for recipe development, moving key ingredients and beloved flavor combinations into unexpected applications.
Menu developers can translate deli fare into modern signatures through a number of pathways, switching out a traditional component with an on-trend ingredient or exploring contrasting flavors and textures.
Operators can also stay within the boundaries of classic deli items while introducing premium cues. Of course, applying deli techniques to modern preps, like everything bagel spice atop fried rice or chicken wings, leads to creative recipe development with tried-and-true flavor combinations. Here's a look at 10 ways to tap into the deli for unique spins on menu offerings.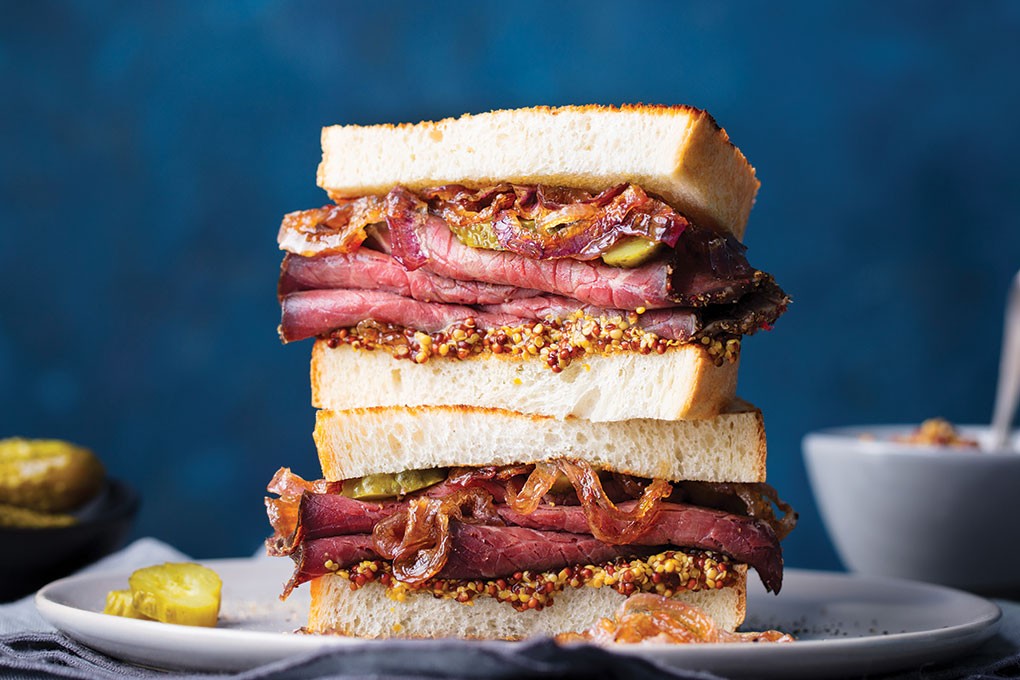 1

Reuben

The iconic Reuben components are strong enough individually that they can be modernized while still holding onto the Reuben's identity. Operators have latitude to incorporate global touches, go plant-based or even take this beyond a conventional sandwich build.

Portobello Reuben Quesadilla: Pastrami marinated/roasted portobello slices + red cabbage kraut + Swiss cheese + whole-grain rye flour tortilla + Russian dressing aïoli

Korean Reuben: Garlic-rubbed pastrami + kimchi slaw + Gruyère + gochujang-infused Thousand Island dressing + rye bread
2

Everything Bagel Spice

This dynamic seasoning has been gaining traction in both foodservice and retail applications, transcending bagels. Position it outside of breakfast and showcase it as a lead flavor, emboldening potential food pairings and elevating your recipe development arsenal.

Everything-Caramel Bacon: Thick-cut bacon + brown sugar + everything bagel spice

Everything Chicken Melt: Marbled rye + everything bagel-seasoned, karaage-style fried chicken breast + jalapeño cream cheese + caramelized onions
3

Coleslaw

Raise the coleslaw bar from classic comfort to a premium option for stand-alone sides, as well as a fundamental recipe ingredient. Consider both creamy and pickled slaws as accessible agents to carry inventive flavoring agents.

Kohlrabi Krunch Slaw: Kohlrabi + watermelon radish + tricolor carrot + toasted sunflower seeds + classic slaw dressing

Smoked BBQ Slaw: Smoked green cabbage + barbecue-spice seasoning + toasted chopped pecans + maple vinaigrette
4

Potato Salad

Start with a loose interpretation of "potato salad," as it's important to think outside of the box when it comes to finding new inspiration in this deli staple. Seek to integrate unconventional potato varieties and experiment with interesting textures, forms or cuts, along with exploring both cold and hot applications.

Serbian Spuds: Roasted, chilled fingerling potatoes + vegan mayonnaise + nutritional yeast + ajvar + red onion + flat leaf parsley

Potato Salad Croquettes: Russet potatoes/peppers/onion/celeriac mash + chopped hard-boiled eggs + panko breadcrumbs + yellow mustard dip
5

Fish Dips & spreads

Fish dips and spreads benefit from the continued interest in small-bite shareables, "seacuterie" dishes and one-of-a-kind bar snacks. Chef creativity and presentation are critical areas for increasing engagement in these menu categories, and fish dips can play a key role.

Green Goddess Tuna Dip: Tuna salad blended with avocado green goddess + baby vegetable crudités + vegetable chips

Brandade Stuffed Omelette: Trifold omelette + smoked trout + potato brandade + cherry tomato salsa
6

Lox

This salt-cured salmon is a deli staple, most often paired with a bagel and a schmear. Today, chefs are using lox, and its Nordic cousin gravlax, in creative, wonderful ways, driven by a spike in interest by consumers in Nordic cuisine, seacuterie and the overall seafood category.

Mochi Lox Waffle: Mochi cream cheese waffle + lox + honey mustard-dill drizzle + edible flowers + fried capers

Crab & Gravlax Cheesecake: Old Bay crabmeat and gravlax savory cheesecake + citrus-chive oil + petite salad greens topper
7

Turkey Sandwich

A high-quality, crave-inducing turkey sandwich is a longstanding menu mainstay. It's also a canvas for big flavor, offering a light, yet satiating, appeal. Operators can modernize this classic by experimenting with layering meats, as well as ingredient pairings that provide regional or global flair.

Turkey Confit Banh Mi: Turkey leg confit + pickled Asian pear + shaved jalapeño + microgreens + red miso mayonnaise + semolina baguette

Nashville Hot Turkey: Hot dry-rubbed, hot-sauced, roasted turkey breast + Boursin schmear + tomatillo pickle relish + potato bread
8

Classic Deli Meats

Put pastrami, corned beef, brisket, ham, charcuterie, chicken liver and other deli classics in the spotlight, making a point to accentuate their culinary attributes. Leverage the authenticity of these meats by pairing them with ingredients of equal flavor resonance and seek to offer the unexpected.

Pastrami Dumplings: Shaved pastrami-, cheese- and kraut-filled steamed dumplings + grain-mustard-beef jus

Corned Beef & Cabbage Soup: Chicken broth + chopped corned beef + green cabbage + heirloom grains + multicolor peas + tomatoes + vegetables + fresh herbs
9

Potato Pancakes

Regard latkes (or similar shredded potato cakes) as a base upon which to layer flavor and move this deli icon into a key ingredient role. Don't hesitate to embellish with add-ins and expand the traditional size.

Gold Cake Dippers: Crispy, mini-grated Yukon gold and sweet potato cakes + roasted golden beet-labneh dip

Stuffed Mexi Browns: Shredded hash browns + ground chorizo + pepper Jack cheese
10

Pickles

Seasonal and locally sourced pickled fruits and vegetables allow operators to craft signature flavors while showcasing a commitment to supporting area growers and promoting peak freshness. Both initiatives allow for valuable guest connections.

Pickled Cherry Clafoutis: Baked clafoutis studded with pickled fresh cherries, dusted with grains of paradise spice + dollop of candied ginger mascarpone

Chow-Chow Bowl: Chunks of seared, blackened catfish + creamy polenta + fresh spinach + classic "hot" chow-chow + lemon-butter sauce