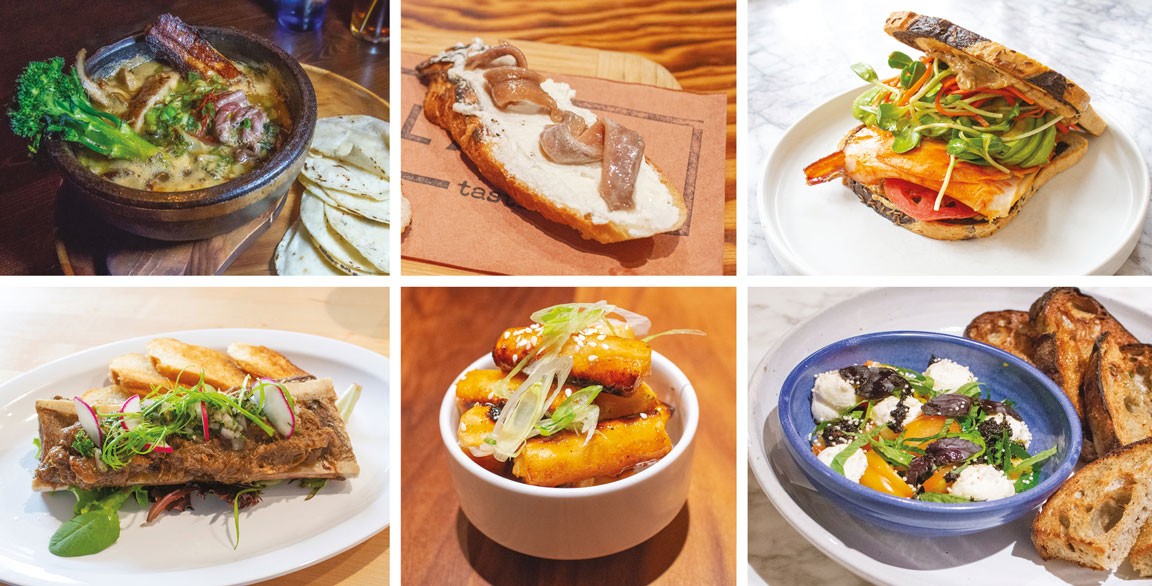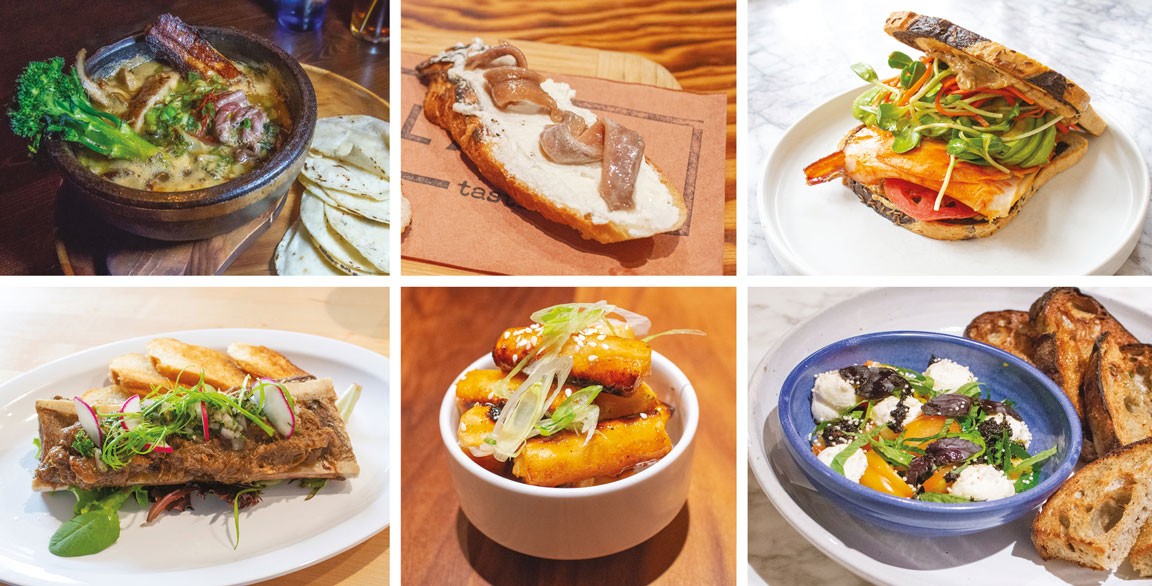 This is the first installment of our 18th annual research tour, where our team visits the top trend-driving cities of New York, Los Angeles and Chicago. For our 2020 expedition, 1,186 dishes were tasted at 117 restaurants. This most recent round of research produced fresh insights into more than a dozen menu, flavor and ingredient opportunities, as chefs in these leading-edge restaurants strive to create unique dishes that distinguish their operations and provide new experiences for dining consumers that simply cannot be replicated in the home.
Anchovies: Here, There & Everywhere
Perhaps the most prevalent and inspiring flavor development discovered in our research was the widespread incorporation of anchovies on menus across the three cities. This included many dishes where the anchovy is placed squarely in the center of the plate.
This proliferation flies in the face of conventional wisdom that says anchovies are too potent and off-putting a flavor component to appeal to American dining consumers. And while that may still hold true for some diners, chefs on the leading edge are using anchovies in ways old and new that appeal to more sophisticated and adventuresome consumers seeking that next, deep dose of umami.
Salt or Vinegar?
The two primary varieties of anchovies are those that are dry-cured in salt and boquerones, fresh anchovy fillets marinated in vinegar and olive oil. When served with simple accompaniments, either can provide an easy and flavor-forward snack or sharing plate.
At both Wherewithall, the new Chicago tasting-menu restaurant from chefs Beverly Kim and Johnny Clark, and The Jones, from prolific New York restaurateur Gabe Stulman, cured anchovies are served with classic simplicity, bathed in olive oil with a side of crusty grilled bread. Stulman adds a slice of lemon cheek for good measure.
Teresa Montaño, executive chef and co-owner of Spanish restaurant Otoño in Los Angeles, composes a plate of boquerones artfully arranged atop roasted radishes and chives with a house-cured tuna and anchovy goat butter served alongside.
And at wine bar Joe's Imports in Chicago, boquerones are topped with a craveable relish of chopped Medjool dates, shaved cauliflower and pine nut gremolata.
Toasts and crostini make ideal carriers for anchovies. The menu at chef Chris Pandel's Mediterranean restaurant in Chicago, Cira, features Spanish Anchovy Toast with anchovy conserva, garlic and crushed tomato, while the Anchovy Crostini at New York's Plado Tasting Bar sees a schmear of cream cheese drizzled with lime juice.
Crispy & Textural
Many chefs add interest to anchovy-based dishes by treating them in ways that create crispy or crunchy elements. Korean-American restaurant Perilla in Chicago serves Blistered Shishito Peppers sprinkled with sweet soy, crushed hazelnuts and crispy fried anchovies.
Similarly, chef Jenny Kwak of Brooklyn's Haenyeo augments her offering of banchan with crispy fried anchovies tossed in sweet soy and sprinkled with toasted sesame seeds.
And the Fish Hiding in Kelp, from revered Los Angeles chef Jessica Koslow at her new modern Mexican restaurant Onda, was a favorite of our research team: corn masa-battered and deep-fried boquerones, Pacific kelp and preserved Meyer lemon slices, served with a salsa verde crema for dipping.
Sauces, Stir-Ins & Sprinkles
Chefs are also boosting levels of craveability by creating sauces and dressings flavored with anchovies and by chopping the fillets and stirring them into or sprinkling them onto dishes.
The Endive Salad at Audrey at the Hammer Museum in Los Angeles includes chopped anchovy, shaved pecorino cheese, rye croutons and a six-minute egg, dressed with an anchovy vinaigrette.
On the new lunch menu at nearby Gwen, celebrity chef Curtis Stone serves a dish of Roasted Cauliflower tossed with anchovy, garlic, parsley and breadcrumbs.
At Misi in Brooklyn, N.Y., chef Missy Robbins garnishes her dish of Marinated Leeks with anchovy, parsley and pistachios, and gives her housemade linguine a double dose of umami, tossing it with anchovy, garlic, breadcrumbs and parsley, then finishing it with a drizzle of colatura, the Italian anchovy extract.
In Praise of Oxtails
In the never-ending search for less costly meat proteins that, with a bit of sweat equity, can be transformed into rich and satisfying dishes, oxtails are gaining traction on new menus. Possessing a unique combination of meat, bone and bone marrow, oxtails exude high amounts of gelatin when given a slow braising, resulting in spoon-tender meat with an intensely concentrated beefiness, accompanied by a similarly rich broth.
Oxtails have traditionally been used as an affordable protein in a variety of global cuisines, such as the classic Filipino stew kare-kare. Filipino-American wine bar Tsismis in New York serves a deliciously mashed-up interpretation of the dish: a large bone-in cut served in a pool of peanut-laced broth brimming with long beans, eggplant and bok choy.
The Braised Oxtail at St. Anne's in Los Angeles features a traditional Cuban treatment, slowly cooked in sofrito sauce and served atop white rice with olives, capers and shredded sour cabbage.
Oxtail takes an Italian bent on the menu at Chicago wine bar Joe's Imports, whose gnocchi features deboned and pulled beef atop ricotta dumplings garnished with shaved carrots, leeks and pecorino Romano.
Boneless, pulled oxtail serves as an indulgent topping for roasted bone marrow at Ord & Broadway in Los Angeles, the beef braised in Latin adobo and topped with a relish of soft herbs and pickled shallot.
Also in Los Angeles, the Oxtails and Rice at Southern American spot Alta is chef and soul food master Keith Corbin's signature dish—and a nightly sell-out—the tender beef falling off the bone, bathed in a creamy Cognac sauce and garnished with pickled Fresno chiles. Corbin also uses his oxtail broth as the base for a rich mushroom sauce in his Smothered Hanger Steak.
As oxtails have risen in popularity and their perception as an off-cut has diminished, the only downside has been a marked rise in their cost. However, this is not a protein that most consumers would feel confident in preparing at home, providing chefs and operators an opportunity to differentiate their menus with dishes featuring this highly craveable cut.
Menu Standout: Whipped Ricotta
Ricotta cheese is enjoying renewed interest on the dining scene but with a bit of a facelift, morphing from the familiar curd to a new luxurious whipped rendition. Its versatility was clearly evident in our research as chefs cross-utilized it for menu offerings spanning all the dayparts, from dips and spreads to bowls and toasts, in dishes both sweet and savory.
Ease of preparation is a huge plus, as ricotta needs only to be whipped and spooned out, or loaded into a pastry bag. A prime example is the simple and delicious Whipped Ricotta Toast at Danish sandwich shop Smør in New York's East Village, a thick slice of toast artfully topped with piped rows of ricotta, small spoonfuls of seasonal jam, sprinkles of chopped herbs and sea salt.
For his sharing plate of Momotaro Tomatoes at Blackship in Los Angeles, chef Keiichi Kurobe pipes small mounds of housemade ricotta atop the tomatoes, finishing the dish with Thai basil, bubu arare rice pearls and a drizzle of nori oil.
Due north at Margot, whipped ricotta appears in an interpretation of the classic Spanish tapa Pan con Tomate, a welcoming bowl of airy ricotta dressed with olive oil and freshly grated tomato, positioned alongside grilled focaccia.
The menus at all-day café Floret in New York reflect the potential to cross-utilize whipped ricotta, with a breakfast offering of Filone, whipped ricotta piped onto toasted Italian bread topped with stone fruit and fresh figs, and Fried Bread at lunch served with a crock of whipped ricotta sprinkled with nigella seeds and a drizzle of honey. These creamy and comforting dishes possess wide appeal for consumers, making them potential new menu stars.
Bone Broth: Liquid Gold
We first called out bone broth as a growth opportunity in these pages back in 2015 after visiting pioneering chef Marco Canora's humble Brodo take-out window in Manhattan's East Village. Today, his concept has grown to five locations.
Driven by the popularity of protein-centric diets such as paleo and keto, bone broths are carving out a growing niche both in new shops dedicated to broths, and varied-menu restaurants that incorporate bone broths into new dishes that offer heightened flavors and nutrient-rich goodness.
With two Manhattan locations, Springbone Kitchen is helping redefine and expand the uses for bone broth. Its menu offers cups of chicken or beef broth simply served straight up, in health-driven versions such as Immunity Broth, with added ginger, garlic and vitamin C, and flavor-driven varieties, including a beef-based Kimchi Broth. Springbone then takes the concept a step further with broth-based versions of classic dishes, including a Beef Pho loaded with mushrooms, peppers and scallions, and a Southwestern inspired Bad Hombre Broth brimming with chicken chunks and Spanish rice.
Full-service restaurants are adding bone broth drinks to their menus. Brooklyn's Marlow & Daughters offers bone broth by the cup, but also menus a clever self-serve option with vacuum pots of broth placed on a counter for on-the-go patrons. In
Los Angeles, Tartine on Sycamore serves a Beef Bone Broth flavored with fermented tomato water and olive oil, and Sibling Rival offers a Chicken Bone Broth with turmeric, ginger and seasonal herbs.
The most interesting development is the rise of entrées on full-service menus that incorporate bone broths, such as Black Pepper Fettucine at St. Anne's in Los Angeles, served in a pool of chicken bone broth with chile flakes and housemade pork sausage, the Duck Dumplings at Electric Lemon in New York, resting in a bowl of duck bone broth, and the Farm Stone Bowl at Chicago's Flora Fauna, which includes pork belly, skirt steak and chicken thigh in a bowl of broth made from the bones of all three proteins.
Aside from the health aspect of bone broths that appeals to a broad set of consumers, the reality is that their high concentration of caramelized vegetables, collagen, gelatin and marrow make them liquid flavor bombs, which explains why a growing number of chefs are adding bone broths to their flavor arsenals across the menu parts.
Rice Cakes: Not the Round, Crunchy Snack
Say the words "rice cakes" and most consumers think of the crunchy rice rounds found in grocery snack aisles. However, the rice cakes that are making inroads on mainstream menus today actually predate the snack item by a couple thousand years. Tteok, Korean rice cakes, are made of steamed rice flour that is pounded and formed into cylindrical "sticks" or larger rounds that are cut into slices. While a few chefs insist on making their own from scratch, premade rice cakes are readily available for foodservice, usually frozen and only requiring a quick soak or simmer in water to ready them for inclusion in a dish.
Rice cakes first hit our radar during research way back in 2006, when David Chang introduced his now-legendary Spicy Pork Sausage and Rice Cakes on the opening menu of Momofuku Ssäm Bar in New York. It is the lone dish from the original menu still served there today.
So, it has taken time for this ingredient to break out, but what we are now seeing, in a manner similar to the approach chefs are employing with Indian and Middle Eastern cooking, are unique rice cake dishes that combine authentic Korean flavors with ingredients from a wide range of global cuisines.
Rice cakes that have been soaked or simmered have a soft texture akin to very dense marshmallow. Many chefs serve them this way, but in the best dishes we sampled, the extra step was taken to sear or pan fry the rice cakes in oil, creating a crispy crust that produces a desirable textural counterpoint to the soft interior.
Such is the case with the Crispy Rice Cakes served at Jungle Bird in New York, a casual bar snack of fried rice cake sticks simply tossed with chile paste, pickled chiles, sesame seeds and scallions. This dish could be a star on the snack or sharing plate menu of virtually any restaurant.
Another crispy version is the XO Fatty, wok-seared rice cakes tossed with sweet soy paste, bean sprouts, scallions and fried garlic, served at The Formosa Café in Los Angeles.
Melted cheeses and cheese sauces are making ideal nontraditional rice cake accompaniments. At Korean soul food restaurant Windrose in New York, chef Sung Park's Truffle Tteok features the cakes bathed in a chile-spiked, cheesy béchamel topped with a mound of pork rind crumbles.
Chef Jenny Kwak takes a similar approach at Haenyeo in Brooklyn, N.Y., serving her Rice Cake Fundido in a spicy chorizo sauce beneath a thick layer of broiled Chihuahua cheese.
This type of mashing-up moves ingredients and dishes steadily toward the mainstream, and there is now significant first-to-market potential for chefs to innovate their menus with rice cake-based dishes.
Menu Standout: Miso's Moves
The expanded use of miso as a flavor-building ingredient was clearly evident in our most recent research. We documented dozens of miso menu additions, as chefs creatively and intentionally ply this ingredient to increase umami in compound butters, marinades, soups, sauces, dressings, powders and even desserts.
It's no surprise that miso pairs well with global flavors. For his Miso Shrimp and Soba at 90th Meridian in Chicago, chef Miles Schaefer serves miso-marinated shrimp in a mushroom dashi with soba noodles and sautéed shiitakes.
In nearby Fulton Market, chef Scott Harris of Joe's Imports serves Grilled Butterfish dusted with porcini powder and surrounded by a pool of silky compound butter flavored with white miso and lime.
In the Logan Square neighborhood, Young American serves a unique Ice Cream Sandwich featuring miso and golden milk ice cream between two chocolate-CBD cookies.
Los Angeles research revealed numerous examples of simple miso additions that effectively drive craveability. New American diner Sibling Rival serves both a Smoked Turkey Sandwich slathered with miso mustard and a Togarashi Fried Chicken Sandwich topped with miso-lime yogurt.
The Steak Tartare at Yours Truly is kicked up with a generous dose of black garlic miso.
And the vegetables in the Seasonal Mixed Grill at Birdie G's are continually brushed with a miso bagna càuda as they sit above the coals.
Another positive aspect is that miso is a vegan ingredient. So while many of our research examples include meat, miso can be used to markedly increase flavor levels in plant-based dishes as well.
Part Two of this trends research article will appear in the July/August 2020 issue of Flavor & The Menu.