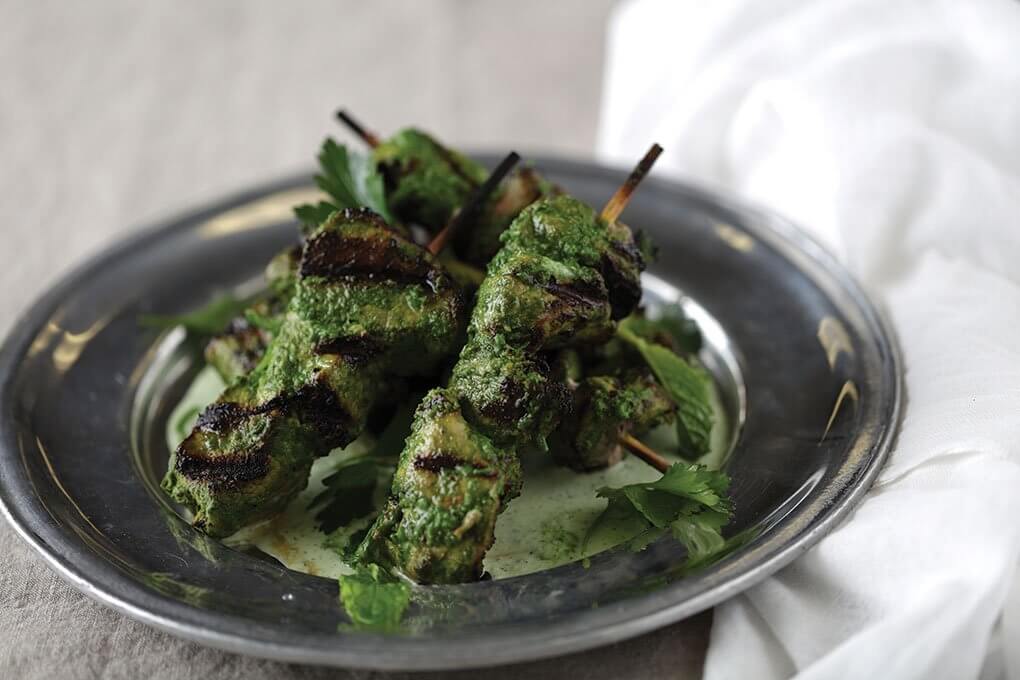 By Flavor & The Menu
June 17, 2019
SPONSORED CONTENT
Meat cooked and served on a stick goes back as far as the discovery of fire. In recent months, there's been a re-framing of kebabs and skewers into formats that deliver big flavor in snacking sized portions of casual, fun, handheld food.
On a recent street-level tour, Gerry Ludwig, contributing editor to Flavor & The Menu and Corporate Consulting Chef for Gordon Food Service, called out the opportunity in "toothpick meats."
"An item we sampled several times that screamed, 'Great new bar snack!' was Toothpick Lamb, a Chinese dish of thinly sliced lamb shoulder stir-fried with onion, garlic, toasted cumin seeds and hot chiles, then skewered on toothpicks," he says. "Likewise, there is no limit to the flavoring options. So, a barbecued pork version could be one logical mainstream move that would make an ideal midscale appetizer, casual sharing plate or bar snack."
The possibilities are endless when it comes to skewered pork, ready for snacking and shareable menus today. Spicy Mediterranean Pork Skewers from the culinary team at Smithfield demonstrate the trend, leading with a marinade for the pork tenderloin that boasts on-trend Eastern Med flavors like fresh herbs, garlic, cumin, coriander, jalapeño, lemon juice and sherry vinegar. A bright, creamy tzatziki rounds out the modern profile.
Another great interpretation of the trend hails from James Canter, Chef/Owner of Guerilla Gourmet: Caramel Pork Belly Skewers, perfect for a fun, handheld bar snack. Marinated in orange juice, brown sugar, garlic and lime, the bellies are glazed in a deeply flavorful blend of brown sugar, fish sauce, orange juice, rice vinegar, garlic, honey, shallot and ginger.
Arthur Dulin, Executive Chef at LeCHON in Portland, Ore., and a member of the Smithfield Chef Advisory Board, menus a Pork Anticucho inspired by Peruvian street food. "They boast deep, savory flavors that are so good," he says. "They make a great, meaty snack." He marinates pork tenderloin in soy sauce, honey, sesame oil, onion and pepper, skewers, then grills them, serving them with an aji verde sauce (lime, cilantro, mayonnaise, jalapeño, aji amarillo) and salsa criolla (red onion, lime juice, cherry tomatoes, roasted corn).
Skewered meats served as handheld bar bites, appetizers or shareables, carry today's best global mash-up flavors, along with an all-important satisfaction that only comes from meat-centric dishes.
Next-Level Flatbreads
Flatbreads are one of the most versatile handhelds, and chefs today are leveraging that to bring innovation to their menus, to add excitement to their offerings. Certainly, the hunt for the next handheld hero is always underway. We've seen it with the banh mi, the torta, the Cubano. Some leading-edge concepts are turning to Eastern Med flatbreads to act as carriers for their globally inspired creations.
"There's great opportunity with flatbreads—they're easily stuffable, convenient and portable," says Brian Darr, Managing Director at Datassential. "They become a great way to experiment with Middle Eastern and Eastern Mediterranean foods."
The Pork Carnitas Gyro is a perfect demonstration of the opportunity. Flavor-rich meats deliver craveability in spades. Here, the mash-up sees carnitas moving into a Greek profile beautifully. Pork shoulder is tossed in olive oil, oregano, thyme, basil, marjoram, onion, salt and pepper, cooked in a skillet with a bit of water, and tucked into a fluffy warm pita. Tomato, lettuce, feta and tzatziki finish the gyro.
Taco Nation
Tacos are always on trend, thanks to the format's serious built-in craveability. The format does encourage flavor play, moving out of authentic Mexican profiles into anything-goes builds. Operators can translate tacos so they best fit their brand identity, and then explore a variety of on-trend flavor systems around that, like butter chicken or Korean barbecue.
"Every aspect of the format—carriers, fillings, cheeses, sauces, other toppings, finishes—can be customized to fit an operator's focus," says Maeve Webster, President of Menu Matters, a foodservice consultancy. "They can work as well for an Irish gastropub as for a Korean food truck."
The key is, of course, creative and approachable flavor combinations. Bulgogi Chicharrón Tacos (above) showcase that very thing in a thoroughly modern approach. Korean slaw (cabbage studded with jalapeño, red bell pepper, cucumber, red onion, cilantro) is dressed with an Asian vinaigrette featuring soy sauce, rice wine vinegar, lemon juice, vegetable oil, brown sugar, sesame oil, sesame seeds, ground ginger and black pepper. Cooked pork rinds are tossed in bulgogi sauce, then spooned into a tortilla and topped with the slaw.
"The consumer's love for casual food with vibrant regional and global nuances remains stronger than ever. Add to this the ability to feature seasonal ingredients or capture an occasion, and tacos deliver a strong menu category," says Rob Corliss, Chef/Founder of the consulting firm ATE (All Things Epicurean). "Today's table stakes for tacos: memorable combinations, multiple flavors and textures, and quality ingredients—where every ingredient contributes heavily to the overall experience."
Tacos on the Menu
Pork Belly Adobo Taco: Braised pork belly, pico de gallo, spicy lime-sambal sauce, cilantro, lime
—TLT Food, Los Angeles
Cuban Pig: Gruyère cheese, slow-roasted pulled pork, honey ham, peppered bacon, grain mustard, house brined pickles, crisp flour tortilla
—Velvet Taco, based in Dallas
Mojo Pork Carnitas, slow-roasted with tangy mojo sauce
—Bartaco, based in Norwalk, Conn.
Chorizo Tacos: Mexican chorizo, Cotija cheese, potato hash, fried egg, cilantro, aïoli
—TacoCraft, four locations in Florida
Smithfield Culinary is always on hand to offer invaluable advice about how best to prepare, serve and present their products. From on-trend applications to menu suggestions to new and unique recipes, they are a great resource for ideas and insights to help attract more customers.
Visit SmithfieldCulinary.com or call your Smithfield rep at 888-327-6526.