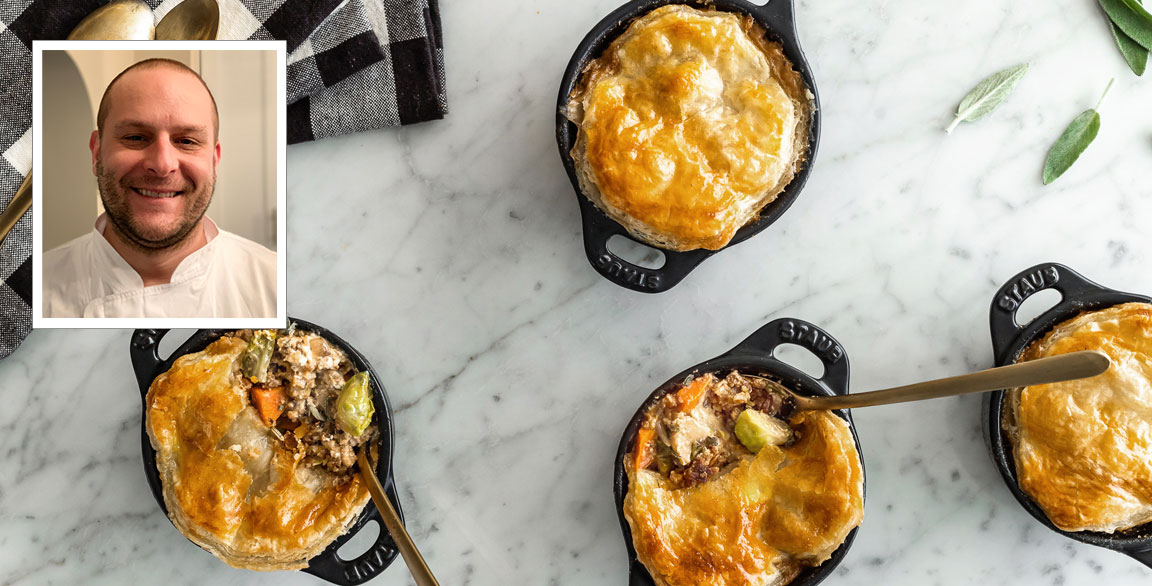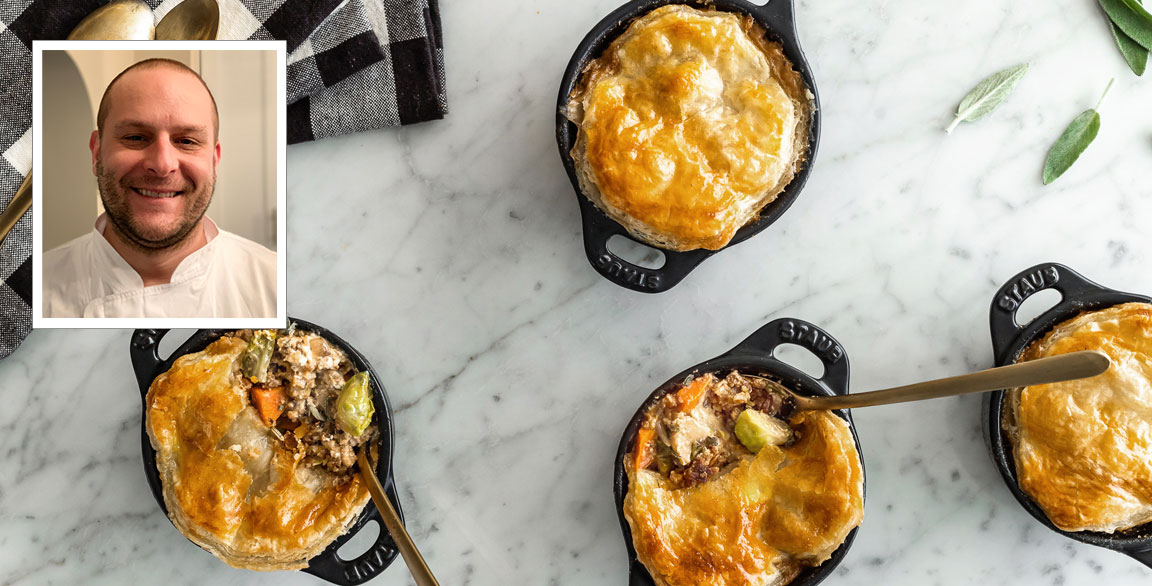 By Flavor & The Menu
November 15, 2020
"I still can't believe I won! I was up against some stiff competition from amazing chefs who were doing incredible things with California walnuts," says Jason Heiselman, Executive Chef of Restaurant Associates in New York. Indeed, each of the five finalists brought their A-game to the [email protected] Live virtual culinary competition, demonstrating modern flavor building in plant-forward menu development. The event was hosted by California Walnuts in partnership with Flavor & The Menu.
Heiselman's California Walnut Pot Pie took top prize, thanks to its successful translation of an American comfort classic into a craveable plant-forward version. Walnuts play a starring role here—he features them as both the hearty, meaty component in an Italian "sausage" crumble and as the lush, savory sauce in the walnut cream. "When I was a kid, my friend's mom would make an amazing pot pie with Italian sausage," says Heiselman. "It was comforting and delicious, and inspired me to make this recipe. The walnuts gave me all of the textures I wanted in the pot pie."
By using California walnuts, Heiselman created a winning dish using a clean, all-natural plant-based ingredient that's rich in omega-3s. "He took California walnuts to the next level with his plant-forward recipe," says Emily Nordee-Rogers, Foodservice Innovation and PR Director at EH+Y for California Walnuts. "It was the perfect combination of a classic comfort food with a healthy-indulgent twist. The application of walnuts in the pot pie filling provided a wonderful texture with a spicy, bold flavor profile that could convince even the strictest of carnivores to crave this vegetarian-friendly dish."
The Grand Prize included a personalized walnut wood-handled chef's knife trophy and a cash prize—with a matched donation to an industry charity. Heiselman selected CORE, a charity that provides support to families of restaurant employees. Plus, he earned a VIP spot to the coveted Camp Walnut event next fall in Yosemite, Calif., to experience a true California Walnut harvest. To learn more about Camp Walnut and how to attend, follow @CAWalnutsatWork on Instagram and Facebook.
The Final Five: Today's Winning Plant-Forward Recipes
California Walnut Pot Pie
Jason Heiselman, Executive Chef, Restaurant Associates (New York City, NY)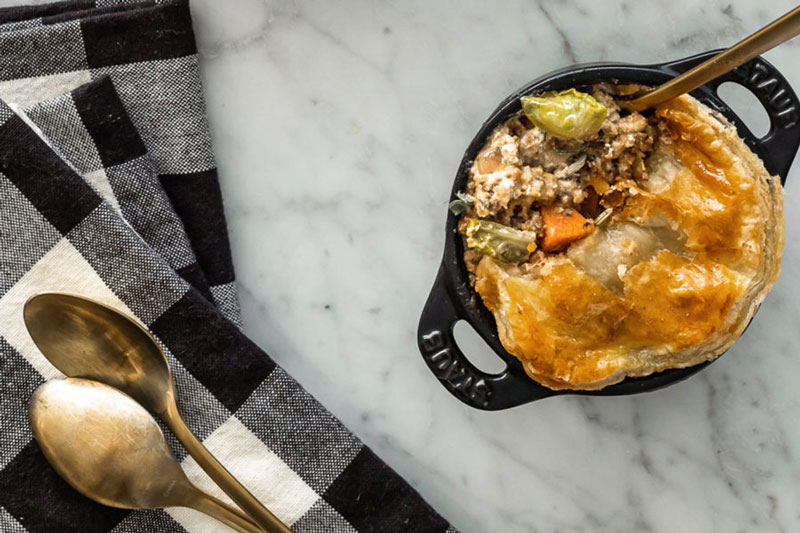 ---
California Walnut & Vegetable Tamales with Chipotle-Walnut Cream
Dustin Hilsinki, Director of Culinary/Corporate Executive Chef, Red Lobster (Winter Garden, FL)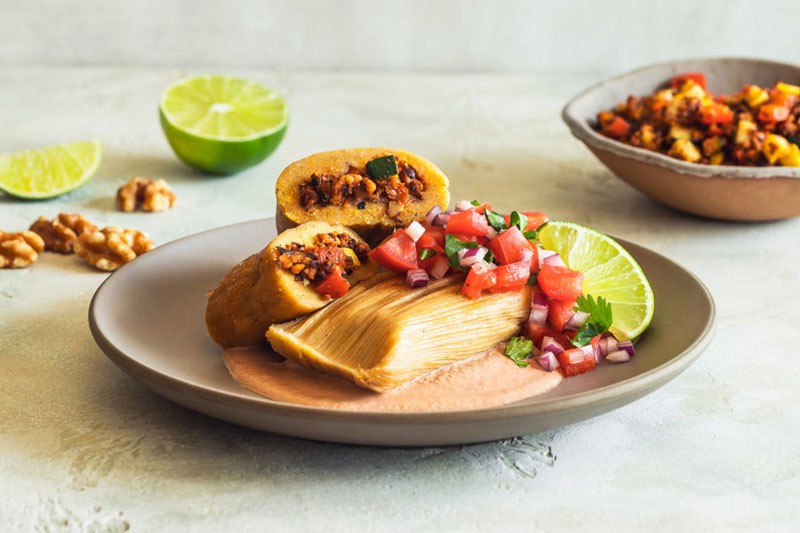 ---
California Walnut and Kale Rollatini
Christian Hallowell, Corporate Chef and Manager of Culinary Strategy, Delta Air Lines (Atlanta, GA)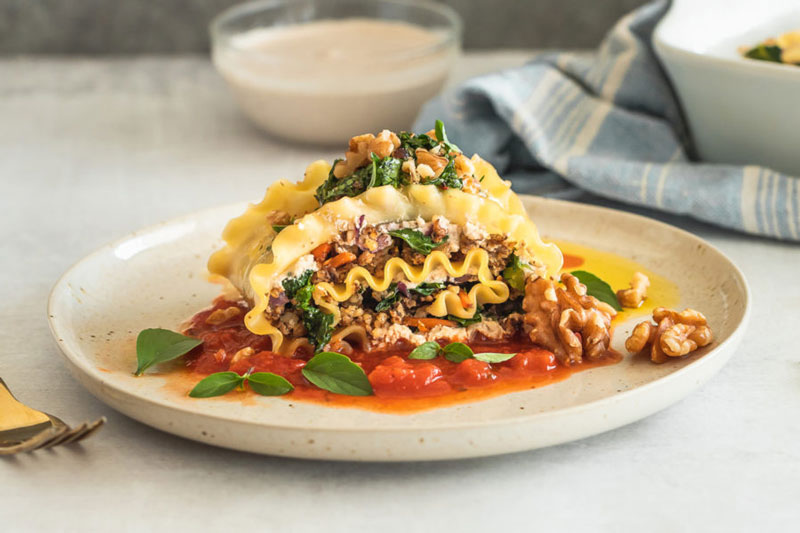 ---
Corned California Walnut & Beet Hash
Tracy On, Culinary Manager, Patagonia and Patagonia Provisions (Ventura, CA)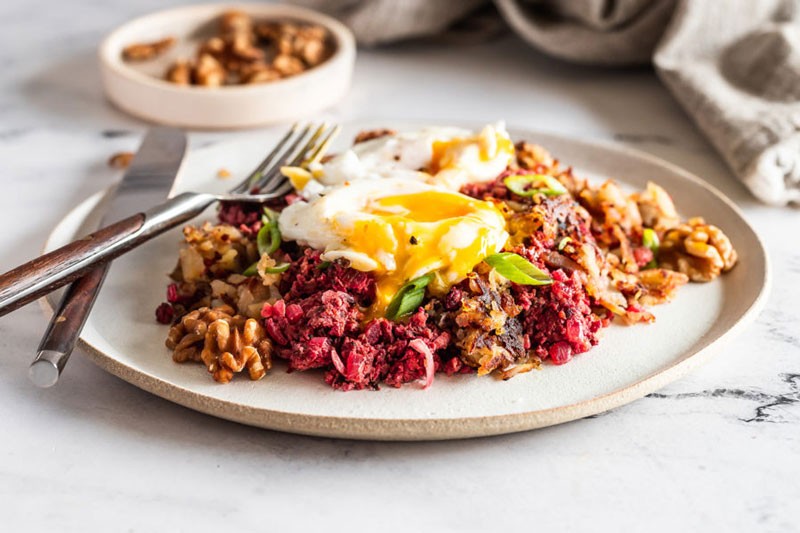 ---
California Walnut Ceviche with Mariquitas
Jon Severson, Senior Executive Chef, Levy Restaurants for Levi's Stadium (San Francisco, CA)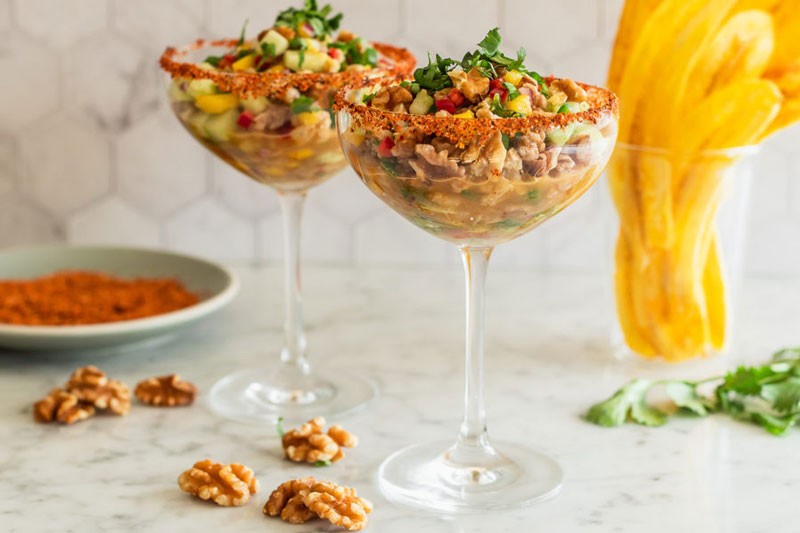 Putting Walnuts to Work
In August 2020, food professionals were invited to participate in a "Putting Walnuts to Work" recipe contest focused around two key center-of-the-plate applications: Plant-Based Walnut Crumble (meat alternative) and Plant-Based Walnut Cream (dairy alternative). The recipe contest was open to all sectors of the foodservice industry, including both commercial and non-commercial chefs.
The [email protected] Live recipe contest concluded in September with more than 45 amazing plant-forward recipes received from top chefs all across the U.S., making California walnuts the star of the plate. The competition was stiff, but the five most innovative recipes were ultimately selected by an industry panel, and these chefs went on to present their dishes live on October 28 during the first-ever [email protected] Live chef showdown. Over 800 people registered to tune in to the live show to cheer on their fellow food professionals. Heiselman came out on top after going "pan to pan" with the other four chefs, each battling it out from their own kitchens while viewers watched and voted, helping the esteemed panel of judges land on the winning dish.
Why California Walnuts?
They provide the goodness of a natural whole food
They bring versatility to the menu through different formats:
They offer a great meat alternative in making tacos, burgers, pasta, chili and more
They're the only nut with an excellent source of plant-based omega-3 ALA (Alpha-Linolenic Acid) at 2.5 g/oz.
For more plant-forward menu inspiration, visit California Walnuts.