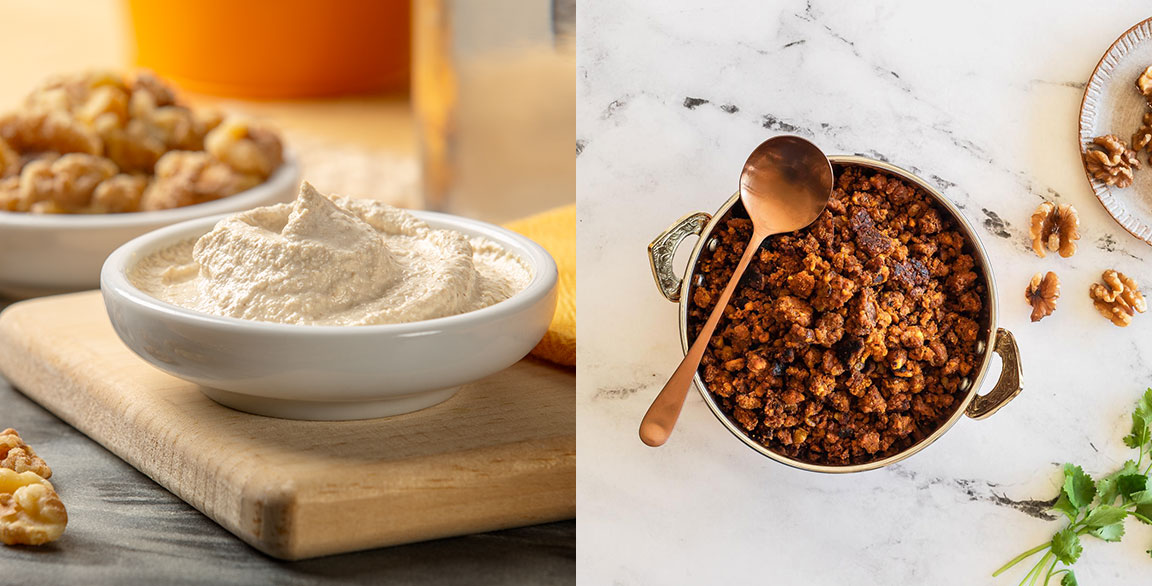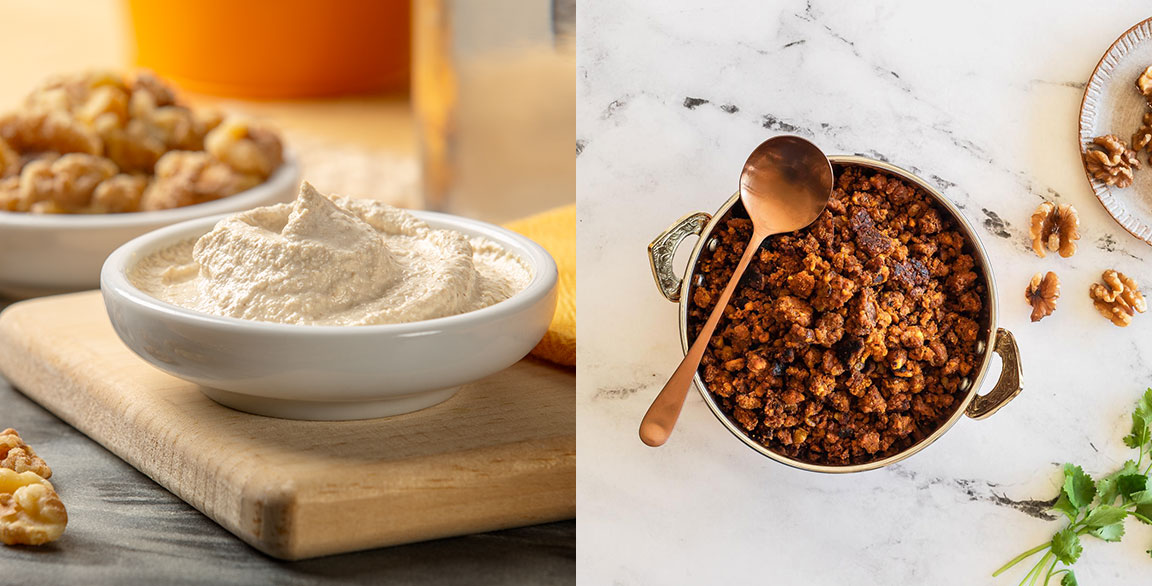 By Flavor & The Menu
October 26, 2020
Five chefs secured spots as finalists in tomorrow's "[email protected] Live," a one-of-a-kind virtual cooking competition themed around plant-based menu development. Their on-trend recipes that won over the judges offer a clear roadmap on how to build flavor and texture in plant-based menu offerings.
CHEF V CHEF: YOU DECIDE
Hosted by California Walnuts in partnership with Flavor & The Menu, this live, virtual culinary competition takes place TOMORROW, Oct. 26 at 11AM PDT. Watch these five talented chefs engage in pan-to-pan combat. Vote for your favorite and help decide the winner in this fun, lively and INTERACTIVE event. Register now!
---
MEET THE CHEF FINALISTS
Here's a quick introduction to the five finalists—who they are and a capture of their flavor approaches in these winning plant-based recipes.
---
Christian Hallowell
Corporate Chef and Manager of Culinary Strategy, Delta Air Lines
Qualifying Recipe
California Walnut and Kale Rollatini
Why Walnuts?
"I love working with California walnuts as an ingredient. They're simply a wholesome and NUTritious product from nature that offers so many possibilities."
Plant-Based Flavor Approach:
Infused walnut cream with whole-milk ricotta and Parmesan cheese
Flavored walnut crumble with cremini mushrooms and lemon zest
---
Dustin Hilinski
Director of Culinary/Corporate Executive Chef, Red Lobster
Qualifying Recipe
California Walnut & Vegetable Tamales with Chipotle-Walnut Cream
Why Walnuts?
"I enjoy cooking with walnuts because of how versatile they are and the flavor complexity they add to not only sweet dishes, but savory as well."
Plant-Based Flavor Approach:
Replaced the type of fat typically used in tamale dough with raw walnuts
Made a chorizo-style walnut crumble as the filling
Boosted flavor to the walnut cream with chipotle and lime juice
---
Jason Heiselman
Executive Chef, Restaurant Associates
Qualifying Recipe
California Walnut Vegetarian Pot Pie
Why Walnuts?
"I love California Walnuts because of their versatility and health benefits."
Plant-Based Flavor Approach:
Made a spicy Italian-style walnut crumble
Used walnut cream to make a plant-based velouté
---
Tracy On
Culinary Manager, Patagonia, Ventura, Calif.
Qualifying Recipe
Corned California Walnut and Beet Hash
Why Walnuts?
"Walnuts are so satisfying and can be versatile in many applications: perfect for my savory—not sweet—tooth!"
Plant-Based Flavor Approach:
Leverage raw walnuts to carry flavors in corned spices and to add textural dimension
---
Jon Severson
Senior Executive Chef, Levy Restaurants for Levi Stadium
Qualifying Recipe
California Walnut Ceviche with Mariquitas
Why Walnuts?
"During the course of this competition, I've discovered how versatile California walnuts are as a heart healthy and omega-3 rich plant-based protein. I am excited to include walnuts more regularly on the menus I write for my clients."
Plant-Based Flavor Approach:
Blanched raw walnuts and "marinated" them ceviche-style
---
Watch the live event and help decide who wins the competition.
[email protected]: 10/28 at 11AM PDT
Live virtual cooking competition with 5 chefs from across the U.S.
Interactive viewer participation and voting
Trend-focused discussions with valuable culinary tips
Special appearances by top industry movers and shakers
And everything you would ever want to know about cooking with California walnuts