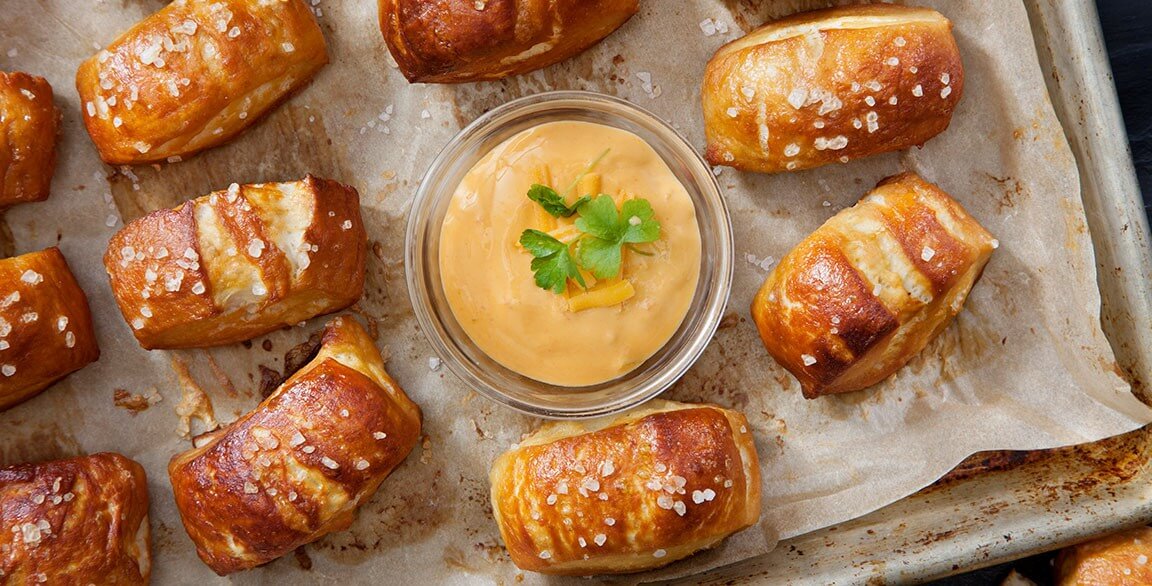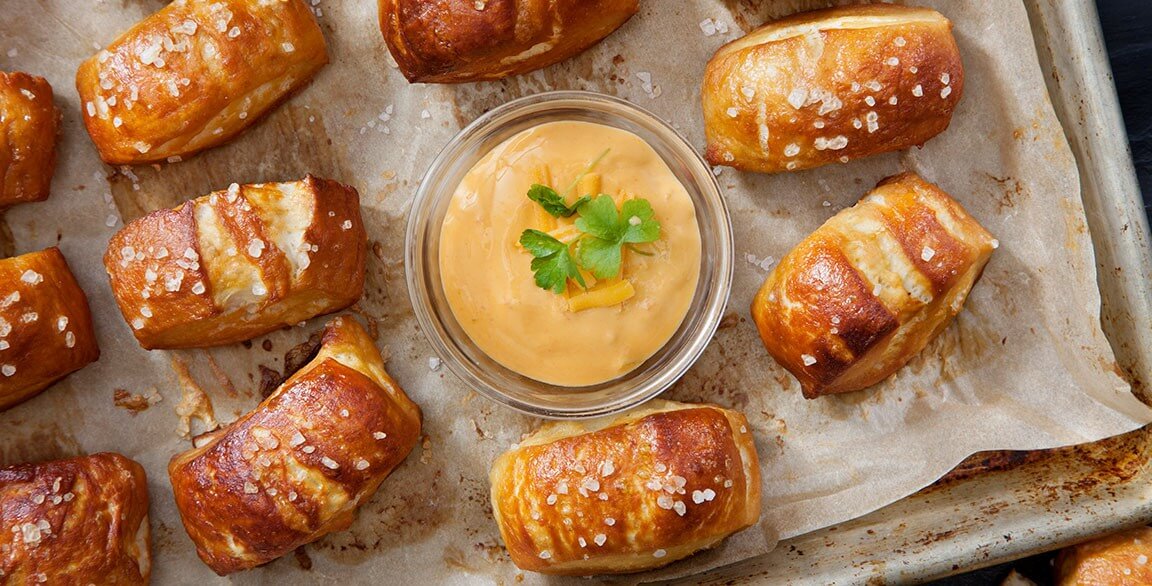 By Rob Corliss
May 13, 2021
Pimento cheese is a Southern staple that's proving its menu versatility well outside of its typical regional boundaries. Traditionally made with extra-sharp cheddar, pimento peppers and mayonnaise, it's offering chefs a viable flavor platform that can generate excitement, both refreshing classics and taking a lead role in new introductions.
Chefs can easily move pimento cheese into unexpected dips, sauces and fondues. Here, we look at ways to maximize its comfort and character, with the goal of capitalizing on pimento cheese's vibrant color and irresistible flavor.
"Try This"
Pimento Cheese Hummus: (chilled) Whipped classic pimento cheese and puréed chickpeas; with pickled green tomato wedges
Pimento Beer Cheese Dipper: (warmed) Gouda/cheddar, grain mustard and summer lager pimento cheese dip; with a salted soft pretzel
Buffalo Pimento-Artichoke Dip: (warmed) Buffalo-flavored pimento cheese with fresh wilted spinach, chopped artichokes and garlic; with crispy pita wedges
Pimento Queso Fundido: (warmed) Pimento cheese queso topped with broiled Oaxaca-asadero cheese blend, crispy ground chorizo and pico de gallo; with tortilla chips
Pimento Grits Dip: (warmed) Creamy-velvety grits swirled with andouille- pimento cheese gravy; with Texas Pete-dusted okra "fries"
Menu Sightings
Seafood Pimento Queso: Shrimp, crab and lobster simmered with creamy warm pimento cheese dip; served with house-fried tortilla chips
Saltwater Fishery; Dublin, Ga.
BBQ Nachos: Choice of smoked pork shoulder or brisket chili, pimento cheese fondue, house pickled jalapeños and red onions, sour cream, black olives, smoked tomato salsa, fresh cilantro and smoked jalapeño barbecue sauce
P.I.G.S.; Frederick, Md.
Hot Chicken Dip: Spicy pimento dip, Nashville hot chicken, habanero oil, chopped pickles, ranch-seasoned tortilla chips
The Goat, Hilliard, Ohio
901 Cheese Steak: Sirloin, sautéed onions and pepper Jack cheese with pimento cheese sauce on a toasted French roll
Pimentos Kitchen & Market, Memphis & Collierville, Tenn.
Dirty South Nachos: Fried chicken skin "chips" with pimento cheese fondue and jalapeño okra
Soul Gastro Lounge, Charlotte, N.C.
Smokin' Hot Pimento Cheese Dip: Sharp yellow and white cheddar cheeses, roasted red pepper, smoked jalapeño served with house-cut potato chips
Urban Stack, Chattanooga, Tenn.