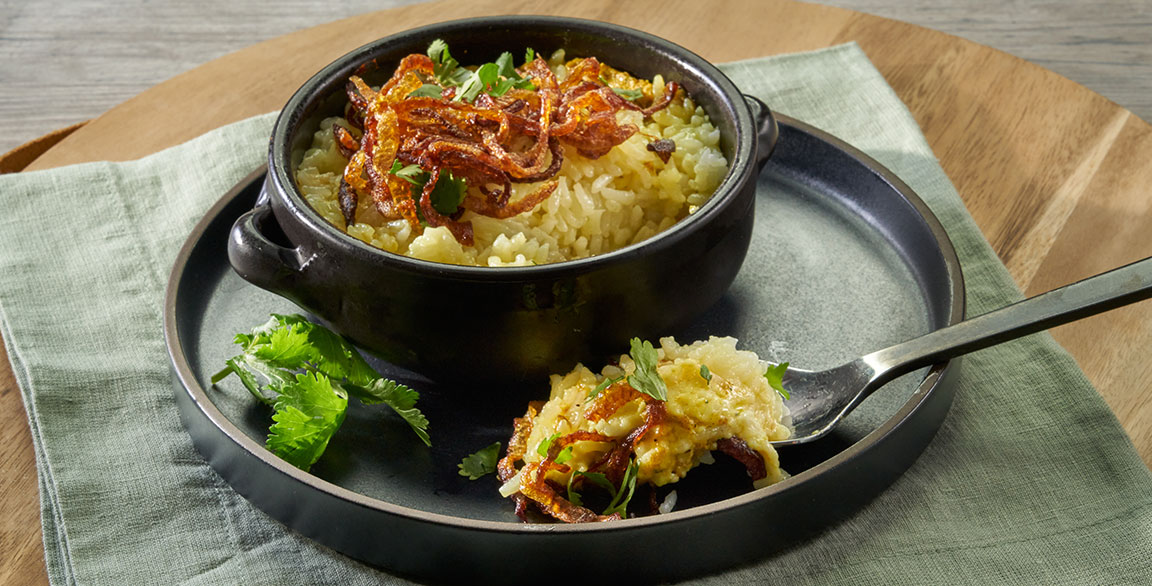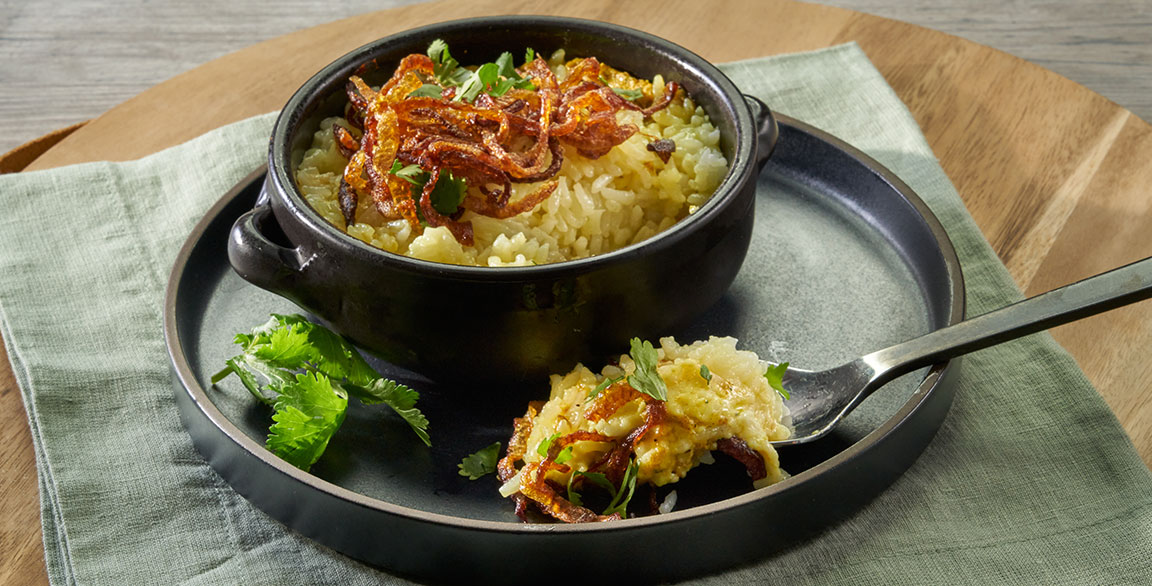 By Flavor & The Menu
August 6, 2020
There's much discussion about how consumer preferences are evolving since the pandemic took hold. Those preferences are rooted in somewhat shaky ground as current events keep shifting the landscape, but chefs can find a sure-footed path for innovation in plant-forward menu development. Consider this: 13 percent of consumers surveyed by Datassential reported that, prior to the pandemic, they were interested in or had tried plant-based foods. During the period of shelter-in-place orders, Datassential asked those same consumers how their interest might change after those orders were lifted—86 percent said their interest in plant-based foods would increase. That's a whopping 76 percent jump in consumer curiosity and enthusiasm in just a few months.
The mandate is clearly there. Innovation in the plant-based space needs to balance that consumer eagerness to explore with a cushioning sense of the familiar. "Rice is a foundational part of plant-based diets across the world. It also adds that all-important heartiness and comfort to a dish," says Carl Schwartz, culinary R&D manager for CSSI Marketing on behalf of USA Rice. "Sourcing U.S.-grown rice varieties—from jasmine and basmati to brown rice and red rice—gives operators a versatile, high quality and local product to use as a foundation for trend-forward plant-based menu development."
THE INDULGENT SIDE
Plant-based dishes by their very nature come with a built-in health halo—earned or not. Indeed, "indulgent vegan" is a trend that's taken hold over the last few years. More consumers are ordering plant-based dishes simply because they sound delicious and there's no longer a sense of sacrifice attached to them. With interest growing around plant-based eating, menuing craveable, indulgent rice-based dishes is a smart move.
We asked Schwartz to develop a few thought starters featuring U.S.-grown rice:
Rice and Mushroom Kofta:
Short-grain white rice, garbanzo beans, cumin, za'atar, cinnamon, garlic, red pepper flakes, parsley, cashew-yogurt garlic sauce
Paneer Biryani:
Paneer cheese marinated in curried yogurt sauce then seared and baked with basmati rice and topped with crispy-fried shallots
Black & White Arancini:
Black rice and arborio rolled into risotto balls with vegan mozzarella "cheese," then baked until golden brown and served with roasted garlic-lemon aïoli
Roasted Beet Risotto:
Creamy arborio rice with feta and Parmesan enriched with nutrient-dense beets and crispy kale
THE FUNCTIONAL SIDE
The uptick of interest in plant-based eating since the onset of the pandemic is thanks to the desire to eat better. Functional wellness has been gaining momentum for a while now, but today's global health threat has moved its position front and center. Success for restaurant brands here comes when menu developers can serve up function with flavor. According to USA Rice, the grain supplies energy, complex carbohydrates, protein, fiber, antioxidants, vitamins and minerals. It also plays welcome host to nutrient-dense ingredients and takes on flavors extremely well.
We asked Schwartz to develop a few thought starters featuring U.S.-grown rice:
Cassoulet Pilaf:
Saffron rice (long-grain white rice), vegan sausage, black beans and cilantro
Rice & Beans Croquette:
Cooked short-grain rice and pinto beans formed into a croquette and baked, then pan-seared and topped with Tajín-spiced vegan crema
Wild Rice Cake:
Cooked wild rice and butternut squash made into patties, then baked and topped with scallions and fresh thyme
Thai Peanut Crunch Salad:
Jasmine rice, red cabbage, red bell pepper, carrots and scallion with a ginger-maple peanut sauce
For more inspiration using U.S.-grown rice, go to ThinkRice.com.