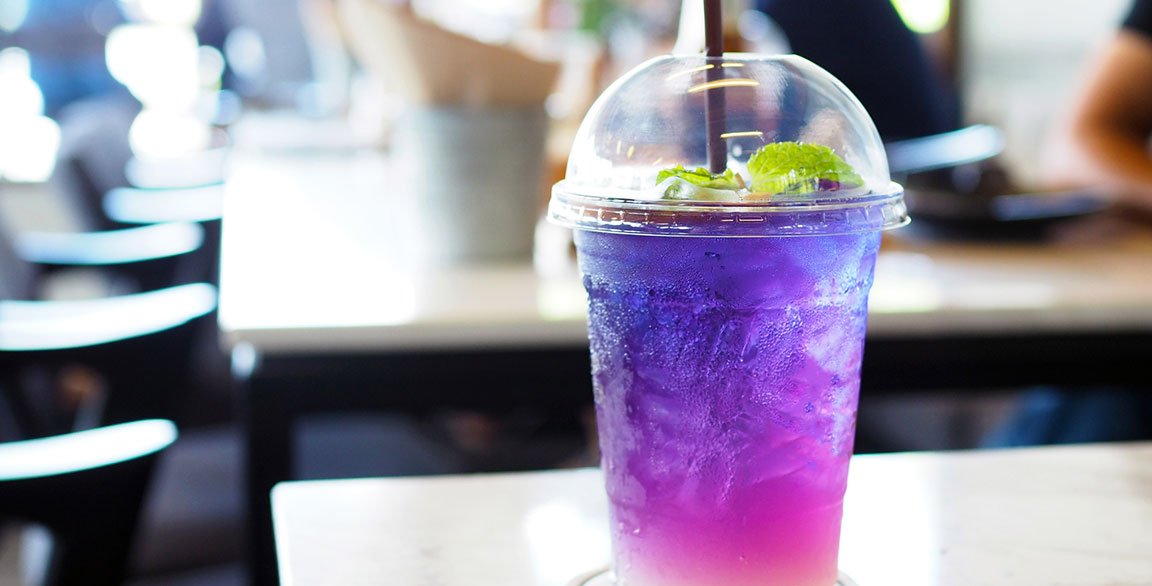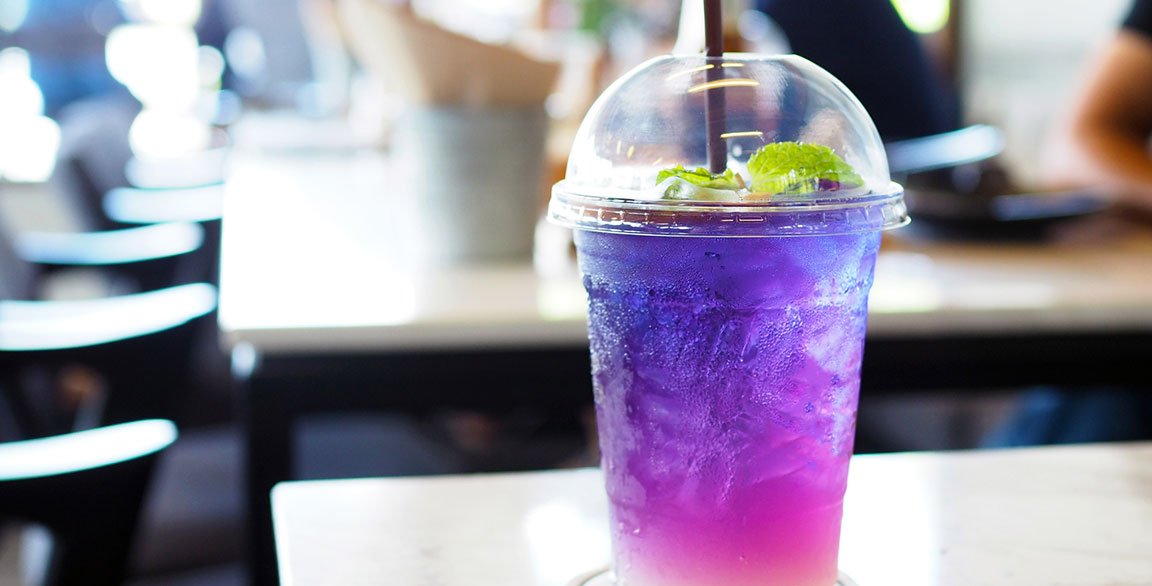 By Flavor & The Menu
August 2, 2020
The list is long when it comes to modern flavors making waves in non-alc beverage development. Drawing inspiration from both coffee culture and craft cocktail culture, star ingredients play a big role in keeping the momentum in both interest and innovation steady. Most recently, we've seen creative play with ingredients like charcoal, turmeric and beets.
We're highlighting the following three intriguing and impactful ingredients, bringing pizzazz to nonalcoholic drinks.
1

Butterfly Pea Powder

Naturally derived from the flowers of the butterfly pea plant, this is one of those ingredients that, when featured in acidic drinks, adds a stunning blue hue that can turn a majestic purple when stirred. (Combined with alkaline-heavy ingredients, the resulting color is an unappealing gray.) Butterfly pea powder is also gaining traction because of its reputation as an adaptogen, brain booster, antidepressant and anti-inflammatory.

Unicorn Heart Song with coconut "mylk," vanilla butterfly pea flower and pearl powder, flower and crystal essences
Honey Elixir Bar, Denver

Lavishly Grapefruit: Grapefruit juice, lemon juice, lavender, butterfly pea syrup, lemon wheel and lavender flower
Ember, Miami

Lavender Bowtie: Grapefruit juice, club soda and butterfly pea powder
Royal Boucherie, Philadelphia
2

Rose Water

Rose water is floral, botanical, aromatic, light and elegant. It's also got a sense of the exotic. Rose water introduces those delightful qualities to a non-alc build, brightening and rounding at the same time. Although still new to many consumers, that's likely to shift in the next few months, with places like Starbucks tapping rose water's unique profile in one of its Starbucks Reserve drinks. It recently introduced the Rose Honey Latte, made with espresso and milk, caramelized honey, rose water and cinnamon.

Hibiscus Tea with mint-infused lemon cordial, Mediterranean tonic, rose water and Angostura Bitters
Drinkwell, Austin, Texas

Straight & Narrow: Club soda, fresh lemon juice, orgeat, pomegranate syrup and rose water.
Hatchet Hall, Los Angeles
3

Juniper

Of course, gin springs to mind when considering the juniper berry. Its distinct piney, citrusy, slightly peppery flavor is one of the berry's distinguishing features. In the nonalcholic realm, that botanical profile lifts other flavors, like fruit and citrus, nicely.

Espresso Fizz: Shaken, foamed iced latte with juniper berry and citrus infused honey, tonic water, espresso
Take It Easy, Las Vegas

Field Day: Raspberry, mint and juniper syrups blended with tonic.
Bar Biscay, Chicago