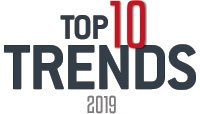 Remember the cronut, Dominique Ansel's crazy-good mash-up between a croissant and a doughnut? Although officially labeled a fad, its wild success helped set up what's currently going on with laminated doughs—those ethereal, glorious pastries made from a technique of folding butter into the dough multiple times, resulting in layers of airy, flaky, buttery, crisp, delicious pastry.
The cronut married that flakiness with the yeastiness of a doughnut, turning it into a craze ignited by social media and sustained by a happy embrace of a well-executed, creative pastry. The cronut's fandom reminded us that there's room for baked goods in the innovation kitchen.
Today, bake shops are popping up around the country, specializing in gorgeous laminated dough, like the croissant, Danish and the kouign-amann (pronounced "queen ah-mahn"), a buttery, caramelized pastry hailing from Brittany, France. Although the pastries—both sweet and savory—coming out of these bake shops boast French lineage, they are unabashedly American. They move away from the canon of traditional ingredients and into the spectacular realm of mesmerizing, fanciful and endlessly Instagrammable, all while carrying a magnetic charm of decadence.
Baker Doe, a bakery delivery service with a weekly menu that pops up on their Facebook page on Fridays for preorder, serves concoctions like a butter croissant injected with movie-popcorn cream, a blue croissant topped with cotton candy and filled with fiery chile-orange curd, and a savory Danish with Japanese Berkshire pork sausage, wasabi-spiked mayonnaise, shiso leaves and caramelized shallots. It releases its pop-up menu on Friday and sells out by Sunday.
Supermoon Bakehouse in New York, with enthusiastic fans lining up for hours, delights patrons with pastries like its Black Sesame & Magic Miso Caramel Croissant and its Apricot & Pistachio Twice-Baked Croissant, which is baked again after being filled with rum-soaked apricots, pistachio cream and chopped pistachios, then topped with sugared pistachio clusters, vanilla Chantilly and meringue "chalks."
Vive La Tarte, a Belgian bakery in San Francisco, introduced the "tacro" last year, an ingenious taco-croissant hybrid that demonstrates how well laminated doughs can move into familiar forms. It runs three options on Tacro Tuesday: slow-roasted pulled pork and pineapple; chicken and avocado; and barbecue jackfruit. Each is tucked into the tacro, then topped with a mango pico de gallo, red radish, micro-greens, green tomato and chipotle salsa.
"We were looking for a savory approach to the traditional croissant beyond the usual ham and cheese," says Arnaud Goethals, co-founder. "While having tacos as a staff meal, we started exploring with taco fillings in croissants—the tacro became a thing!" They have caught fire on social media, intriguing diners with the enticing mash-up. Vive La Tarte uses a croissant dough, but eliminates the sugar from the recipe.
Breaking With Tradition
"We're living in a wonderful world where pastry stars like Christina Tosi and Dominique Ansel matter," says Matt Harding, director of culinary and corporate executive chef at Piada Italian Street Food. "Pastry is one of the disciplines that has been stuck in tradition. We're now seeing a smart combination of whimsy and social media, where classical foundation matters, but so does creativity around flavor combination. This is opening up possibilities for restaurants to adapt these unique, social-friendly creations. American consumers value quality, they love whimsy. They want to be overjoyed by something—this delivers on all of that."
Certainly, quality of experience is a big driver here, promising a return on the caloric investment. And we can't overstate the importance of social currency, which these pastries have in spades. Younger consumers in particular revel in the aesthetic of a bicolor croissant—it's the Unicorn Frappuccino effect, but with a wider application.
Modern treatments of laminated doughs deliver versatility, gliding effortlessly into a number of different menu categories. "Laminated dough can play in so many arenas, from breakfast to snack to lunch handheld and more," says Elizabeth Moskow, culinary director of Sterling-Rice Group. "Filled with cheese or sweet treats, quality pastry-making is back, ushered in by a demand for whole, fresh, transparent ingredients—butter, flour and yeast."
Maeve Webster, president of Menu Matters, underscores the opportunity presented. "For those operators able to pull it off, it's something that can create a solid competitive advantage," she says. "These pastries can be filled, flavored, colored, sugared, folded into a million shapes. When done well, it's craveable, approachable, unique and exciting."
Start with Savory
There's a world of possibility tucked into the flaky folds of laminated dough. Of course, the croissant sandwich has been a fixture on breakfast and lunch menus, but it could benefit from a modern update. "There is already wide acceptance of the croissant as the base vehicle for various sandwiches," says Chris Koetke, CEO of Complete Culinary LLC. "Unfortunately, they have been pretty lackluster. The opportunity now is to redefine what is possible with a quality, well-crafted croissant."
He suggests a good start is flavoring the dough itself. "Layer the dough with seaweed butter and serve it with smoked sturgeon," he says. "Or spice up the croissant with ingredients like Chilean merkén, roasted Mexican chiles or gochujang. From these souped-up croissants, consider using them as a base for creative sandwiches."
Sharon Wang, pastry chef/owner of Sugarbloom Bakery in Los Angeles, has made her take on the classic ham croissant into a special, serving a Spam and kimchi croissant with Sriracha flavoring the dough, topped with sesame seeds and nori strips.
At B Bistro + Bakery, a modern bake shop and bistro in Miami, sandwiches star croissants that are baked into loaves, then cut into bread slices. The Croque Madame is served on this croissant loaf with Dijon béchamel, Gruyère and a soft-egg dip.
Creative, savory turns on laminated dough aren't only showing up in the sandwich space. One of the wonderful things about this trend is that it embraces both sweet and savory, with exquisite creativity. Baker Doe menus a Danish with a soft quail egg, aged Gruyère béchamel, topped with a bacon cookie.
---
Pastry Trend Insights – insights into the pastry trend from our panel of experts.
---
Supermoon serves the NYC (New York Croissant), an everything-spiced croissant filled with lox, cream cheese and capers.
Mr. Holmes Bakehouse in San Francisco serves up a fantastic savory pastry called the French Onion Soup Danish, touting all of the great flavors of onion soup in a flaky pastry.
Sugarbloom features a number of savory pastries, including a Mushroom Pesto Escargot, shaped like a snail and topped with Parmesan and a drizzle of olive oil. "I wanted a savory vegetarian option for the morning," says Wang. "The mushrooms add a meaty texture, and the basil-almond pesto introduces robust flavor, which goes nicely with the pastry. It's a Danish pastry, which is rich, but I also use the trims of croissant dough, blurring the lines a little."
She also menus a Kabocha Squash Danish—a buttery cornmeal pastry filled with roasted soy-miso-ginger kabocha squash, ricotta, caramelized onions and mascarpone-polenta cream, then topped with sesame seeds, microgreens and a honey-ginger gastrique. "I'm a believer that you can't bring in super ethnic food from outside the U.S. and ask customers to embrace them," says Wang. "You have to marry it in it. I have an Asian background and I'm in the melting pot of Los Angeles. With these pastries, we're echoing French tradition but giving it an L.A. presence."
Therein lies the opportunity—it's celebrating the unbelievable craveability of laminated doughs while giving them a thoroughly modern, exuberant update.
The Sweet Side
Of course, we can't talk about the wonder of flaky pastries without diving into the buttery delights that act as breakfast, snack and dessert. The explosion of creativity has been truly breathtaking, with pastry chefs showing off bright color contrasts, imaginative flavor combinations and intriguing forms. Igniting this into a full-blown phenomenon is social media, which loves vibrant, indulgent, unique food.
Baker Doe is run by a pastry chef from Hong Kong and baker from France, who choose to remain anonymous. They wield social media effectively, using it as the sole platform for their sublime creations.
"People like the unusual flavor combinations, where we cross over French lamination technique with Asian flavors," says the French baker. "They like how we present our products. We're very social-media friendly. I purposefully don't have a location, only on Facebook and Instagram. It keeps the social excitement there. We're building our following first, and now we're thinking of opening up a conventional bake shop. I don't follow the rules that apply to those who are classically trained, and that works in today's marketplace."
Their menu changes every week, running limited quantities in six varieties. A French Tricolor Croissant celebrates Bastille Day with red, white and blue strips of dough, topped with raspberry powder and blueberries. The Bicolor Bamboo-Charcoal Croissant is filled with mint and lemongrass cream.
Nathaniel Reid Bakery in Kirkwood, Mo., turns the croissant into a wholly American experience in the Apple Pie Croissant, an apple-shaped croissant topped with apples roasted in fall spices and apple-pie crumble. "A good croissant is hard to find—it should shatter when you bite into it," says Nathaniel Reid, chef/owner. "Croissants are gaining popularity because of the new ways people are doing them."
He also serves a Maple-Brown Sugar Pull-Apart Croissant, along with a Croissant Bread Pudding served with housemade caramel sauce. "A chef can only be creative if people respond well to their concepts, so public interest feeds the creativity of a chef," he says.
Sugarbloom's Wang leverages the French classic, the kouign-amann, describing it as a cross between a croissant and a palmier. It's crunchy, sugary and chewy, featuring a yeasted dough rather than a puff pastry. Her White Miso Kouign-Amann has a touch of Okinawa black sugar.
Pitchoun!, an authentic French boulangerie and patisserie in Los Angeles, demonstrates how laminated doughs can carry hot flavor trends, like activated charcoal—perfect for social media pickup. Its Charcoal Croissant consists of dough colored with activated charcoal, then topped with sweet pieces of pink caramelized praline.
In deference to the cronut, a new wave of mash-ups has hit menus, delighting guests with their clever names and appealing combinations.
The Cruffin
Mr. Holmes Bakehouse serves up a few variations on the "cruffin," a satisfyingly puffy marriage between the croissant and the muffin. Flavors include the Chocolate Earl Grey Creme Cruffin and the White Chocolate Macadamia.
Supermoon serves a Super Chocolate Brownie Cruffin, filled with a chocolate brownie crème pâtissière and topped with smashed brownie pieces, chocolate shards, oozing with chocolate sauce and sporting a white Chantilly bulb.
The Emporium, an all-day dining destination in Savannah, Ga., menus a fantastical blend of a sticky bun and croissant, naturally called the Sticky Bunssant. Only served on Friday mornings, its version stars gooey caramel, pecans and flaky layers of dough.
Sugarbloom Bakery doesn't mash up the name, but still features the combo in its Horchata Morning Bun, a croissant dough rolled with black sugar and toasted rice flour, glazed with cinnamon condensed milk ganache and topped with puffed rice.
All of this stellar creativity needs to translate to volume production for it to gain a foothold in chain restaurants and other high-volume segments.
"For chains, it doesn't need to be a two-day Dominique Ansel prep," says Brian Darr, managing director at Datassential. "There are a lot of great products out there, which makes it possible to do really compelling stuff. The world is wide open here."