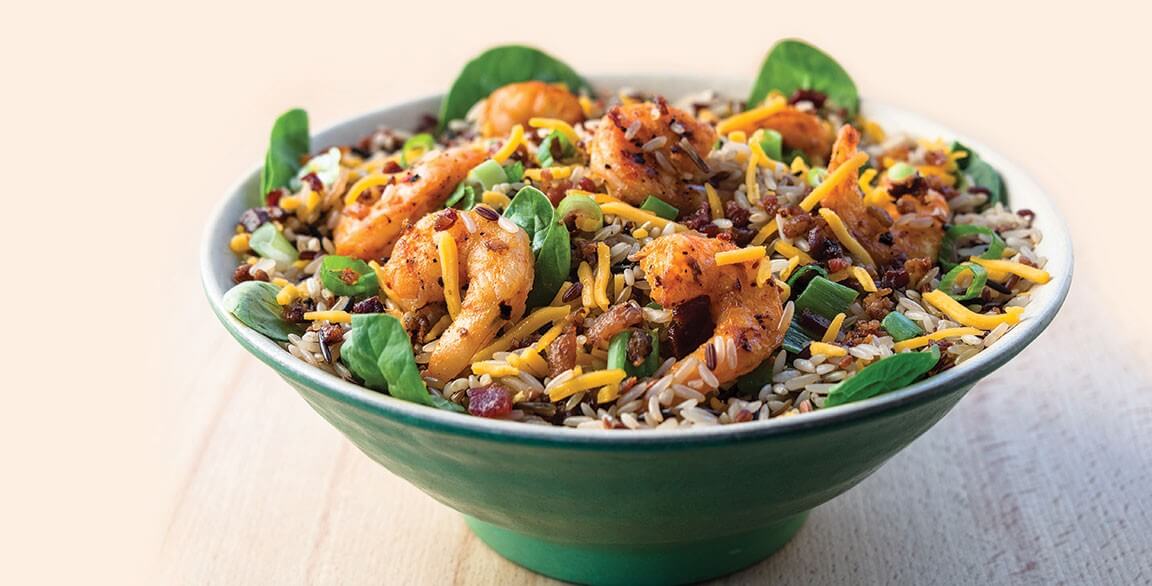 Dressings carry a big responsibility in delivering on the promise of a good eating experience. They add needed viscosity, contrast, depth and flavor. With the continuing popularity of bowls, the evergreen demand for salads, and the growing need to differentiate through unique flavor combinations, chefs are modernizing their dressings to ensure a lasting brand impression. That impression helps communicate quality, craveability, craftsmanship and originality.
Fast casuals are driving a lot of the innovation in dressings today, thanks to their expertise in the bowls and salads category, primarily. Mad Greens, a salad and bowl concept based in Golden, Colo., menus a number of dressings that showcase flavor innovation. The Monet Salad, with spinach, kale, root vegetables and "Mad Spice" pecans, is paired with a date-tahini dressing.
The Spicy Shrimp and Bacon Bowl—hearty grains, peri peri shrimp, spinach, green onion, cheddar, bacon and "Mad" spice—is dressed with a spicy Sriracha-almond vinaigrette that combines rice wine vinegar, toasted almonds, honey and Sriracha. "We love pushing the envelope with flavors and ingredients in our scratch-made dressings and vinaigrettes—it's what makes the bowl," says Kacy Fowler, corporate chef.
A Taste of Spain
Vinaigrettes typically balance some variation of oil and acid, along with a few flavor enhancers. When those components are selected strategically, they can drive home a salad's theme or sense of place. At Jaleo by José Andrés in Las Vegas, a modern tapas concept, the dressing featured on the Ensalada de Tomate con Bonito places the dish squarely in Spain while still making it a singular experience.
Luis Montesinos, head chef, pairs the salad with a housemade vermut dressing featuring vermut (vermouth) vinegar, oil from Spanish preserved tuna, Spanish olive oil and brining liquid from a container of piparra peppers (pickled Spanish peppers).
"The brine has pepper and vinegar notes. It is bright, but not spicy. It's what brings the dressing together," says Montesinos. "The salad needs that pop of mild pickled spice and brine to balance the sweetness from the tomato and vermouth and the richness of the tuna. It is the perfect tuna salad."
With this vinaigrette, he builds a flavor story that is familiar (acid, heat, sweet), yet distinctly Spanish, using ingredients in a clever way to introduce depth.
Herb Your Enthusiasm
Of course, herbs and dressings go together like peaches and cream. At Dimes, an eclectic eatery in New York, an unexpected fennel-sage vinaigrette dresses a salad of lacinato kale, delicata squash, grapes, Brussels sprouts, fennel and pumpkin seeds. Shuka, an Eastern Mediterranean restaurant, also in New York, tosses a salad of cherry tomato, watercress, peppers, fennel, cucumber and oil-cured olives in an oregano-chile vinaigrette, elevating a classic herb pairing with a surprising punch of heat.
In Chicago, Mark Steuer, chef at Funkenhausen, a German restaurant with a Southern spin, landed on a charred and creamy rosemary vinaigrette when trying to create a dish for the restaurant's opening menu. Two days before the grand opening, he made a batch of ricotta dumplings. "I grabbed kielbasa we had made the day before, along with a bunch of stuff from the farmers' market: Romanesco, cauliflower, purple cauliflower, oyster mushrooms and gooseberries," he says.
He sautéed the ingredients together with the poached dumplings and au jus made of chicken stock and leftover whey. "It was delicious, but needed a punch of acid and something creamy to thicken the jus," says Steuer. "I love charred ingredients, especially herbs, so we tossed rosemary on the wood-burning grill, slowly charred it, and then turned it into a creamy vinaigrette."
Creaminess comes from the addition of egg yolk. Steuer finished the plate with shaved ricotta salata and chives. "Our ricotta dumplings are probably our highest selling dish—other than pretzels, of course," he says.
Burrata's New Gig
"Ranch" and "burrata" aren't two words that typically go together. But Luis Cuadra, executive chef of District, a New American restaurant in Los Angeles, cleverly borrows the word "ranch" while maximizing burrata's creaminess in his "ranch" burrata dressing. Served over his Heirloom Tomato Salad with bacon and toasted breadcrumbs, the dressing is a blend of burrata, buttermilk, garlic and shallot.
"The challenge was breaking down the components that give the sauce a 'ranch' flavor and creating a balanced sauce reminiscent of actual ranch," says Cuadra. "Through R&D, I found the right amount of shallots that balances the sauce," he says.
Over the Top with Umami
Dressings that deliver umami are extending far outside of Asian chicken salads, with chefs tapping into umami's unmatched craveability. At Dirty Habit, a globally inspired restaurant in Washington, D.C., the Crispy Duck Ravioli with scallions is drizzled with a bacon-soy vinaigrette.
"The vinaigrette is rich and fatty, but not too heavy," says Kyoo Eom, executive chef. "The rice wine vinegar brings good acidity to balance that, and the soy sauce gives the right amount of saltiness to season the wonton. The combination of these ingredients adds nice umami." He also relies on the bacon-soy vinaigrette to dial up savoriness in his Crispy Brussels Sprouts.
Miso is another ingredient chefs are using to introduce umami into their dressings. At Pacific Standard Time in Chicago, a restaurant that celebrates California cuisine, Erling Wu-Bower, executive chef/partner, dresses his Farm Lettuce Salad with a tahini-miso vinaigrette, relying on the tahini to temper the miso.
"We wanted to have a vegan salad on the menu, and tahini is a great way of adding body to sauces without adding dairy. Tahini also introduces a sweet, nutty and delicious flavor to dressings."
Tart & on Trend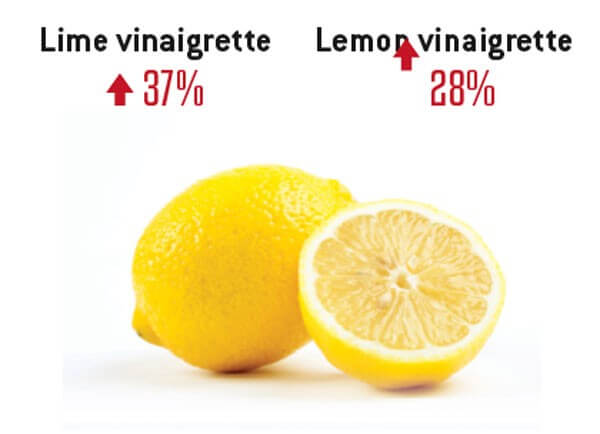 Fruit-forward vinaigrettes are trending, according to Datassential, with citrus varieties growing fastest on menus over the last four years.
Nothing telegraphs freshness in dressings, or delivers brightness, quite like citrus, so it makes sense that it's performing well on menus. Here are a few examples:
The Orchard Salad: Arugula, thyme goat cheese, apple, spiced pecans, amaranth, microgreens, blood orange vinaigrette —The Beer Plant, Austin, Texas
La Pepita Salad: Chopped green kale with shredded chicken, black beans, crumbled Cotija, diced avocado with spicy crispy pepitas and a lemon-cumin citronette —Vinaigrette, with locations in Santa Fe and Albuquerque, N.M, and Austin, Texas
Vegan Ingredient Salad: Romaine, cauliflower, avocado, roasted corn, baby tomato, Kalamata olive, sunflower seed, lemon-tahini vinaigrette —Flower Child, based in Phoenix