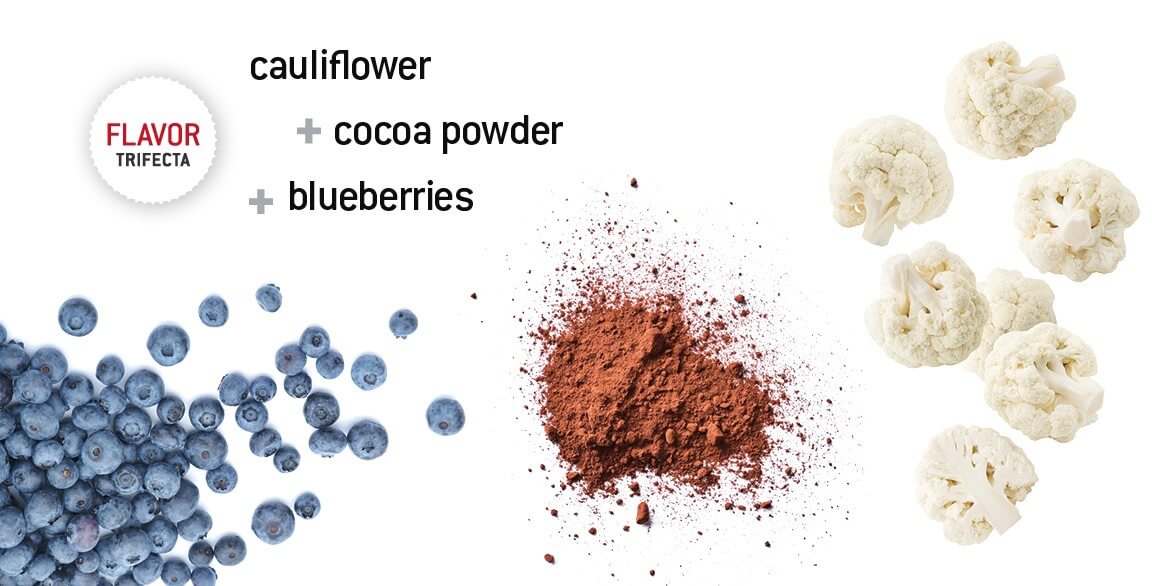 John Baez is executive chef of the Rainforest Cafe, a family-oriented themed concept that is part of Landry's, Inc. Previously at Tommy Bahama and Roy's restaurants, Baez manages the culinary operations at Rainforest Cafe's Las Vegas location, which can run a daily guest count of more than 1,000 during the busy season. Fun is the order of the day, with dishes like the Mojo Bones—pork spareribs with Smokin' Mojo barbecue sauce, coleslaw and Safari fries.
We asked him to share an inspirational flavor combination that is both unexpected and delicious. He came back to us with a trifecta of cauliflower, cocoa powder and blueberries. "I began experimenting with these three ingredients a few years ago when I was looking to create a starter for a rum-themed dinner," recalls Baez. "I roasted cauliflower, which brought out a nutty flavor that immediately made me think of chocolate." He tried a few approaches for marrying chocolate and cauliflower, and he landed on cocoa powder.
The dish starred hard-seared scallops topped with almond gremolata laced with cayenne. He plated them at opposite ends of the swoosh of cauliflower and cocoa purée. "I felt like something was missing, so I walked into my freezer and came across frozen blueberries," says Baez. "Staying with the nuts/chocolate/sweet theme, I puréed them with caramel sauce and drizzled that around the plate. Not only did it add vibrant color, but the sweet yet tart flavor of the blueberries perfectly complemented the sweetness and the richness of the cocoa-cauliflower purée."
Since then, he's used the trifecta in other ways, including a Roasted Cauliflower and Blueberry Salad dressed with a cocoa vinaigrette and a Blueberry-Cauliflower Smoothie dusted with cocoa powder. "I also think cocoa-roasted cauliflower florets drizzled with a blueberry-balsamic dressing would be delicious," says Baez.