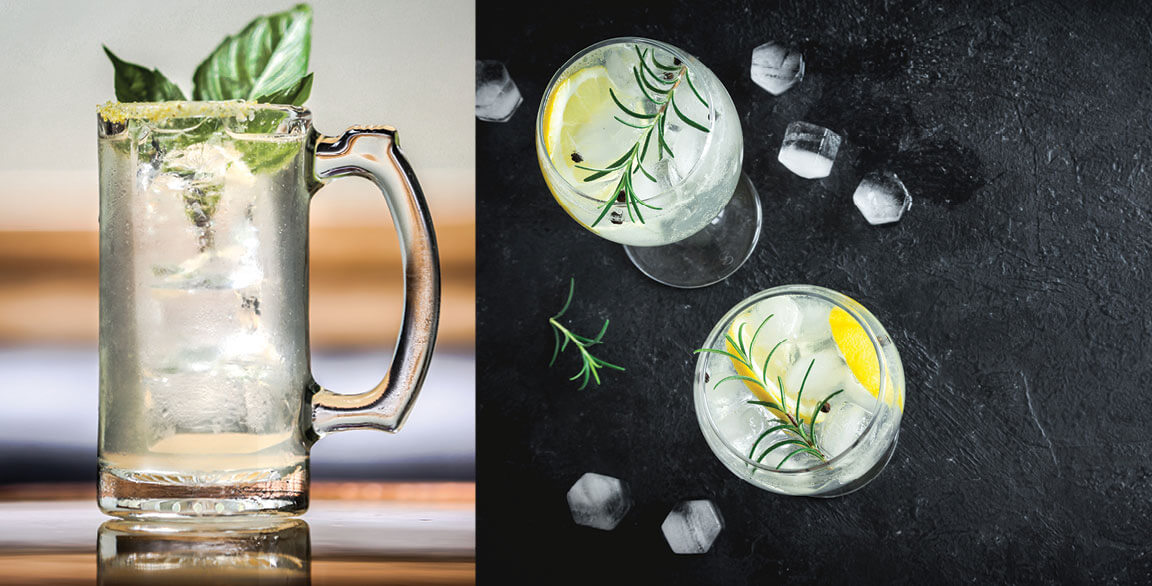 Anchored in timeless classics, yet welcoming of modern interpretations, cocktails remain an exciting platform for strategic innovation. Establish a better beverage-menu culture through thoughtful care, familiar flavors, emotional attachment and crafting a sense of place, with the ultimate goal of delivering an experience that is true to your brand and has guests saying: "This one is substantially better."
Better—one simple word is both motivational and forward-tilted. When applied to cocktails, the word "better" acts as a compass for 2020. Today's consumers expect more from each and every aspect of their dining experiences. Tomorrow's consumers will look for an even sharper focus. Operators need a firm understanding of how to evolve and execute a differentiated approach.
What follows is a look through a broader lens, to navigate the modern cocktail-menu landscape and keep bar programs ahead of the curve.
1

Flights of Fancy

Don't underestimate the power of education. Guests love to educate their cocktail palates with interactive experiences. Tasting variations of a spirit or cocktail can lead them to new drink preferences and trigger a deeper connection with your operation.

The Rum Raid: Eight rum-filled elixirs from the Caribbean
—Bahama Breeze, based in Orlando, Fla.
Rye Flight: Angel's Envy Rye finished in rum barrels, Colonel E.H. Taylor Straight Rye, WhistlePig 13 Year 2nd Edition: The Boss Hog
—Butcher and the Rye, Pittsburgh

Try This
Mule Flight: Moscow (vodka) + Mexican (tequila) + Kentucky (bourbon)
Margarita Flight: Classic + dragon fruit + blood orange
2

Of the Moment

The diversity of gin and rum continue to shine on center stage. Gin introductions are perpetuated by easy drinking appeal, and rum benefits from the Tiki craze, historical pedigree and appreciation for aged complexity.

Easy Street: Hendrick's Gin, elderflower, lemon, cucumber, sugar, seltzer
—Half Step, Austin, Texas
Millionaire Cocktail (No. 1): Rum, sloe gin, fresh lime, housemade grenadine, apricot liqueur
—Smuggler's Cove, San Francisco

Try This
Frozen Negroni: Gin + vermouth + Campari + fresh orange juice + ice + orange-peel garnish
Hemingway Daiquiri: Rum + Aperol + maraschino liqueur + grapefruit juice + simple syrup + lime
3

Day-Drinking Sippers

Sessionable drinks have always found a niche of consumers, but that fan base is growing. Refreshing tall drinks have moved well beyond Tom Collins and into truly creative and craveable creations. These must-have offerings are a smart menu allocation.

Lychee: Ginger vodka, house lychee juice, lime
—ROKC, New York
Orgeat Lemonade: Vodka, lemon, almond syrup, sparkling water, served over ice
—The Interval, San Francisco

Try This
Summer Cooler: Citrus vodka + watermelon juice + fresh basil leaf + hydrated basil seeds
Tipsy Palmer: Fresh lemonade + iced black tea + cream sherry + lemon slice
4

Brunch Brilliance

Brunch personifies out-of-the-box menu offerings and beverage innovations. Brunch cocktails are a beautiful expression of this sentiment. Embrace the opportunity to push boundaries, pull in local ingredients, feature signature craftsmanship and give off a playful vibe.

Silk and Spice: Chai-infused bourbon, Malabar-spiced liqueur, cream tequila, cinnamon
—Chauhan Ale & Masala House, Nashville, Tenn.
Grove 12: White port, pisco, tangerine sherbet, tonic
—Flowers of Vietnam, Detroit

Try This
Golden Bloody: Charred yellow tomatoes + house pickle brine + vodka + hot sauce + baby squash garnish
Purple Rain: Prosecco + crème de cassis + pickled huckleberries + lime twist
5

Specialized D.I.Y.

Bring guests "behind the bar," so to speak, and invite them to play an integral part in cocktail creation. This is a way for bartenders to still showcase their expertise, while guests sample new flavors via controlled specialized customization, highlighting personal exclusivity.

Build a Buck: Choose from vodka, rum, dark rum, gin, bourbon, Scotch, Cognac, pisco; then choose a garnish of lemon, lime or mint
—Downtown Cocktail Room, Las Vegas
Shrouded Roulette: The customer chooses a base spirit and a secret-recipe mystery drink is served
—Canon, Seattle

Try This
Make a Boozy Shake: Select your ice cream/sorbet + booze + mix-in + crazy topping
D.I.Y. Old Fashioned: Select your spirit + sweetener + bitters
6

Amped Up

Cocktails with the benefit of a little zip are ripe for growth and are sure to please consumers craving something edgier (whether from caffeine, heat or spice). Look to coffee, maté, matcha, smoke, moringa and seasonings like togarashi.

Boozy Latte: Espresso, Du Nord Cafe Frieda, Tattersall Crème de Cacao, oat milk, Baileys Almande cocoa whip, cinnamon
—Fig + Farro, Minneapolis
Reality Check: Scotch, Cognac, togarashi, honey, vanilla, pineapple, coffee, lemon
—The Dead Rabbit, New York

Try This
Night Owl Shot: Kahlúa + maté syrup + vanilla + topped with a toasted marshmallow
Matcha Pisco Sour: Matcha simple syrup + pisco + bitters + egg white
7

Go For Tequila or Mezcal

The significant demand for and consistent growth of both should grab your operation's attention. Small-batch mezcal and craft tequila continue to delight consumers who are appreciative of the premium attributes, artisan qualities and flavorful stories.

El Jefe: Citrus blend, house Curaçao, agave, reposado tequila, extra añejo Cadillac float
—Gracias Madre, West Hollywood, Calif.
Tamarind-Pineapple, Sotol: Mezcal Unión, Sotol Por Siempre, tamarind, caramelized pineapple, fresh lime
—Bar Sótano, Chicago

Try This
Reposado Martini: Tequila + Cointreau + fresh lime juice + olive juice + Serrano slice
Buena Vida: Mezcal + pink grapefruit juice + mineral water
8

Next-Level Experiences

Consumers are placing a high value on their cocktail experiences. Redefine and translate this into affordable luxury and premiumization, which then becomes a repeatable revenue generator. Entice guests via flavor-deepening techniques and memorable experiences that raise the bar.

Ice Ball Cocktails: A frozen sphere topped with spirit. Drink it quickly or allow the ice to mellow the cocktail as it melts. Reload with an additional shot or even change it up
—Swift's Attic, Austin, Texas
Whistlechops & Applesauce: A savory Old Fashioned featuring WhistlePig Rye 10 Year, Laird's Applejack, apple butter and pork-infused maple syrup
—The Study at The Cosmopolitan, Las Vegas

Try This
Barrel-Aged Negroni: Traditional Negroni aged for two months in bourbon/whiskey barrels
Shimmering Martini: Pomegranate martini + edible glitter
9

Keep It Simple

There is something to be said for a minimalist approach to cocktails as a way to provide clarity amongst the sea of cocktail menu complexity and showmanship. Demonstrate the character of the ingredients and your establishment via refined simplicity.

Rum & Coconut: Cruzan Black Strap from Saint Croix, shaken with coconut water and served inside of a young coconut
—Caña Rum Bar, Los Angeles
Nilla Wafer: Hennessy, Grand Marnier, vanilla
—Verandah, Cary, N.C.

Try This
Spiced Old Fashioned: Bourbon + spiced maple syrup + vanilla bean + bitters
Penicillin: Scotch + ginger + lemon + orange-blossom honey + smoked bitters
10

Plant-Forward

It seems natural that tenets of plant-based menu development would translate to cocktails as these drinks can match the values consumers hold close. As guests become more informed, cocktails need to be just as informed. Look to savory, botanical and vegetable infusions.

Wakaba: Iichiko Saiten shochu, vermouth, tomatillo, Thai basil, wasabi salt
—Katana Kitten, New York
A Strange Harvest: Tequila, snap pea, carrot, vermouth, lemon, Strega, almond
—Biltong Bar, Atlanta

Try This
Lavender Bee's Knees: Gin + lavender-infused lemon juice + wildflower honey
Elote Sipper: Pepita-infused tequila + sweet corn syrup + lime juice + cilantro sprig