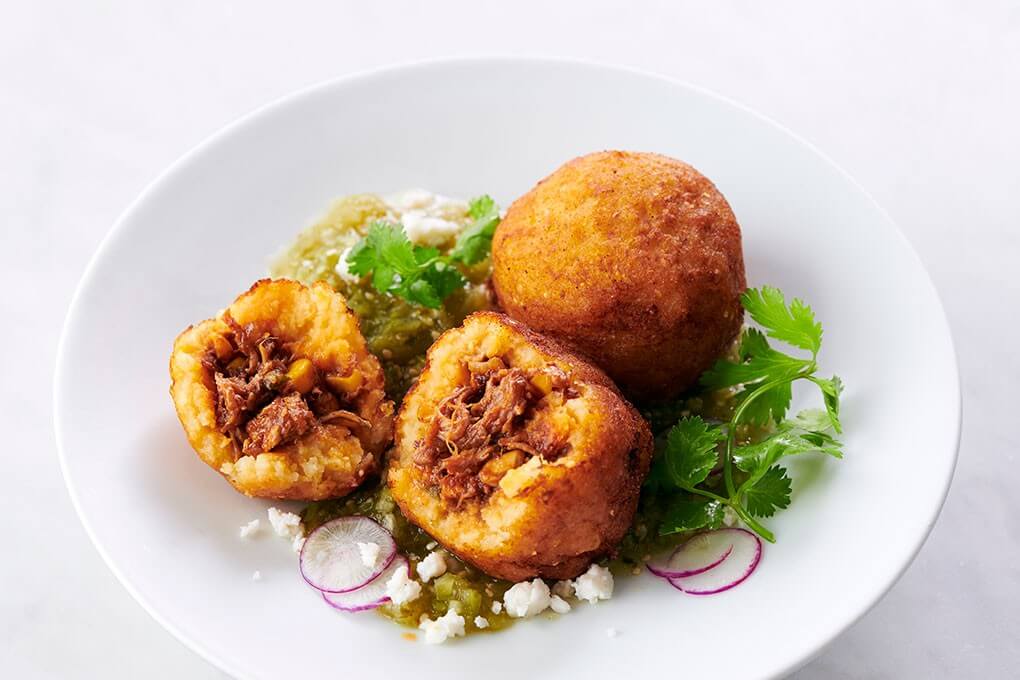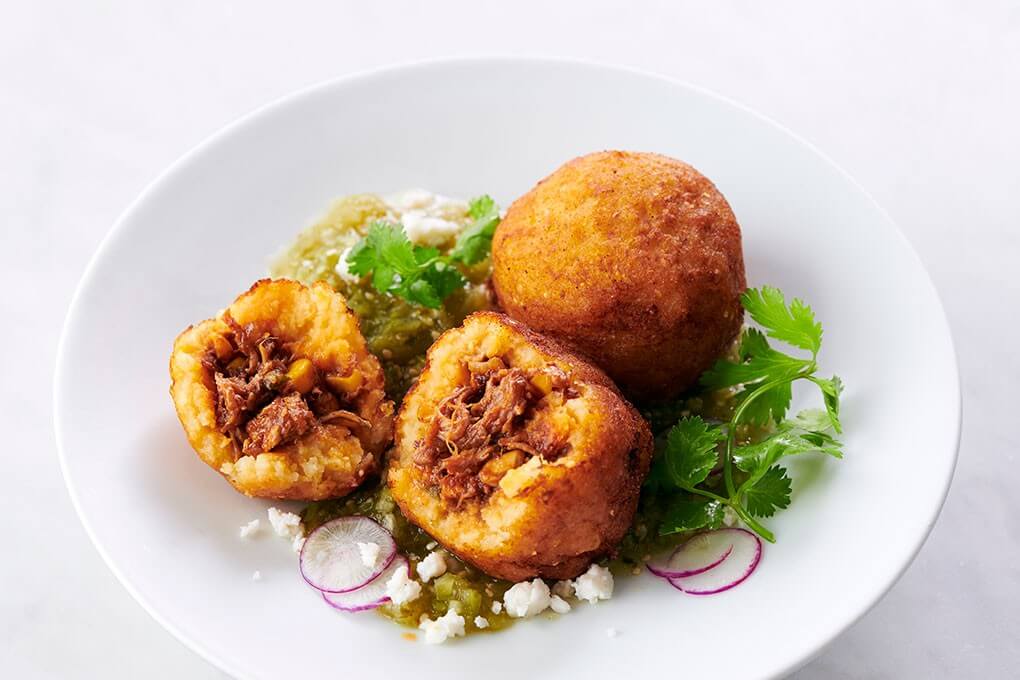 Mouthwatering Mexican-style tamale spheres, made with a warm Idaho® Potato tamale dough wrapped around flavorful fillings like carnitas, shortribs and barbacoa.
Ingredients
Tamale Dough – for 15 spheres
2 lb Idaho® Yukon Gold Potatoes
3/4 cup Masa Harina
2 tbsp water
1 tbsp Lard, optional
1 tsp ground cumin
1/2 tsp salt
Tamale Filling – about 5 cups
1.5 cups Onion, diced
1 tbsp Garlic, chopped
1 cup Fresh Corn Kernels, uncooked
1 tbsp vegetable oil
1/2 cup Jalapeños, minced
1 lb Seasoned meat (such as boneless short ribs, carnitas, tinga, barbacoa), cooked
For Service
Frying oil
Adobo, mole, salsa or enchilada sauce
Queso fresco, goat cheese, sour cream
Shredded lettuce, guacamole, radishes, pumpkin seeds
Instructions
Dough
Cook potatoes in boiling salted water. Drain. Remove skin. Press through ricer or food mill. Should have about 5 cups or 1 1/2 pounds.
Combine riced potato and remaining ingredients in a large bowl. Mix well and divide into 15 2-oz. portions. Cover well until ready to use.
Filling
Sauté onion, garlic and corn kernels in oil until ingredients are just softened. Remove from heat and stir in meat.
Assembly and frying
Using palm of hand, shape one masa ball into a cup shape.
Place 2 rounded tablespoons (about 1 oz.) meat filling into the cup. Gently press dough together to form a ball wrapping the meat, using water moistened fingers to seal cracks and make a smooth sphere, about 2.25-inch diameter. Repeat with remaining tamale dough and filling*. *May have about 1 cup leftover filling.
Refrigerate spheres well-wrapped for up to 3 days.
Heat frying oil to 350°F. Fry spheres until deep golden brown, 4-5 minutes until center is 160°F. Serve warm or room temperature with condiments and garnishes.
Recipe Notes
For more Idaho Potato recipe inspirations: idahopotato.com/fspro