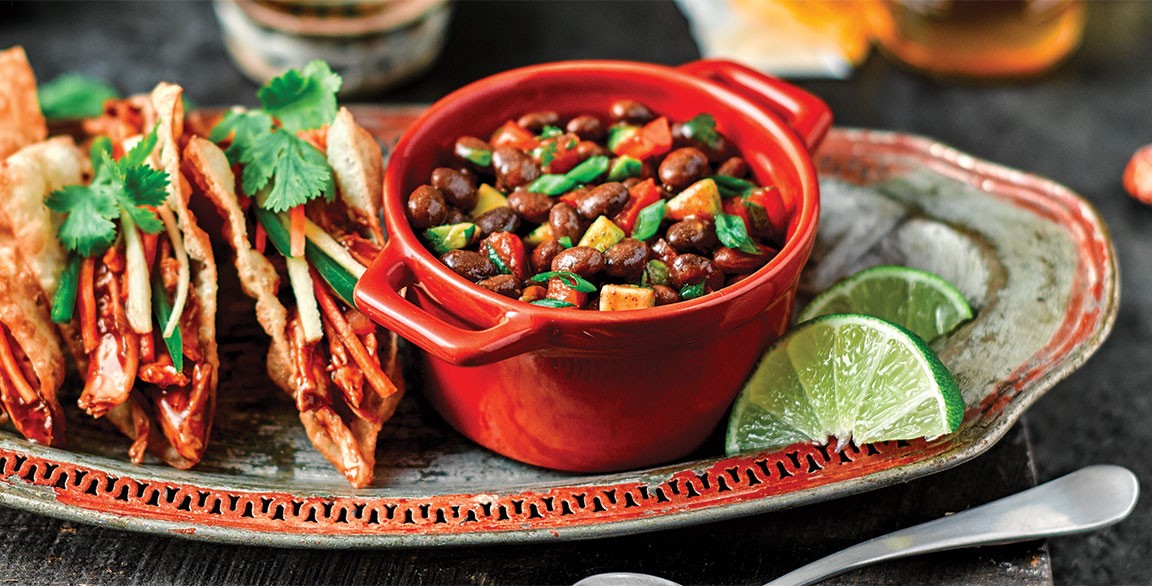 The imperative for flavorful plant-forward menu development is clear. Data continues to reinforce the notion that this is now a long-standing movement in foodservice rather than a passing trend, fortified by broad consumer appeal. In fact, 90 percent of consumers who purchase plant-based alternatives to meat and dairy are not vegetarian or vegan*. And 59 percent say they eat meatless at least once a week**. Those numbers equate to healthy demand.
Of course, plant-forward menu items need to deliver on flavor, intrigue, familiarity and craveability. Comfort, too.
A quick look south of the border at three incredibly familiar formats—the quesadilla, taco and tostada—offer chefs fantastic carriers for innovation here. When casting the plant-based hero, beans offer a natural fit in Mexican cuisine, along with a compelling and protein-rich narrative.
Beans serve up exceptional culinary versatility. "Beans provide a range of textures to plant-forward dishes—they can be a creamy and rich addition when puréed, they can be mashed to still provide some toothsome texture, or they can be baked or fried to offer a crunch," says Ken Oakley, Senior Brand Manager of Foodservice for Bush's Best Beans.
Making beans the star of plant-forward versions of Mexican favorites also gives consumers the plant-based goodness many of them are seeking. "Not only are beans rich in protein and fiber, but they are packed with antioxidants and promote heart health," he says.
* NPD Group, The Future of Plant-based Snapshot, 2019
** Hartman Group Health & Wellness Report 2019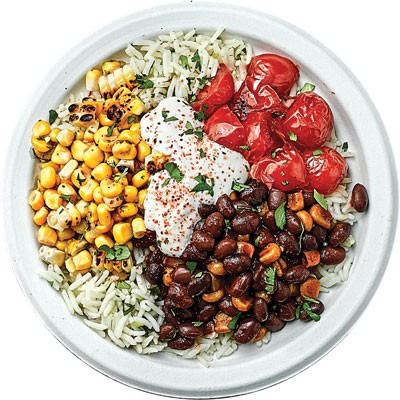 LET'S BOWL

"Move the handhelds into a bowl format. You are using the same SKUs and can build tons of texture and flavor. Additionally, bowls allow for customization and great visual appeal, both of which are important to that younger consumer base."
Ken Oakley
MODERN BUILDING BLOCKS FOR QUESADILLAS, TACOS & TOSTADAS
Three of the most beloved formats from Mexico are also some of the easiest to tinker with, leveraging their popularity while making them signature plant-forward offerings on your menu. With a built-in popularity and a comfort-centric positioning, menu play is wide open:
Down South Quesadilla with cumin-spiced black-eyed peas, pimento cheese, pickled jalapeños and fried green tomatoes
Baked Bean Quesadilla (pictured above) with baked beans, cilantro, Mexican cheese blend and pickled jalapeño
Fermented Black Beans & Guacamole Tostada with pico de gallo and lime crema
White Bean & Carrot Tostada with mint chimichurri and queso fresco
Breakfast Tacos with refried beans, an omelette, avocado, watermelon radish, cilantro and salsa tatemada
Crispy Bahn Mi Tacos with black bean salsa
Visit BushBeansFoodservice.com for more plant-based inspiration!