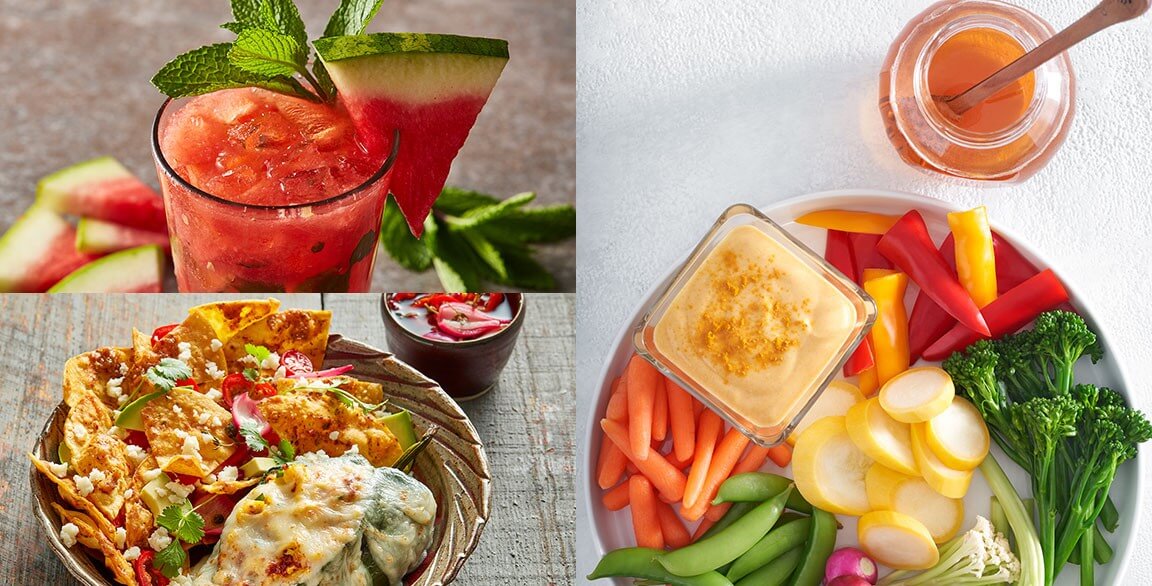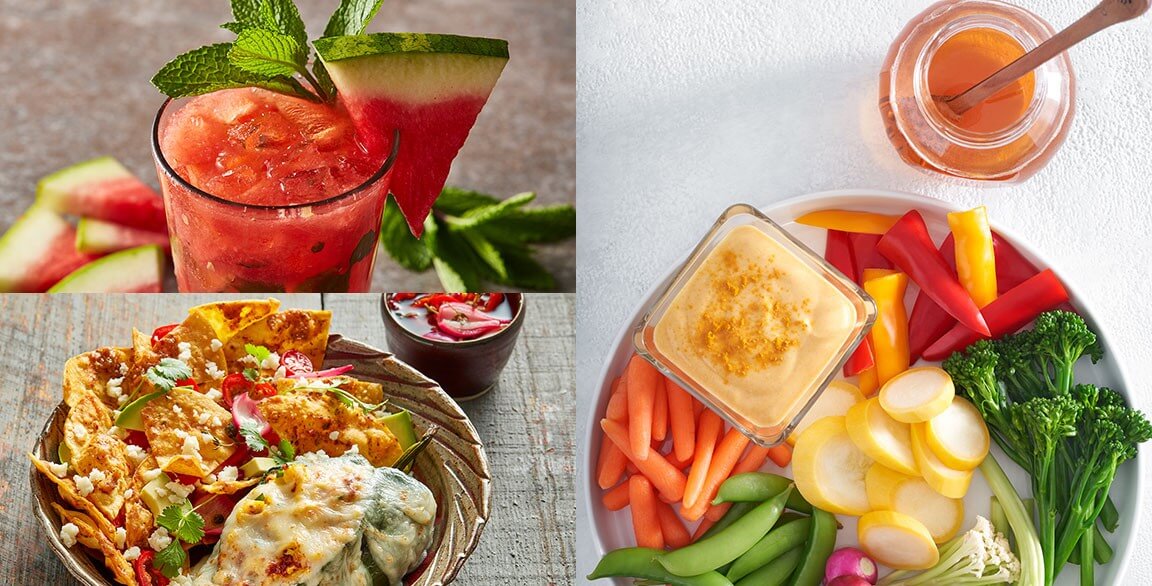 By Flavor & The Menu
March 24, 2021
Kitchen Collaborative is a recipe-development initiative formed by Summit F&B and Flavor & The Menu. To fuel flavor innovation, a group of talented chefs partnered with sponsor brands and commodity boards to create recipes that showcase the passion and potential of our industry.

CHEF SPOTLIGHT: JUSTIN FIELDS
Justin Fields is the Corporate Executive Chef of Bonefish Grill + BBI International, an American seafood restaurant chain in the Bloomin' Brands family. When asked to develop recipes for Kitchen Collaborative, he drew inspiration from the star ingredients, positioning them in creative pairings and formats that were both surprising and inviting. His Smoky Mezcal Watermelon Mojito successfully hitches light with dark. Fields' Chiles Rellenos Stuffed with California Queso Fresco and Elote sees a winning combination of two craveable Mexican favorites, and his Wildflower Honey-Turmeric Greek Yogurt Dip easily transforms three ingredients into a nutrient-rich and versatile menu item.

Smoky Mezcal Watermelon Mojito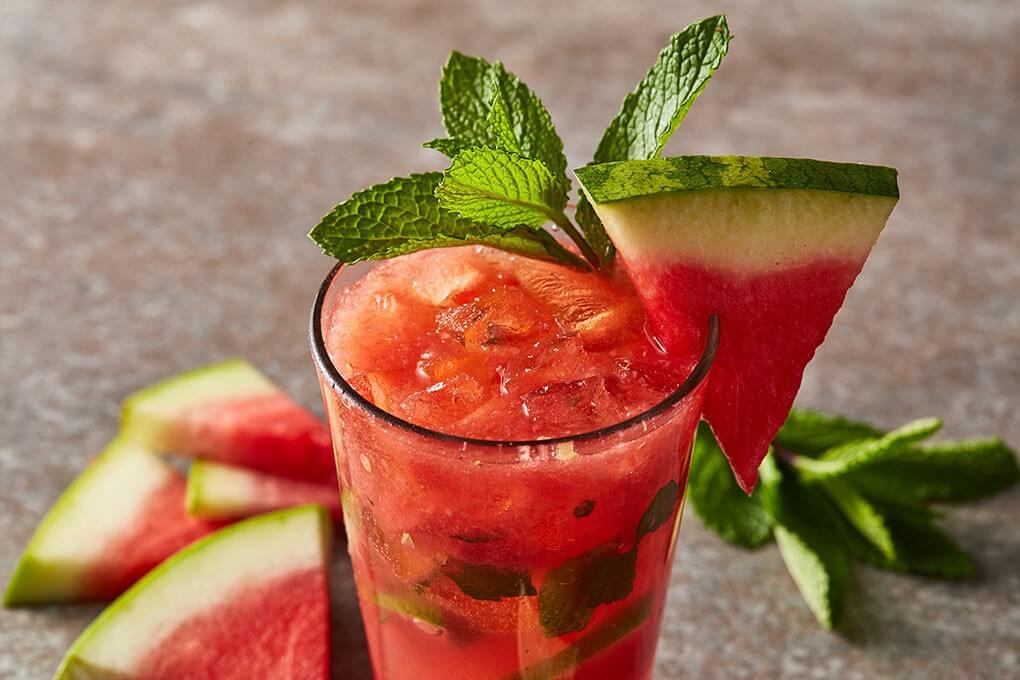 Photo: Carlos Garcia // Food Styling: Peg Blackley & Bree Williams
Fields lands on a revelatory flavor combination in his Smoky Mezcal Watermelon Mojito. "I'm a huge mezcal fan. Adding it to a mojito is a great way to introduce this trending spirit to the unfamiliar," he says. "The earthy sweetness of watermelon is a great complement to the smoky notes in this cocktail, with the lime and mint brightening things up. It's a flavor combo I haven't seen often on drink menus."
To build the drink, he muddles lime wedges, mint leaves, watermelon simple syrup and watermelon scraps in a tall glass, then adds ices and pours rum, mezcal and soda water. He garnishes with lime and a chile-spice watermelon wedge. Although perfect as a summer refresher, Fields sees this as an all-season cocktail. "Mojitos are somewhat of an evergreen cocktail," he says. "A nice trick is to large-dice and freeze watermelon when in season, then use as the 'ice cubes' for your mojito—an awesome way to enjoy this cocktail year round."
Chiles Rellenos Stuffed with California Queso Fresco and Elote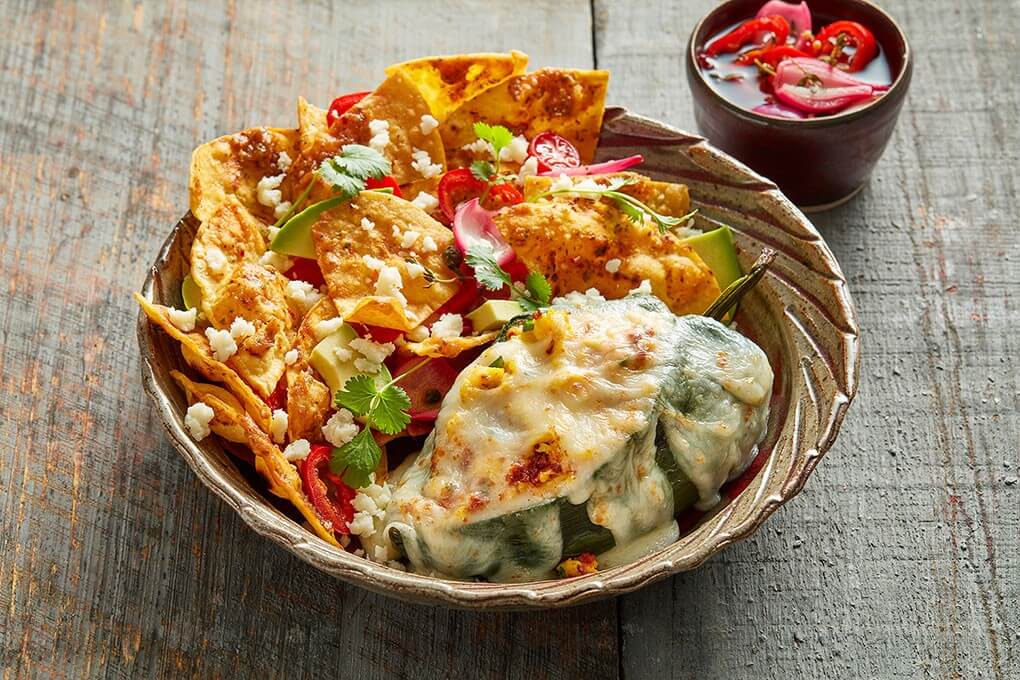 Photo: Carlos Garcia // Food Styling: Peg Blackley & Bree Williams
Chiles rellenos are a comfort-centric Mexican dish that typically don't see a lot of creative innovation on menus nationwide. "I wanted to play in this this sandbox as my flavor direction was inspired by the key ingredients themselves—Hispanic California cheese products," says Fields. In a clever move, he pulled in the trending, craveable profile of Mexican street corn. The result is his recipe for Chiles Rellenos Stuffed with California Queso Fresco and Elote.
"The queso fresco just took me to 'Elote Land.' I immediately thought of chile and lime and went from there. Typically, queso fresco is crumbled on top or all around a roasted or grilled ear of corn, but I wanted to get more of the creamy attributes that cooking it brings about by using this approach," he says. To build the enchiladas, he starts by making the elote mixture, blending California queso fresco, sour cream, fresh-shucked corn kernels, Tajín spice and mayonnaise. He stuffs that into blistered poblano peppers, coats them in flour and fries the peppers until crispy and golden. He lays the chiles rellenos over salsa roja and pipes a cilantro-lime crema over top.
Wildflower Honey-Turmeric Greek Yogurt Dip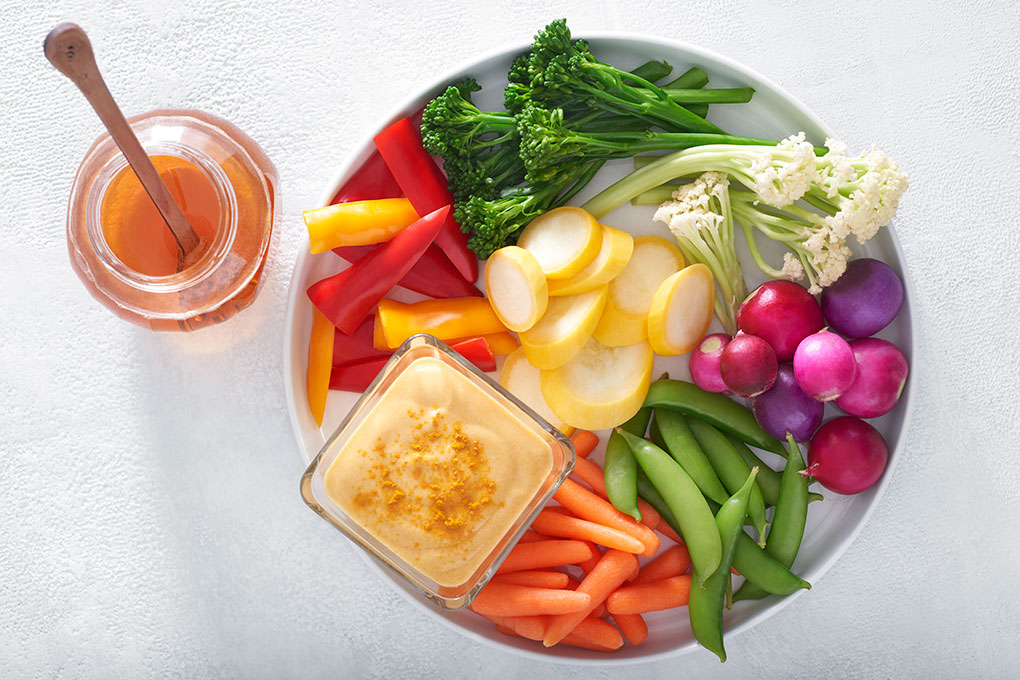 Photo: National Honey Board
Fields lands on a trifecta of ingredients that offers up both appealing flavor and immunity-boosting benefits. He describes his simple yet striking Wildflower Honey-Turmeric Greek Yogurt as "subtly sweet and tangy, with a touch of herbaceous-earthiness from the wildflower element in the honey and a slight bitter note from the turmeric."
To make the dip, he simply combines Greek yogurt, wildflower honey and turmeric. Here, he partners it with a rainbow of vegetables for a crudité platter, but sees its savory-sweet profile giving it broad menu versatility. "The flavors would pair well with spicy grilled shrimp or chicken, or as a great complement for samosas. I would also incorporate this dip at the beginning or end of an immunity-themed menu, for example, as a 'sauce' for a produce-forward appetizer, or drizzled over freshly-cut fruit with a cheese board as a clean end to a multi-course meal."
Project Management: Summit F&B
Photography: Carlos Garcia // Food Styling: Peg Blackley & Bree Williams