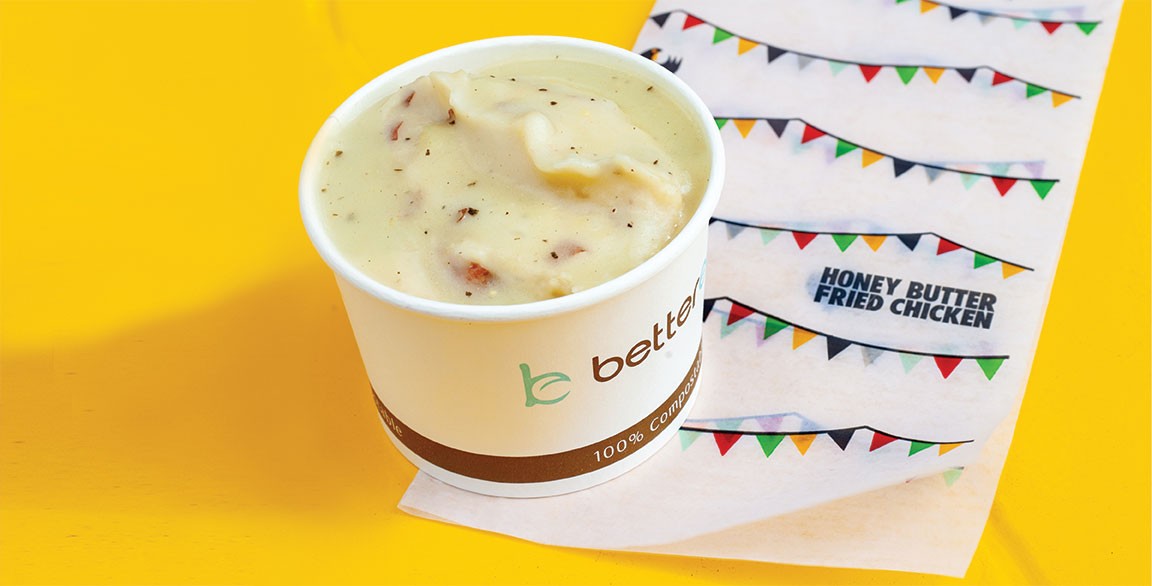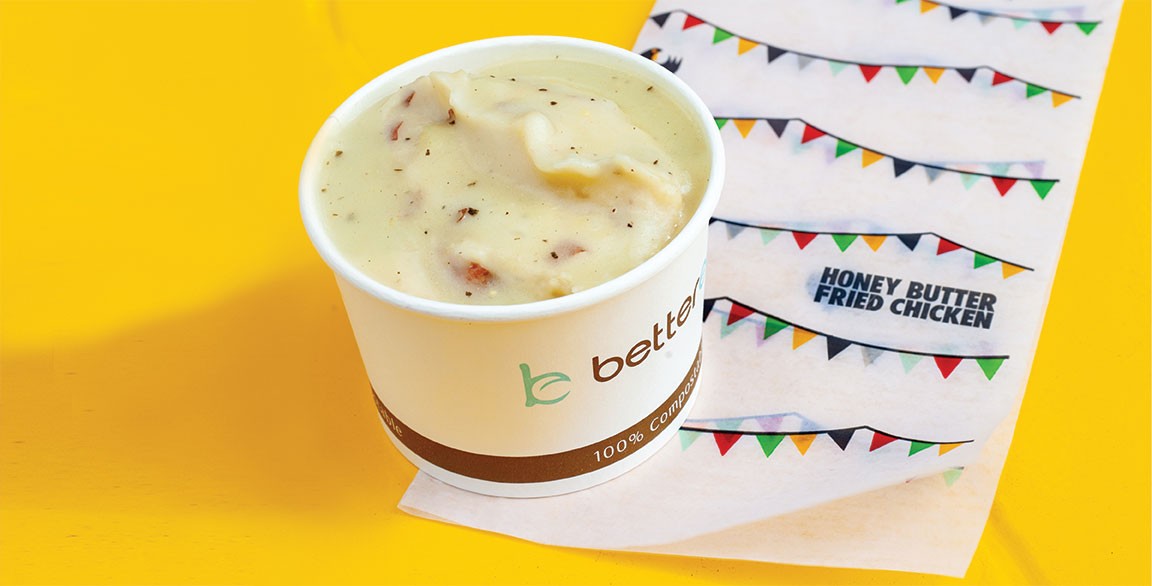 Fries, tots, hash. Mashed, baked, scalloped—Americans love their potatoes. Menu developers are happy to oblige, increasing their potato-based options to keep up with demand for comfort-centric, craveable favorites and providing items that perform well in the takeout and delivery space. Potatoes score incredibly well here, with 88 percent of delivery consumers loving or liking them, according to Datassential.
Whether creating potato dishes designed for takeout or for dine-in, the competitive landscape demands creativity in the flavor build.
Honey Butter Fried Chicken, a quick-serve in Chicago known for its stellar chicken and craft beer, pays equal attention to its signature sides, including the Schmaltz Smashed Potatoes with rosemary gravy. Developed by Josh Kulp and Christine Cikowski, co-chefs and partners, the rich potato dish capitalizes on the abundance of chicken bones on hand in the kitchen at Honey Butter. They're roasted, and the rendered fat is whipped into the potatoes, along with cream and butter. That schmaltz is also used to enrich the accompanying gravy, flavored with fresh rosemary and lemon zest.
Hot to Tot
Tots never really go out of favor. Instead, they seem to pull in and out of focus depending on the mood of the nation. Today, that mood calls for tots and all the comfort that their tender middles and crispy exteriors collectively offer. They also bring sound construction to takeout builds, making them ideal in both loaded "fries" applications and as an accompanying deep-fried potato side.
The Crabby Tots appetizer is a consistent bestseller for The Choptank, a classic fish and crab house from Atlas Restaurant Group in Baltimore. A base of crispy tots gets loaded with Jack and cheddar cheese, a signature Maryland crab dip and more cheese, then is browned in the oven and topped with green onion and Old Bay seasoning.
"The tots work a little better as a base versus traditional french fries because they hold the dip much better. The thicker crust of the tots helps to keep them fresh and crunchy," says Joe Sweeney, director of marketing for Atlas Restaurant Group. They also make a great to-go item. "In the current state of safety restrictions around dining, Crabby Tots have become a favorite for Baltimore locals, as they are easy to eat on the go and also satisfy a love for all things crab!"

Tot Spotting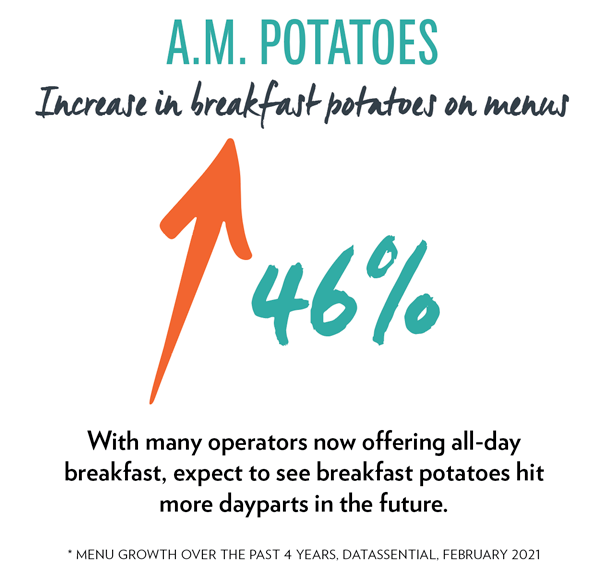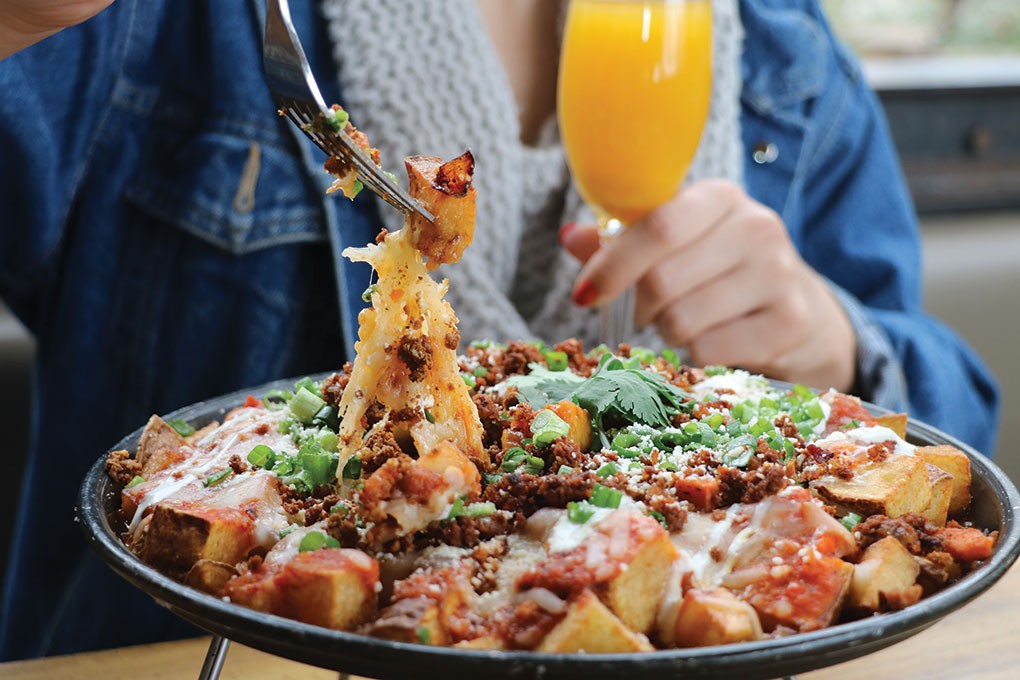 Solita Tacos
Reporting for Breakfast
Brunch Potato Nachos are on the menu at Mexican hotspot Solita Tacos, with two locations in Southern California. The platter of fried breakfast potatoes is topped with onions, ranchera salsa, melted cheese, bacon or chorizo, and crema.
"We wanted to offer something different, outside of the standard potato dish or even the standard nachos," says Michael Gaines, culinary director of Solita.
"They're one of our most popular brunch dishes. Guests frequently order a shareable portion, in the same spirit that nachos are always a fun dish to share with others."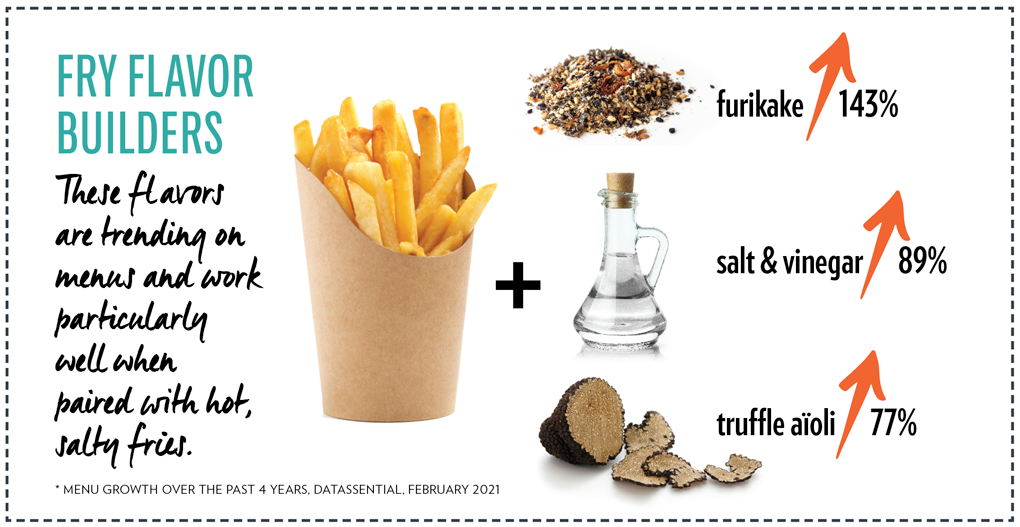 Texture Time
Potatoes can take diners into less familiar flavor realms or turn up in unexpected formats. They can also display tremendous contrasts in texture, from sublime smoothness to crackly crisp. Here are two that caught our eye, both pulling inspiration from Latin America.
Majordomo, David Chang's California/eclectic-themed restaurant in Los Angeles, menus Fried Butterball Potatoes, a savory dish that tosses crispy potato wedges in salsa seca. It's wholly unexpected, combining a rustic presentation of potatoes with a relatively unknown "dry" salsa, yielding a dish with a variety of textures in every bite. Crunchy, salty and spicy, the salsa seca is made with fried peanuts (in this instance, left in their shells), seeds and chile peppers, along with a bit of oil to bind it.
At Antique Taco in Chicago, chef and co-owner Rick Ortiz highlights how well potatoes can both carry flavor and introduce varying textures in his Potato and Poblano Taco with "tres queso," chipotle crema and Tajín-spiced deep-fried potato skins. He features fingerlings, crushing them with his palm, then pan-frying and seasoning them with cumin, ancho chile, paprika, oregano and other spices. Ortiz then adds poblanos to the pan.
He makes discs of "tres queso" on the griddle, using smoked Gouda, Chihuahua and sharp cheddar. He tops each disc with a tortilla until the cheese forms a cracker-like crust. Ortiz adds the fried potato mixture when plating and finishes the taco with chipotle crema, deep-fried potato skins and scallions.