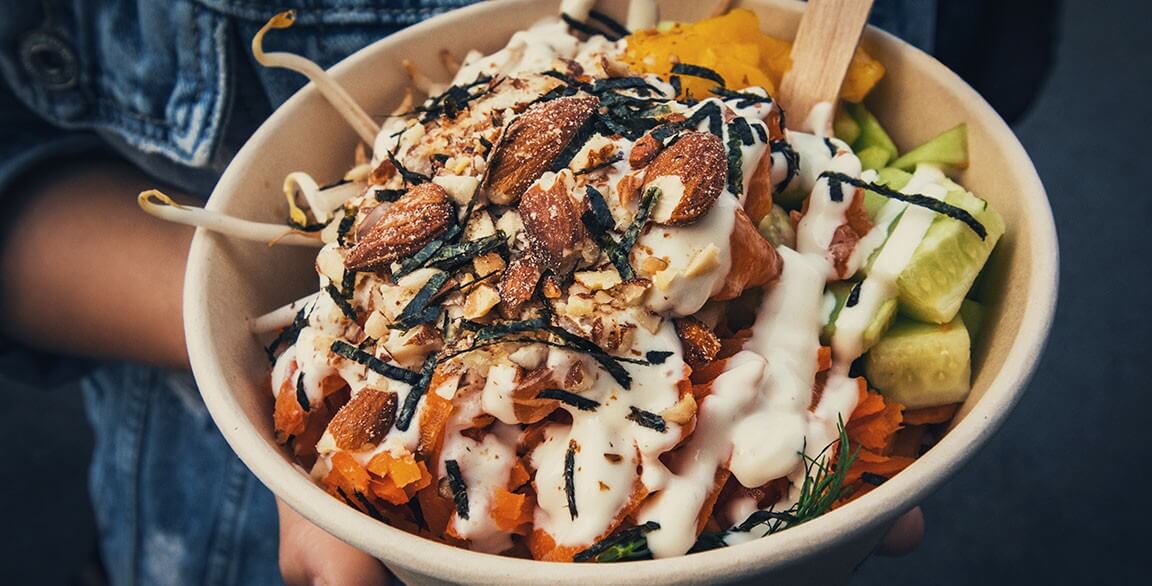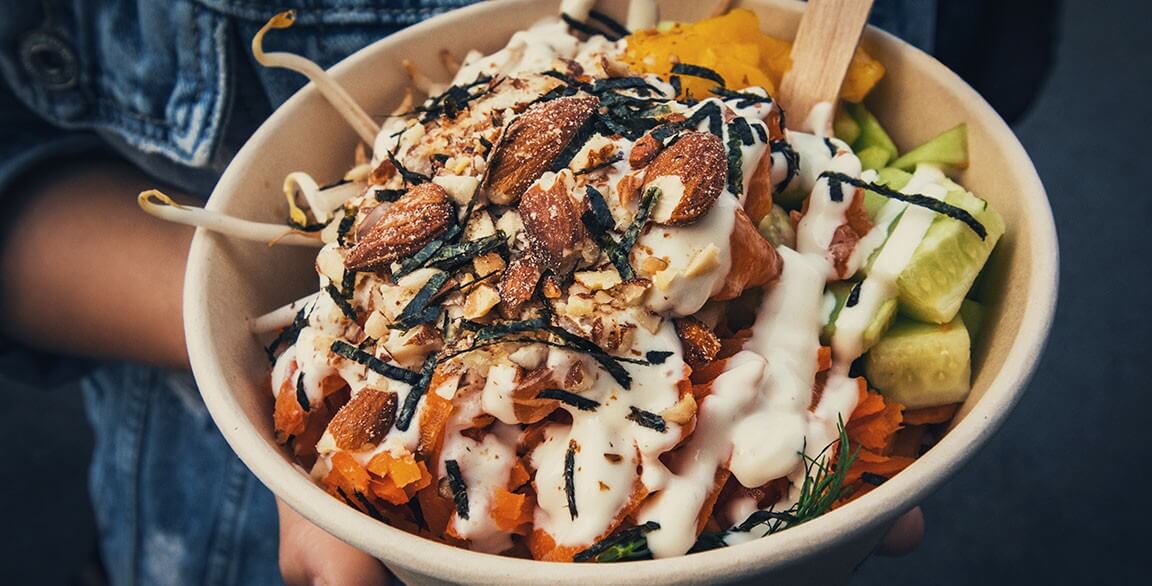 By Flavor & The Menu
May 13, 2021
Flavors on the Road
Going the distance with takeout and delivery
In the world of takeout, each element of a menu build needs to work extra hard. First, that item needs to call to someone and compel them to place an order for delivery, pickup or takeout. In a sea of competition, that's a tall order. Considering that dishes destined for off-premise consumption are inflicted by the abuse brought on by holding, packaging and travel time, calibrating for those conditions means amplifying both flavor and texture.
When looking at the approach to textural play, it's clear that chefs across the country are choosing elements that can withstand to-go conditions, then leveling up with whimsy, intrigue and/or blasts of on-trend flavor, ensuring a satisfying off-premise eating experience that reflects the brand experience in a positive way.
9 CREATIVE TEXTURE PLAYS
1

CRUNCHY CHURRO PIECES

San Antonio Hot Sandwich: Southern-fried thigh submerged in "San Antonio hot oil" and topped with hot crema, Cotija, micro-churro crunchies, cilantro and pickled jalapeños
Cullum's Attagirl, San Antonio, Texas
2

CRISPED BREADS

Patty Melt: La Pryor Farms ground beef and pastrami 6oz patty with Cognac grilled onions, Gruyère cheese, sauce gribiche, Publican Quality Breads seeded rye seared in beef tallow
Steingold's, Chicago
3

POTATO CHIPS

Utz potato chip-crusted flounder with chow-chow slaw
Perennial, Towson, Md.
4

STREUSELS

Wild Mushroom Agnolotti finished with Parmesan fonduta and crunchy black truffle streusel
The Bungalow Kitchen / Long Beach, Calif.
5

SALTED AND CRISPED CHICKEN SKINS

The LBC Sandwich: Pulled chicken in ginger-peanut-sauce, apple, Gruyère and crispy chicken skin on sourdough bread
Le Bon Choix Café, Brooklyn, N.Y.
6

SPICE DUSTS

I Wanna See Her Turn to Dust: Tempura-fried maitake mushrooms, ramp dust, togarashi dust, Asian green goddess sauce
Homestead, Chicago
7

CANDIED GARNISHES

Beer Battered Cauliflower Taco with queso blanco, Texas Pete Sabor Sauce, avocado corn pico, dusted candied pepitas, flour tortilla
Velvet Taco, based in Dallas
8

CHICHARRONES

Charred Romaine Wedge Salad con Chicharrón with red onion, Willcox hot house tomato, and mesquite-smoked blue cheese
Charro Steak, Tuscon, Ariz.
9

PICKLES

Porchetta, Brun-uusto bread cheese, broccolini, chimichurri, cheese and pickled fennel on sourdough, served with rosemary broth
Tempesta Market, Chicago