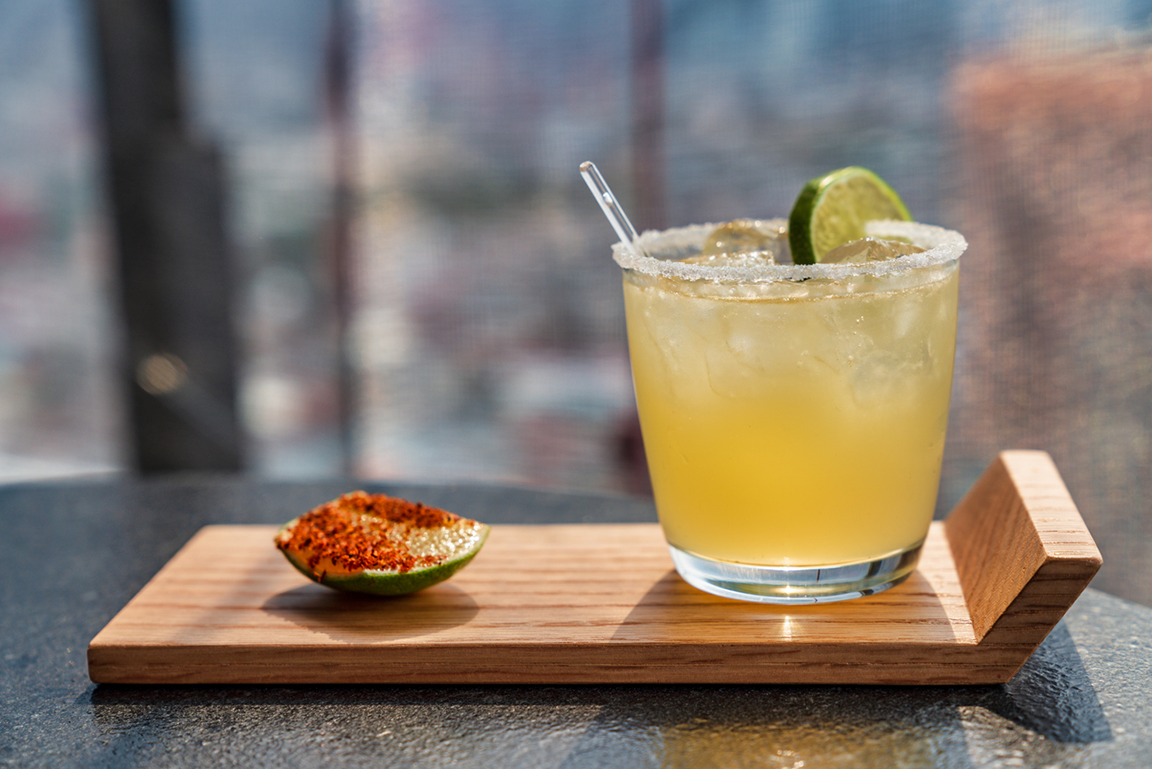 Amidst red-hot consumer demand for heat, the beverage category beckons with thrilling avenues to explore. As diners embrace less sugary and more vegetal cocktails, the interest in savory, briny and umami taste notes has blossomed. This opens a pathway for complementary spicy infusions. Patrons are exploring spicy versions of both classic and modern drinks. Bartenders are answering with an array of chile varieties, chile oils, mustard seeds, global spices and exotic ingredients.
Here we delve into eight areas heating up drink development, with supporting examples from national menu sightings that highlight how cocktails with an extra kick add flavorful, signature intrigue.
CHILE-INFUSED SPIRITS
New Mexican Martini: El Jimador silver tequila infused with green chiles and Cointreau, salt-rimmed glass, jalapeño-stuffed olives
Chuy's, based in Austin, Texas
Kangaruby, Because That Was Her Name (Paloma): Aleppo pepper infused La Gritona tequila, lemon, lemon-honey simple, Topo Chico
The Diplomat, Milwaukee, WI
SAVORY HEATERS
Tamaren Tounen: Tequila, Clairin rum, tamarind, jerk, lime
Sousòl, Portland, Ore.
Rickey: Coffee-infused tequila blanco, lime, tomatillo, yuzu, Hatch chiles, soda
Spoon and Stable, Minneapolis
SWEET AND SPICY
Purple Haze: Del Maguey mezcal, Rockey's Botanical liqueur, Thai chile, cherry-rhubarb syrup, fresh lime
Stubborn Seed, Miami
Spicy Mango 'Rita: El Jimador reposado tequila, mango, citrus juices and Fresno chiles, with a cinnamon sugar rim; hand-shaken for a sweet and spicy finish and served with a hot honey-coated dipper to add more heat
Outback Steakhouse, based in Tampa, Fla.
CHILE-SAUCED
Serpentine: Reposado tequila, prickly pear brandy, dry curaçao, verdita (pineapple-based juice with jalapeño, lime and mint)
Kindred, San Diego
Spaghetti Western: Del Maguey mezcal vida, Campari, orgeat, ginger, lime, house hot sauce
Leaf, Boulder, Colo.
NON-CHILE TINGLERS
Wabi Sabi: Wodka vodka, umeshu, basil, wasabi, toasted sesame, Q soda, nori foam
Lita, Aberdeen Township, N.J.
C&G Barrel Aged Sichuan Old Fashioned: Bols Genever, amaro nonino, Sichuan pepper
Guard and Grace, Denver
FIERY BITTERS
Water My Lawn: Western Son watermelon vodka, Dolin Blanc vermouth, lemon, simple, Hellfire bitters
Ida Claire, based in Dallas
FUN FEISTY GARNISHES
The Baconado: Bloody with a spin! Includes our signature garnishes with a skewer of bacon-wrapped jalapeño cheese balls
Sobelmans, Milwaukee
PEPPERY ZERO PROOF
No Means Negroni!: Tasmanian pepperberry, cinnamon, juniper, orange essence
Noko, Nashville, Tenn.