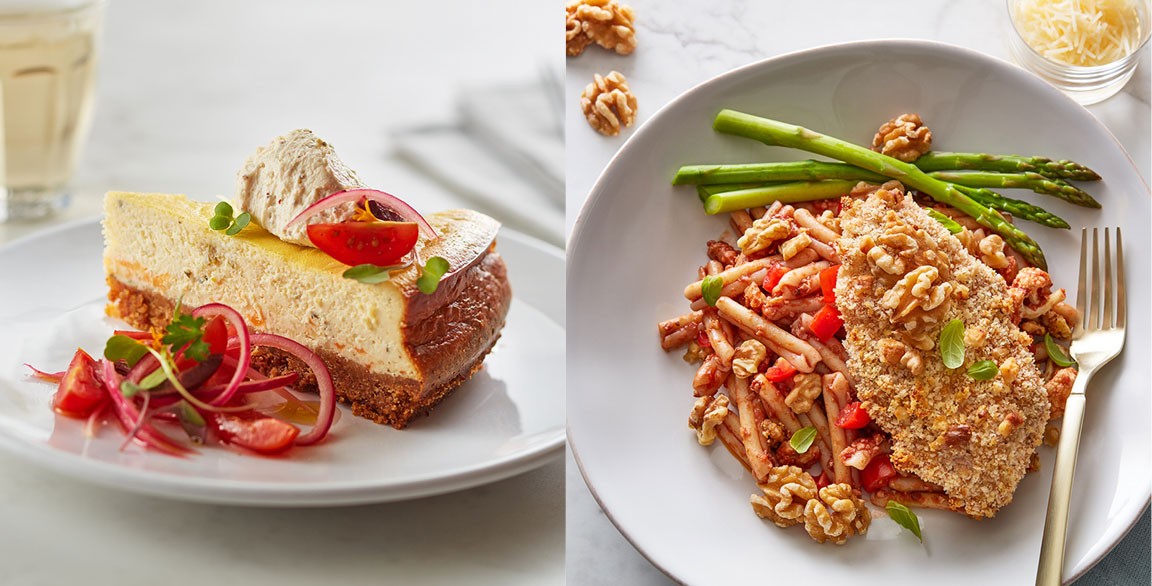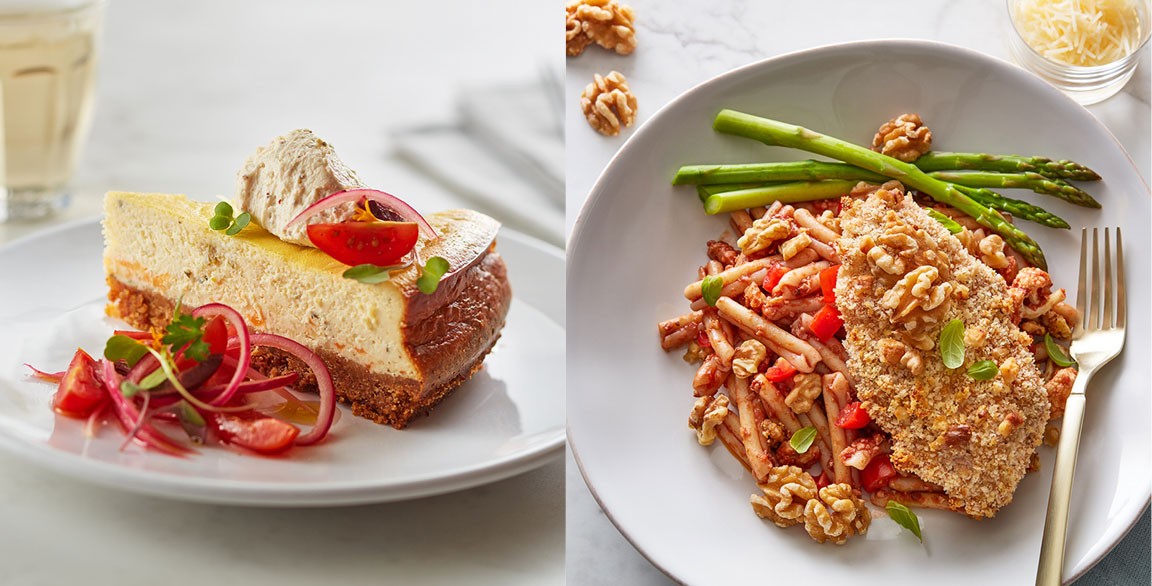 By Flavor & The Menu Staff
July 17, 2020
Kitchen Collaborative is a recipe-development initiative formed by Summit F&B and Flavor & The Menu. To fuel flavor innovation, a group of talented chefs partnered with sponsor brands and commodity boards to create recipes that showcase the passion and potential of our industry.
CHEF SPOTLIGHT: JAMES MUSSER
James Musser moves his star ingredients in each of his recipes out of familiar territory, introducing the unexpected to classic or familiar dishes. "I wanted to turn both of the ingredients into something else," says this veteran chef, most recently with heritage brand Copeland's of New Orleans. In his California Walnut Parmesan Chicken, walnuts add another dimension of texture to the chicken's crispy coating and lend the accompanying tomato sauce a meaty mouthfeel. Musser's Boursin® Garlic & Herb Cheesecake showcases the cheese's silky texture, and gives guests an airier version of a savory cheesecake.
Boursin® Cheesecake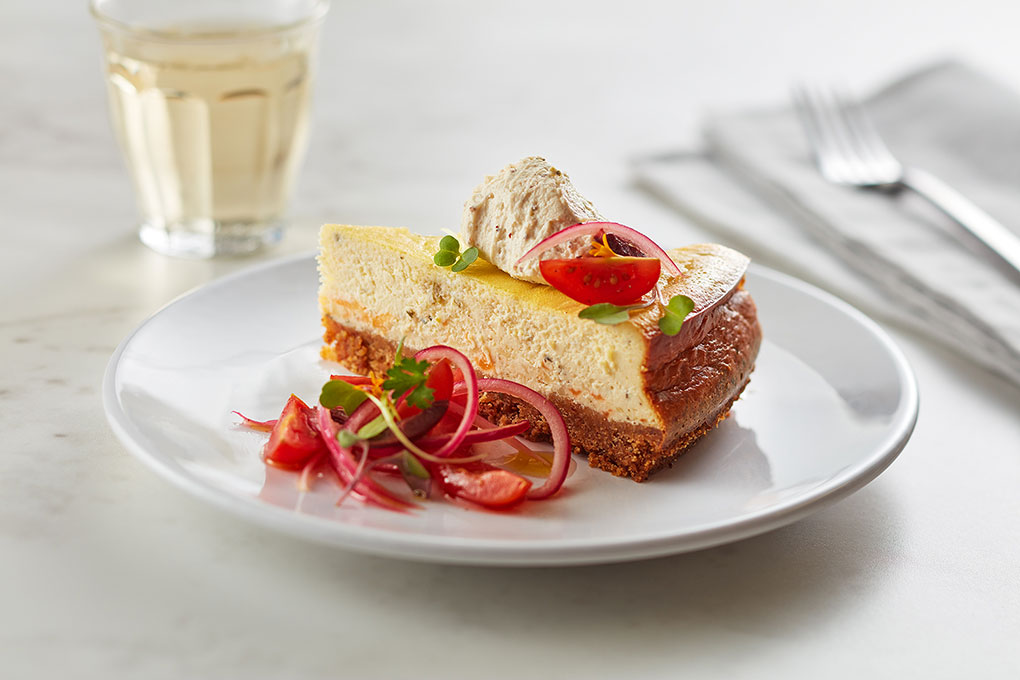 Photo: Carlos Garcia // Food Styling: Peg Blackley & Bree Williams
Musser's Boursin® Garlic & Herb Cheesecake is an appetizer that promises a savory, light, creamy, flavorful bite. In developing this recipe, he switched out cream cheese with Boursin®, then mixed in whole eggs, yolks and sour cream. Once blended, he added Colby and Parmesan cheeses, green onion, salt, black pepper and white pepper, then baked the mixture in a Parmesan cracker crust until it set. "The creamy texture of the Boursin® lent itself to working in a cheesecake recipe," he says. "It made it much lighter and fluffier." Musser tops the appetizer with a whipped quenelle, made with Boursin® Black Pepper Cheese, heavy cream and herbs de Provence. He serves a fresh tomato-olive salsa tossed in red wine vinegar as a colorful, sharp contrast. "I wanted to make a lightened-up topping to cut through the richness of the cheesecake," he says.
California Walnut Parmesan Chicken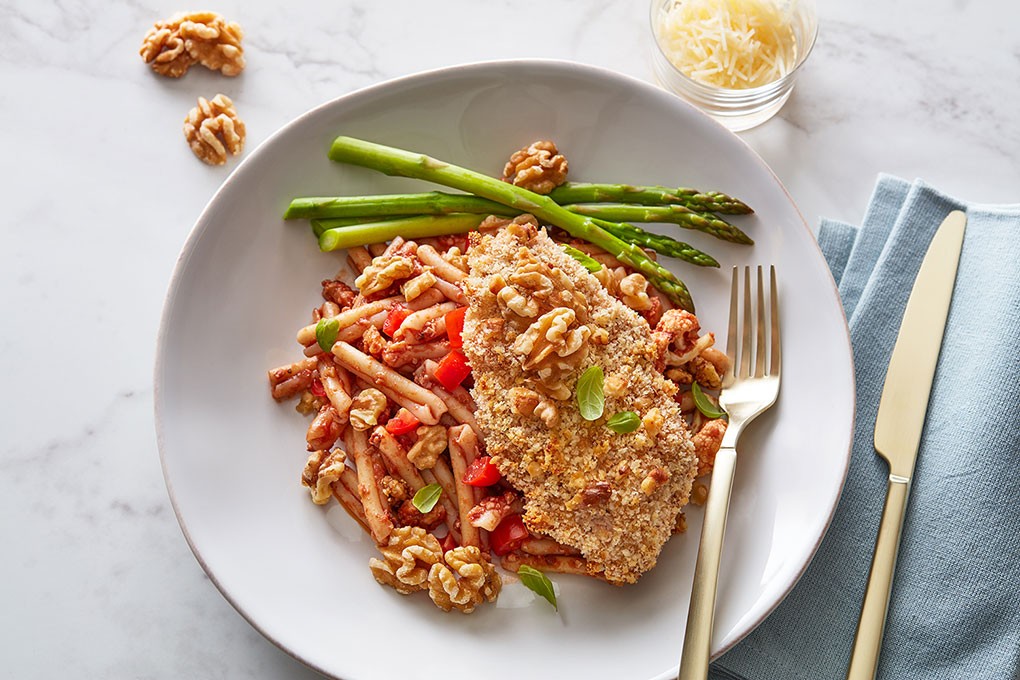 Photo: Carlos Garcia // Food Styling: Peg Blackley & Bree Williams
Musser had a hankering for chicken Parmesan. He also had California walnuts on hand after developing a plant-based Bolognese sauce that successfully replaced ground beef with walnuts, yielding a meaty texture and earthy, roasted notes. He decided to see what the walnuts would bring to the coating of a traditional chicken Parm. "They gave the chicken additional texture that made it more interesting," he says. First, he marinated thin filets of chicken breast in a mixture of buttermilk, whole grain mustard, paprika and eggs and salt. For the coating, Musser combined chopped California walnuts with panko breadcrumbs, Parmesan and dried Italian herbs. He drizzled the chicken with olive oil, then baked it at a low heat until golden and crispy. He suggests serving his California Walnut Parmesan Chicken over pasta.
Project Management: Summit F&B
Photography: Carlos Garcia // Food Styling: Peg Blackley & Bree Williams