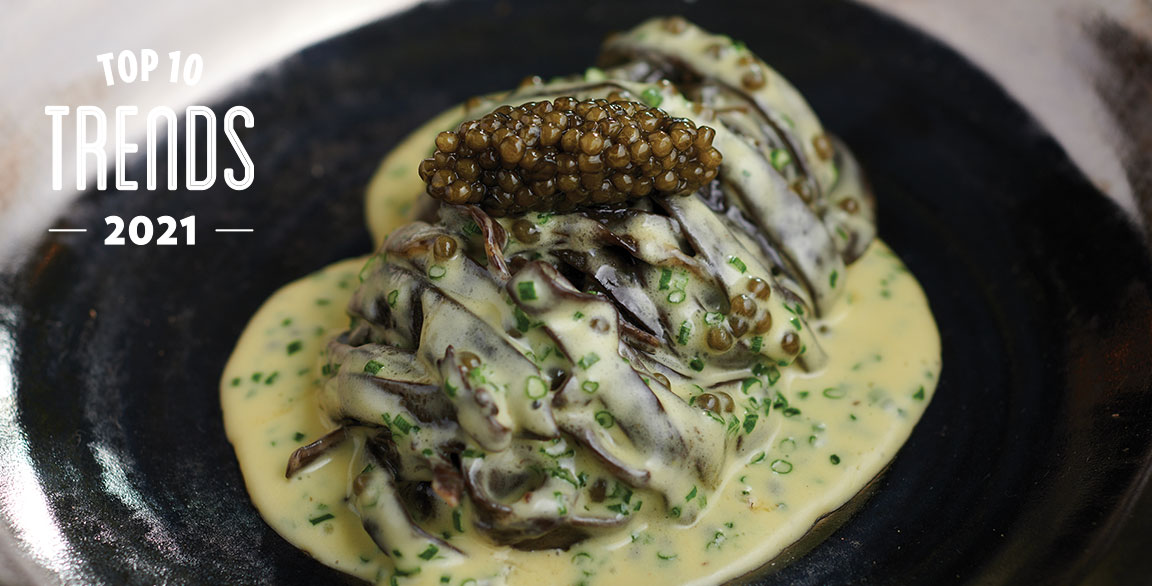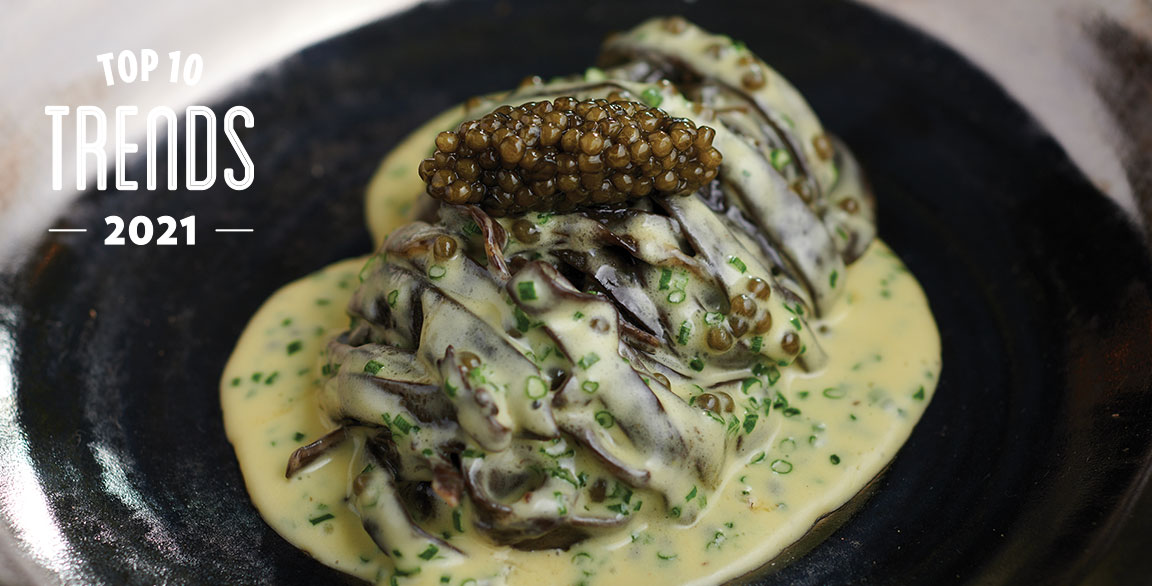 Drawn to the flavors, colors and textures of sea vegetables and sea greens, chefs are exploring the possibilities, leaning on their culinary expertise to discover creative ways to bring seaweed onto trend-forward menus. The time is right for this kind of flavor adventure, buoyed by a number of factors.
For starters, edible seaweed is certainly not new to most American consumers, thanks to sushi's longstanding popularity and the growing familiarity of umami-rich seasonings like furikake and togarashi, both of which feature dried nori. "We've seen consumers move from sushi to poke and now feel much more comfortable with seaweed in everyday eating," says Michael Parlapiano, strategy director with The Culinary Edge consultancy. "The healthy eating movement is also fueling this trend." Those positives give chefs the green light to proceed further into recipe development that highlights seaweed.
Menu developers are also moved by seaweed's sustainability story. It's an abundant, clean product that's rich with nutrients, pulled from the world's seashores, craggy coves and shallow waterways. Its eco-friendly storyline resonates with diners. "Renewable or regenerative agricultural practices are fueling this trend," says culinary consultant Chris Aquilino. "Seaweed was named as one of the top Future 50 Foods by the World Wildlife Fund-U.K., and for good reason—its nutrient-rich profile and abundance make it a true superfood. In addition, its unique and unmistakable flavor adds a dynamic that few ingredients can."
SUBTLETY WITH SEAWEED
Seaweed's flavor profile is pulling it into sharp culinary focus. Savory, briny and mineral work well as broad descriptors of the category, but there's a world of nuance depending on the specific varietal that a chef taps into. "The trick is to find preparations where seaweed can play a supporting and interesting role without necessarily being the star of the show. That way, customers may be more likely to give it a try as something new," says Chris Koetke, chef/founder of Complete Culinary consultancy. "As customers warm to the idea, chefs can get increasingly bold with their use of seaweed."
Claire Chan, owner of Bar Beau, a coffee shop by day and cocktail bar/restaurant by night in Brooklyn, N.Y., takes a measured approach with seaweed, using it as a high-impact accent. Her Breakfast Udon, on the coffee shop menu, features hijiki, a brown sea vegetable that grows wild on coastlines that surround Japan, China and Korea. The dish also has red miso butter, scallions, a fried egg and Grana Padano. "It stemmed from the idea of simple noodles with butter and cheese," she says. "Adding the salty umami of the miso and hijiki breaks through that richness and adds complexity to something that could be rather flat on the palate. The fried egg gives a brunchy pop, with the yolk drizzling down over the udon."
Rather than simply calling it "seaweed" in the menu description, Chan cites the varietal, hijiki. "That's a smart menu strategy," says Maeve Webster, president of Menu Matters foodservice consultancy. "Operators should think about the varietals and the descriptors, just like they do with tomatoes. Approaching seaweed from that angle helps consumers think of it as produce. Given how deep-rooted the plant-based trend is, we're eventually going to run out of new fruits and vegetables to get consumers excited about. Highlighting different types of seaweed—which are essentially green vegetables—will give diners something unexpected."
John B. Shields, executive chef of both Chicago neighborhood bar The Loyalist and its upscale, upstairs restaurant Smyth, gets two shipments a week of fresh seaweed. He extols the virtues of sea vegetables, using them throughout both menus. "They're living plants with changing colors and changing flavors, so using fresh seaweed means you're harnessing them at their best," he says.
Incorporating seaweed on the menu in surprising ways can also help delight diners: The Loyalist's dessert "Frosty," for example, features housemade kombu soft serve, paired with licorice caramel, brandy-soaked cherries and cookie pieces. "The roasted rishiri kombu introduces a very soft undertone. It's more about the intrigue factor here than a bold flavor impact, which you wouldn't want in an ice cream anyway," he says.
Shields experimented with a seaweed varietal called Turkish towel, which grows wild off the coast of California and is used to make carrageenan. He placed it in a pot intending to pickle it, then forgot all about it. Ninety minutes later, the consistency was like jelly. Shields was undeterred. "I blended it into a viscous cream, and it kept the seaweed flavor—like you were walking on the beach," he says. He strained it, ending up with a super-thick, flavor-packed liquid that he uses to glaze a variety of ingredients, like oysters and root vegetables.
TERROIR OF THE SEA
Many American consumers associate the flavors of seaweed with Asian-inspired dishes; that's their entry point and it's as far as it goes. But for chefs wanting to "travel" to other regions with their dishes, expressing a sense of place can mean looking beyond what grows on land and pulling the vegetables that grow in salty waters instead. "Seaweed lends an authenticity of place. It tells a local story," says Webster. "Particularly when paired with seafood from the same waters, seaweed helps give dimension and deepens the experience."
At Porto, a modern Mediterranean restaurant that is part of the Chicago-based Bonhomme Hospitality Group, Marcos Campos, executive chef, wanted to share the flavors of seafood from the Atlantic coast of Portugal and Galicia, Spain. "I knew I had to get Galician seaweed here so I could take everyone back there with me," says Campos. "When I smell the seaweed, it reminds me of Galicia. When I cook with it, I get to share the essence of what coastal food from that area truly tastes like."
Campos goes all-in on that experience with his Pasta do Mar, using a varietal called seaweed spaghetti that produces noodles resembling squid ink pasta. "We get them in fresh—they're thin strips that are about seven-feet long," he says. "We cut them into spaghetti and warm them in a seaweed pesto that uses sea beans instead of pine nuts to further deepen the flavor of the ocean."
He microplanes dried smoked scallops that have been brined in São Jorge cheese for Porto's take on "Parmesan of the sea." "This is one of our dishes that represents Galician seaweed in the best way possible and serves as a metaphor of sorts for Porto," says Campos.
The extensive coastline of Alaska provide hundreds of seaweed varietals, lending not just a visceral sense of place to native cuisine, but offering a roadmap of inspiration to chefs across the country. Kirsten and Mandy Dixon are the mother-and-daughter chef team who run Within the Wild Alaska Adventure Lodges, which include cooking classes for guests on using seaweed, among other things.
"We harvest so many different kinds of seaweed. Bull whip kelp, which has a large bulb at the bottom and a three-inch tube extending out—there are lots of applications for that," says Mandy Dixon. "There are seeds in the bulbs that are little umami bombs that pop like caviar."
She also uses the tube part of the bull whip, rinsing, slicing and then pickling it. "We call them kelp pickles. They're translucent green and really cool. We keep the brine classic and mild so our guests can really taste the seaweed," says Dixon. To create an accompaniment to cod fritters, she chops them up and adds the kelp pickle to a rémoulade, reinforcing a sense of place and deepening the flavors nicely.
"The seaweed that we use most often is sea lettuce. It's really versatile," she says. Her savory lentil doughnuts star black lentils with vegetable stock, sea lettuce, turmeric and paprika, nutritional yeast, fresh herbs and ginger. She pairs them with a rhubarb chutney. "The seaweed introduces a salty, savory flavor and adds a nice green speckle," says Dixon. To make an umami-rich chip, she rinses the sea lettuce and then dehydrates it. She also grinds the sea lettuce into a powder and adds it to flour. "It'll give it flavor and boost the nutrition," she says. "In Alaska, we call seaweed our 'ocean multivitamin.'"
With such a vast array of seaweed varietals and so many ways to leverage their unique characteristics, the opportunity for meaningful flavor narratives is truly exciting.