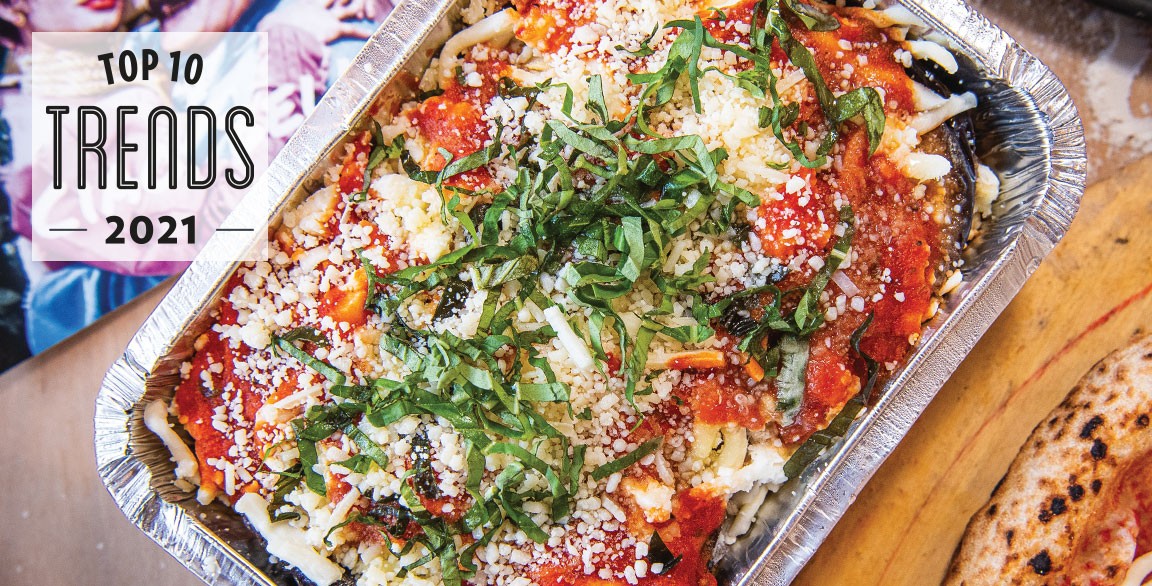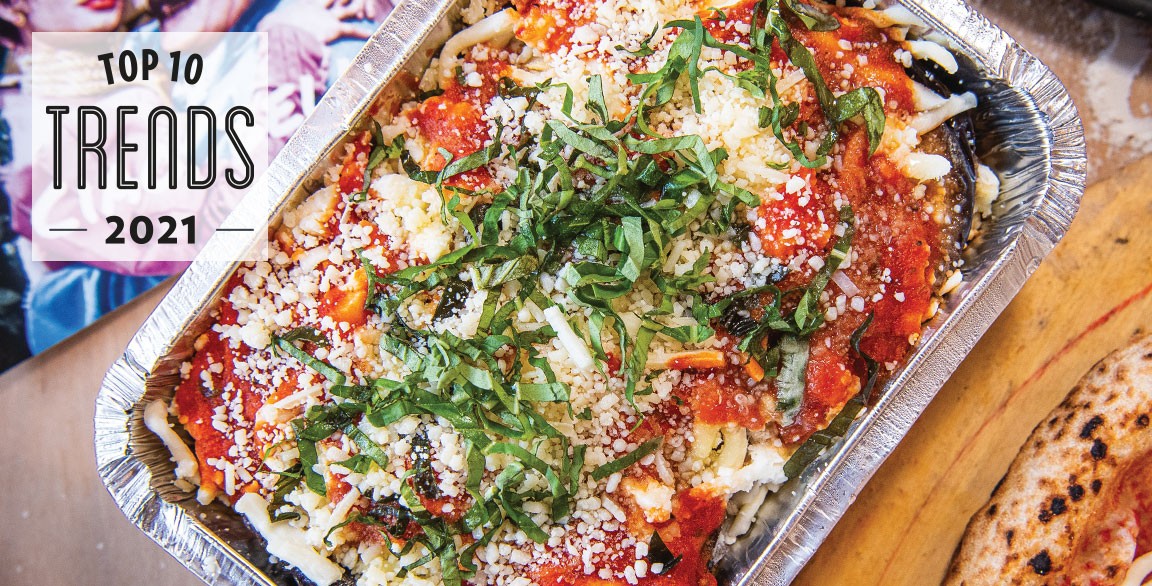 By Katie Ayoub
January 18, 2021
Restaurants across the country looked to take and bakes last year to help salvage revenue and ease back-of-house prep. Along the way, they discovered a viable new daypart with endless adaptability and a consumer base eager to embrace these comfort-centric, convenient, chef-driven bakes, both sweet and savory.
Flavor, as always, is at the heart of this opportunity. Chefs are modernizing the traditional format, spinning casseroles into creative, craveable dishes. "COVID-19 is certainly what fueled the take-and-bake trend. These options score very well with consumers; 40 percent will continue ordering them after COVID," says Mike Kostyo, trendologist with Datassential.
"Consumer mindsets have expanded when it comes to the types of offerings they'll order from restaurants, whether it's grocery items or take-and-bake meals. These resonate with consumers and offer operators a new revenue stream that will stick around for 2021 and beyond."
The competitive edge is honed through an inviting flavor build—but reinventing the wheel here isn't necessary. "Restaurant brands should showcase what they do well, but move it into this different format," says John Franke, chef/founder of Franke Culinary Consulting.
"They need to make sure it reflects their brand's DNA, then use bakes to go after sales that weren't there before. Consider a riff on comfort-food favorites for family-style savory bakes, like a chicken-and-dumplings bake, using pulled chicken thigh or breast with a crispy topping of crumbled biscuits," he says.
"If they want to move a premium entrée into a bake, they should think through how to convey value in that format. Maybe it's converting a braised rib entrée, using the end pieces of the short ribs, pulling them apart and adding the red wine jus, fingerlings, carrots and turnips over a layer of grits. That's beautiful, appetizing and will feel like a restaurant experience."
For take-home bakes to compete and win, they need to deliver flavors and textures that traditional homemade casseroles just can't muster.
Make the Bake Count
Bakes are serving up sound business-building opportunities, helping to grow revenue and tack on another daypart through the addition of end-of-meal transactions, where diners can buy a signature take-home dish on their way out of the restaurant. And, of course, bakes fit like a glove into the takeout model, whether in individual or family-sized portions.
Executed well, they give chefs a convenient platform to showcase their culinary skills, setting their offerings apart from competitors, which include supermarket chains and niche food markets alike.
"For a no-waste solution, operators should consider targeting menu items that are quick to assemble and forgiving in preparation," says Dina Paz, culinary director at Sterling-Rice Group culinary agency.
"Large-format items and casseroles that scale provide a huge creative runway. Many concepts are adapting their menus to fit the demand for comfort food through sheer ingenuity. A cacio e pepe risotto takeaway, a Spanish chorizo-and-chicken paella bake, an heirloom tomato-and-prosciutto galette and a miso-caramel bread pudding are great examples of keeping bakes classy and homey."
The 40 North Restaurant Group, based in Morristown, N.J., launched to-go meal packages last spring at its various full-serve concepts, all featuring bakes.
Kevin Felice, director of operations for F&B, says that they continue to sell well and are now a regular part of the business. "I don't think it will ever phase out. We've been doing it for so long now, and consumers have gotten used to having it as an option," he says. "Plus, even with 100 percent capacity, I need the revenue from takeout to make up the deficit from 2020."
Knowing the stakes are high, Felice ensures that a distinct flavor story comes through with each bake. At The Office Tavern & Grill, a gastropub with four locations in New Jersey, the Baked Harvest Mac & Cheese features pipette pasta, roasted mushrooms, butternut squash, fontina and cheddar.
"We didn't want something too Italian; we wanted a really comforting winter mac and cheese that was easy to execute," says Felice. "This pasta bake holds up well, is easy to put together and provides great value to our guests. It's also vegetarian, which is important when building a meal package. You want something for everyone in there."
The pasta bake is paired with fried chicken, roasted corn flatbread and cranberry-apple salad. "We take what we're known for and put it into a delivery-friendly format, and we try to give customers the restaurant experience," he says.
Connecting the Dots
The human psyche is a complicated thing, so unraveling the reasons why a lot of consumers find the simple act of heating or reheating a restaurant bake incredibly gratifying may be challenging. But it does act as another important driver.
"What we're learning is that a lot of people don't know how to cook," says Felice. "These bakes give them the ability to put something delicious in the oven, feel a connection to it, but not get overwhelmed by it." And they can "cook" them whenever they want; convenience is also a big factor here.
"Some of the most popular bakes out there, like lasagnas and gratins, aren't always the easiest to make. A good strategy is helping consumers find their favorites—and even more offerings that are equally craveable and inviting—that are taken up to the restaurant level, so all they have to do is finish them off," says Pam Smith, RDN, nutritionist and culinary consultant.
And here comes another chance to tap into the human psyche: "Add separate elements with your bake that get your guests involved in the process at home, connecting them to the experience," she says. "If I was menuing meatloaf as a take-home bake, I would serve it as an individual loaf, then let customers curate their own experience."
She suggests including a topping packet of panko, gremolata and Parmesan dust. "Now they're participating in creating the dish. That makes them feel good and deepens their connection with the restaurant," says Smith.
With takeout and delivery commanding such a significant amount of business today, finding meaningful ways to continue to forge connections and relay hospitality are huge priorities for restaurant brands.
Antonio Matarazzo, co-owner/operator of Stellina Pizzeria in Washington, D.C., knew he needed fresh, creative takeout items that could carry them through more months of lockdowns and capacity limits. His team created Stellina Bottega, an Italian marketplace with select provisions and meal kits.
Frozen ready-to-bakes include an Eggplant "Lasagna" with layers of crisp-fried eggplant, tomato sauce, mozzarella and Parmesan; and the Crespelle, an Italian crêpe filled with shrimp and mushrooms, topped with prosciutto and béchamel sauce.
"These bakes are helping us get through the winter. They're doing great. Our guests will buy a pizza for that night, then buy frozen bakes and frozen pizzas for the next week," says Matarazzo.
Comfort First
Comfort is baked into bakes. It's why the green bean casserole remains such a beloved Thanksgiving dish. "People are looking for food that is both warming and heartwarming. A baked pile of gooey something is all of that," says Jason Alley, founding partner of Alley/Jones Hospitality.
His Scalloped Brussels Sprouts wrap up comfort while delivering a contemporary take on a classic dish. He combines blanched Brussels sprouts leaves with béchamel, onion and Virginia country ham, then adds Parmesan, Romano, cornstarch and breadcrumbs.
"It ticks a few lifestyle boxes for today's diner, too. It's both low-carb and gluten-free," he says.
Alley deftly moves a paella into a comfort-centric bake, combining sausage meats, saffron and smoked paprika with bomba rice and an extra amount of stock, topping it all with manchego cheese. "Instead of getting that crispy fond at the bottom, you're getting it as a crust on the bake—crunchy, stretchy and super delicious," he says.
Let's Do Brunch
The quickest pathway to victory in bake development is through breakfast foods. Breakfast and brunch heroes do very well here, from egg-centric, frittata-type bakes to starchy classics like French toast and waffles.
Denver-based Snooze, an A.M. Eatery, features a rotating menu of breakfast-focused take-and-bake options, like its Harvest Egg Casserole served with belly bacon; the customer cooks off both items at home.
Snooze offers sweet brunch bakes, too, like the Pumpkin Brioche French Toast, packed with caramel and vanilla cream sauces that the customer heats and drizzles over the bake once pulled from the oven, then tops with candied pecans and powdered sugar.
"It's all about the details here, giving home diners a restaurant brunch experience," says John Franke. "Offer a French toast bake and include fun toppings, along with housemade toffee sauce or spiced maple syrup. Or go with a pancake board—line a hotel pan with a series of blueberry, chocolate, plain, cinnamon and red velvet varieties. Load up accompanying toppings and syrups, and make it into a family-style kit with mimosas and Bloody Marys. There are so many wonderful possibilities."