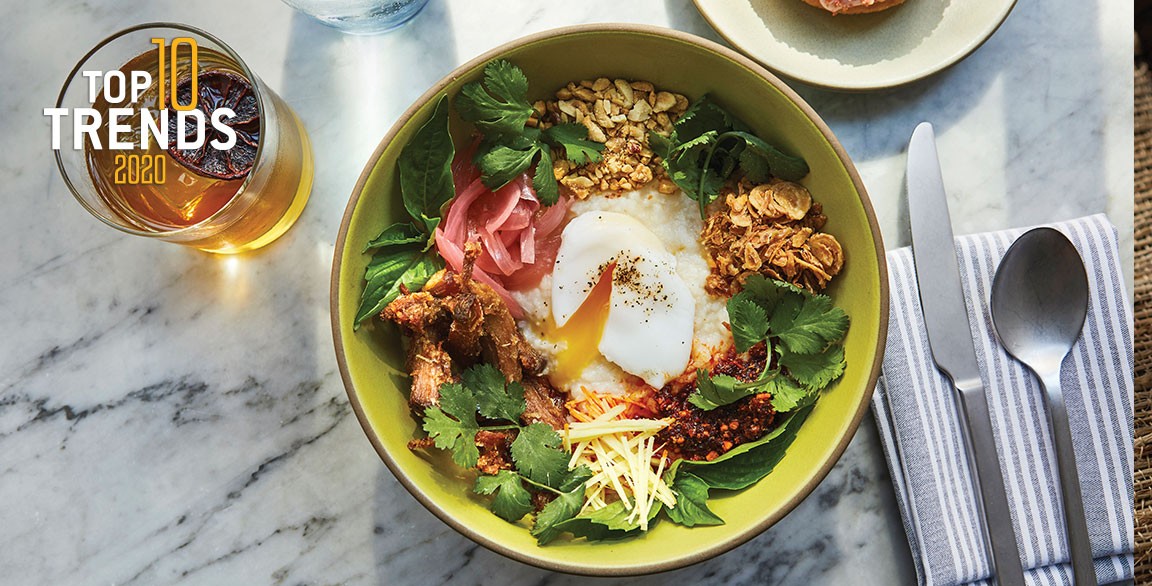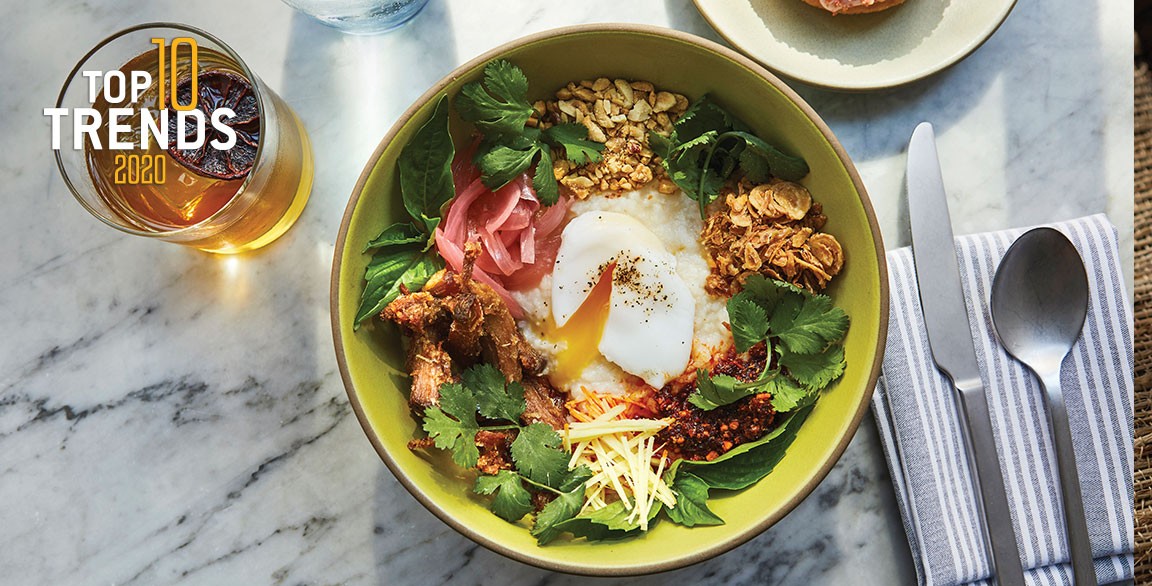 Brunch holds its position as the daypart darling, winning over diners with creative food and beverage anchored in craveable comfort. As it has become established as a culinary playground, today's opportunity sees new and emerging global flavors coming into play.
Shakshuka offers a great case study in how quickly an unknown global breakfast dish was discovered, adopted, then adapted, and now offered as standard brunch fare. That adaptation might see a more recognizable menu name here—baked Moroccan eggs, for example—but the flavor profile was embraced wholeheartedly, signaling an enthusiasm for more global discovery in this daypart.
Two distinct pools of innovation reflect serious opportunity for brunch menu development.
First, emerging cuisines that have not previously been well represented in brunch are now changing things up, moving in by way of creative mash-ups.
For example, Bricolage, a Vietnamese gastropub in Brooklyn, N.Y., eases guests into the Southeast Asian experience with brunch items like Croissant French Toast with Vietnamese coffee whipped cream, condensed milk crème anglaise and blueberries. The Breakfast Bánh Xèo Crêpe stars a less familiar format of a savory fried pancake, but deftly moves it into brunch with a filling of bacon, fried eggs, onion and bean sprouts.
"The ability to take common components and move them one to two steps out is a go-to strategy for innovation," says Gabriel Caliendo, VP of R&D for Lazy Dog Restaurants. "With global brunch, those steps can be bigger, especially when you play with comfortable favorites like French toast, mimosas, Benedicts, pancakes and Bloody Marys."
A second source of innovation in global brunch flows from newly launched brunch menus at global dining concepts. These restaurants are cleverly using the brunch daypart to help introduce consumers to flavors and dishes that are more exotic and adventurous.
Andrew Zimmerman, executive chef at Chicago's globally-inspired Proxi, just launched a bold, flavor-forward brunch menu that dips into countries like Mexico, Korea, Vietnam and India. Dishes such as its Braised Chickpea Curry with house yogurt, curry leaf oil, poached eggs and puri, a deep-fried Indian bread, serve as a memorable introduction to intriguing flavors in the comforting profile of a brunch item.
The Honey Paw, a globally focused spot in Portland, Maine, recently added brunch. By doing so, diners get a feel for its eclectic menu within a reassuring brunch structure, promising a few recognizable ingredients. For those that only want to dip their toe: the Breakfast Sandwich with bacon, fried egg, American cheese and pickled Fresno chiles on a togarashi biscuit is a safe bet. More adventurous fare, like the Curry Puffs with mushroom rendang filling and pickled mango, keeps things lively.
BRUNCH'S NEW FLAVORS
There's an imperative today in making brunch an exciting, flavor-rich wonderland. "As with a lot of modern menu development, younger consumers are driving demand for exciting, global flavors," says Kara Nielsen, principal of Kara Nielsen Food Trends. "They tend to be more open-minded. They've helped build today's weekend brunch culture where bold, unexpected flavors are part of the experience."
A number of forward-thinking, globally-themed restaurants are running with that, using brunch as a pathway to introduce flavors to consumers.
Porridge + Puffs, a savory bowls concept in Los Angeles, just added a weekend brunch to its lineup. Its Szechuan Shakshuka Porridge with soft eggs, roasted peppers, tomatoes, Asian pear and fennel pickles, with a topping option of sake-braised beef brisket, doesn't hold back on flavor.
"What I'm most excited about is congee. It's in its nascency, but it's rich in flavor, comforting and fortifying," says Michael Parlapiano, strategy director with The Culinary Edge. "As diners grow more comfortable with Asian flavors, this savory porridge will make a bigger impression on menus here. Just as we've seen with Mexican chilaquiles, consumers embrace intense, spicy, comforting breakfast dishes."
Proxi's Zimmerman menus congee on his brunch menu, featuring a jasmine rice porridge, peanuts, pickled onion, chile, cilantro and a soft-cooked egg. "Savory porridge may sound unusual to some guests, but when you think about congee's key elements, it essentially has the same components as shrimp and grits, a dish that many find comforting," Zimmerman says.
His version can be customized, with additions like crispy confit pork shoulder. "I've found that at brunch, guests like to make the meal their own, and our congee gives them that ability," he adds. "And really, anything with an egg on it is a perfect brunch item."
4 Easy Global Brunch Builds
By Kathy Casey
1. Eggs with kimchi fried rice and coriander-pineapple chutney
2. Za'atar spiced waffles with fried chicken and spicy mango syrup
3. Avocado toast with sumac flatbread, pickled shallots and pomegranate seeds
4. Soft-boiled eggs with crispy pork belly, street corn salsa, red chile drizzle and salted chicharrones
Spanish brunch
Spanish-themed restaurants are also adding brunch, helping expand that tapas style of dining into this weekend daypart. There's broad opportunity for adoption here, as Spanish fare is somewhat familiar, and the built-in shareability is a natural for brunch's social vibe.
Barcelona Wine Bar, a Spanish restaurant concept based in Westport, Conn., recently opened for Sunday brunch, with brunch tapas like Two-Egg Bocadillo and Guanciale a la Plancha.
At Beatnik in Chicago, the Spanish Breakfast of Champions, with jamón Ibérico, Publican Quality breads, seasoned tomato, extra-virgin olive oil and sea salt, demonstrates how easily this type of cuisine glides into the American pantheon of brunch fare.
Gado Gado, an Indonesian-Chinese hotspot in Portland, Ore., unveiled its bold brunch menu, showcasing a creative approach to comfort and flavor that makes for memorable brunch dishes. Items like its Uni Egg Toast, featuring soft-scrambled eggs, uni and coconut-herb butter on grilled toast, answer the demand for surprising, adventurous flavor experiences. Its version of a breakfast sandwich offers something a bit more familiar: Housemade roti is folded into a roti telur, a Malaysian stuffed flatbread with eggs, cheese and spinach.
"A key component when moving breakfast or brunch menus beyond the familiar is comfort food," says Nielsen. "No matter how bold or exotic the flavors are, comfort is a universal language."
EXPLORING GLOBAL MASH-UPS
Emerging flavors from global hotspots are adding new news to brunch menus. By hitching those flavors to the mash-up, menu developers balance adventure with familiarity. "Those global components can come in as a seasoning, a prep for protein, or a component in a bowl, hash or sandwich, for example," says Shane Schaibly, VP of culinary strategy and corporate chef for First Watch.
"Your guests might see one of those exotic ingredients, like kimchi, on the grocery shelf, so they recognize it, but they don't know who to trust to try it," he says. "Rather than getting the jar from the shelf, they'll get it from a restaurant they trust in a format they know, like a rice bowl."
Creative takes on that mash-up approach demonstrate its evolution. The Kimchi Spam-Fried Rice at The Peached Tortilla, a Southern-Asian fusion restaurant in Austin, Texas, uses a base of rice, scrambled egg and mushroom to help anchor the adventure in recognizable comfort food.
Comfort-heavy starches like waffles, pancakes and French toast are a hit at brunch, where indulgence is encouraged. They offer global mash-ups an easy way in, with inventive, bold flavor combinations showcasing newfound opportunity.
The Churros French Toast at Commons Club in Chicago simply turns to Spain's favorite sweet dough as a carrier here, making it new, but keeping it familiar.
Punjab Grill, a modern Indian restaurant in Washington, D.C., uses the beloved fried chicken and waffles format, giving it an infusion of bold Indian flavors in its Fried Chicken & Dosa Waffle with mint chutney, tamarind and ginger-masala maple syrup.
Will Harris, executive chef at Linger, an eclectic restaurant in Denver, infuses fun and nostalgia into his global mash-up, CinnaBao Buns. A riff on Cinnabon, he uses the sesame dough featured in Linger's bao buns and rolls it around a filling of red bean paste, five-spice, cinnamon and butter. Once out of the oven, a cream cheese frosting is slathered atop, and they're served with cinnamon-roasted Fuji apples and an anglaise sauce spiked with five-spice powder. The buns are topped with Linger's "super-seed crunch."
"The dough for the swirl is our own bao recipe made with lots of tahini for a deep, rich umami flavor," he says. "The CinnaBao is an honest representation of what we do at Linger. We elevate dishes with new flavors and techniques from around the world."
First Watch's Schaibly has explored a number of global regions—with success. But overwhelmingly, his guests respond with the most enthusiasm whenever the menu features flavors from a specific region. "What resonates with our diners the most is Latin-influenced foods," he says.
That's prompting more R&D in that part of the world, pushing further into its rich food culture for inspiration. Puerto Rico certainly offers fertile ground, even naming brunch the catchy "bruncheo."
La Placita in Miami mashes Puerto Rican flavors with brunch classics for standout items like Mofongo Benedicts with lechon and pique hollandaise. Chef Jose Mendin uses the Benedict format to showcase flavor-forward ingredients: mofongo is made with fried plantains; lechon is a flavor-rich pork dish and pique is a bright Puerto Rican hot sauce. He also serves Mallorca French Toast Sticks, showcasing pan de Mallorca, a soft, rich, sweet bread that's ready for more menu adaptation.
"As a platform for serious global flavor exploration, brunch offers an ideal combination of many familiar comfort formats, plus a connectivity and conviviality of experience that has become even more precious to diners, especially younger ones," says Matt Harding, senior VP of menu innovation at Piada Italian Street Food. Winning in this daypart can be challenging, given the number of players. Celebrating new global flavors through the brunch experience offers a sharp competitive edge.