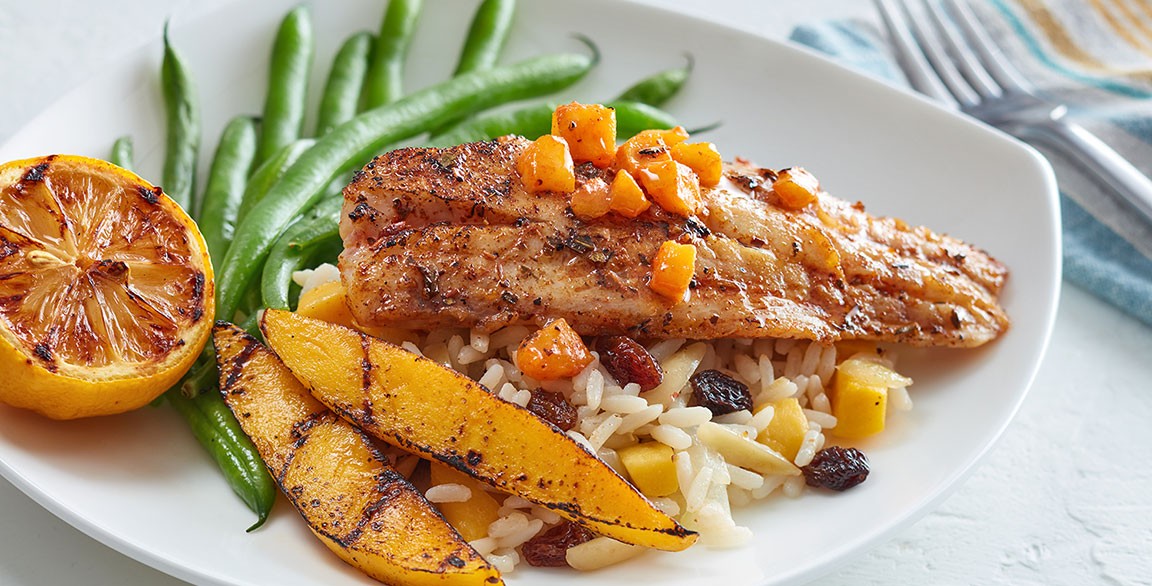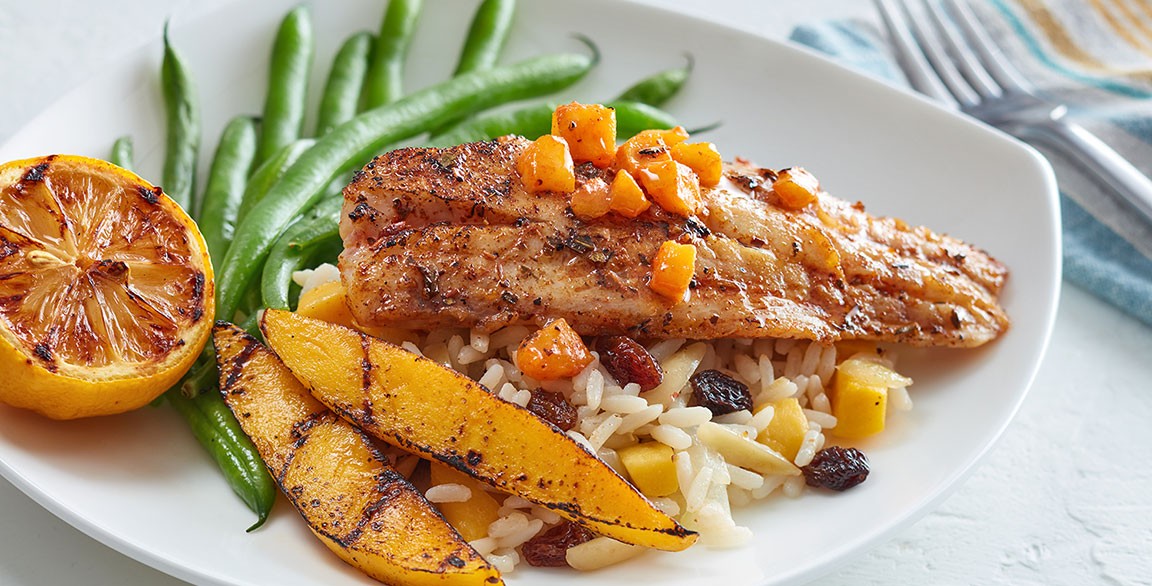 Grilled Red Snapper fillet with Mango Sriracha Butter and Mango Rice Madras
Recipe courtesy of Pascal Beaute, MCF, Director of Culinary, Delaware North
Sponsor: National Mango Board
Yield: 24 entrée servings
24 7-oz red snapper fillets
Blackened Fish Marinade (recipe follows)
Mango Sriracha Butter (recipe follows)
Mango Rice Madras (recipe follows)
Per serving: Place fish fillet in Blackened Fish Marinade for about 1 minute, then grill on both sides (skin side last), just until cooked through.
Serve grilled red snapper fillet on top of ¾ cup of Mango Rice Madras. Place 2 thin slices of Mango Sriracha Butter on top of red snapper
Chef's Note: Add seasonal vegetables and garnish plate with grilled mango and grilled lemon.
Mango Sriracha Butter
8 oz butter
8 oz ripe mango, chopped (about 1-¼ cups)
¼ cup Sriracha sauce
Cayenne pepper, pinch
Salt and pepper, to taste
Soften the butter, add into a stand mixer with the mango, Sriracha sauce, cayenne, salt and pepper until you have a smooth consistency, with pieces of mango still intact. Roll the mixture into a log using plastic wrap or wax paper. Refrigerate until ready to use.
Blackened Fish Marinade
7 oz olive oil
Paprika, pinch
Cajun blackened seasoning
1 Tbsp lemon juice
1 Tbsp mango puree
Combine all ingredients, and set aside until ready to cook.
Mango Rice Madras
8 oz butter
1-1/2 cups diced onion
2 lbs long grain rice
2-1/2 qt fish stock or chicken stock
6 oz raisins (about 1 cup)
4 oz crushed or sliced roasted almonds (about 1 cup)
8 oz diced mango (3/8-inch dice, about 1-¼ cups)
Heat the butter in a pot large enough to accommodate the cooked rice. Over medium heat, sauté the onion until soft. Add the rice and stir to coat. Pour in the fish stock, then the raisins and almonds. Bring to a boil, cover tightly and lower heat to simmer. Simmer for 20 minutes, or until the liquid is absorbed. Allow the rice to rest, covered, 5-10 minutes. Stir in diced mango and fluff with a fork.
Project Management: Summit F&B
Photography: Carlos Garcia // Food Styling: Peg Blackley & Bree Williams