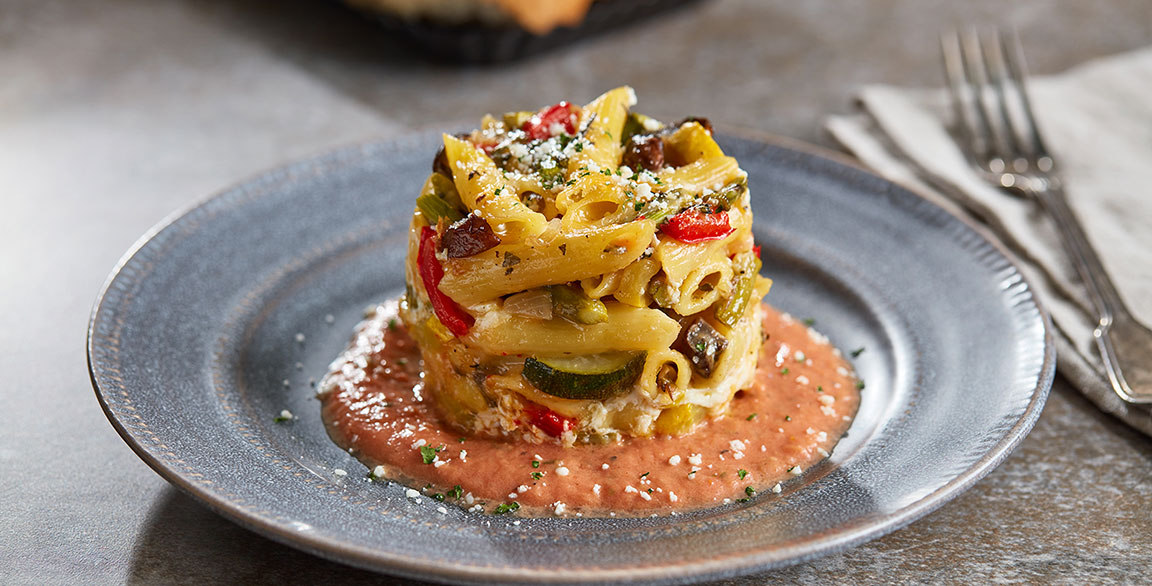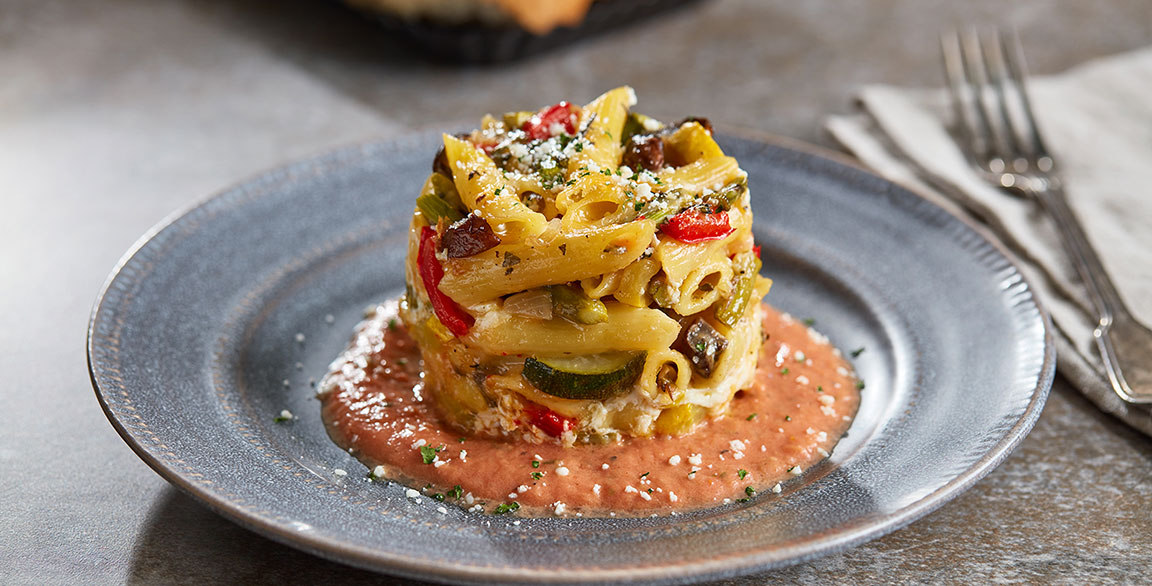 Upcycled Vegetarian "Meatloaf" with Barilla Penne and Sauce Aurora
Recipe courtesy of Pascal Beaute, MCF, Director of Culinary, Delaware North
Sponsor: Barilla
Servings: 24
Ingredients:
3 pounds Barilla Penne
12 ounces onions, diced
6 ounces olive oil
1 ½ ounces butter
3 ¾ pounds vegetable pieces and trimmings (see Note)
15 cloves garlic, chopped
6 ounces chopped fresh herbs (parsley, basil, oregano)
36 ounces fresh mozzarella pearls
1 ½ pounds cheese pieces and end cuts, shredded (see Note)
6 ounces grated Parmesan cheese
24 ounces Barilla Marinara
12 ounces heavy whipping cream
Directions:
Bring a large pot of water to a boil and salt it. Cook the pasta according to the package directions. Drain.
In a large rondeau, sweat the onions in the oil and butter until softened.
Add the vegetable pieces and cook for 3 to 4 minutes.
Remove the pan and fold in the pasta, cheese pieces, mozzarella, garlic, and herbs. Pack the mixture into six (9 x 5-inch) greased loaf pans. Sprinkle the tops with the Parmesan.
Bake in a 350°F oven for 45 minutes, then let each loaf cool for 30 minutes.
Unmold and cut each loaf into 8 slices.
To serve, warm the marinara sauce and stir in the cream. Reheat two slices of pasta loaf and serve with warm sauce.
Chef's Notes:
For the vegetable pieces, you can use mushroom stems, zucchini ends, squash, pepper, and asparagus trim, etc.
For the cheese pieces, you can use trim and end cuts of brie, Boursin, cream cheese, cheddar, etc., but don't use blue cheese.
Project Management: Summit F&B
Photography: Carlos Garcia // Food Styling: Peg Blackley & Bree Williams