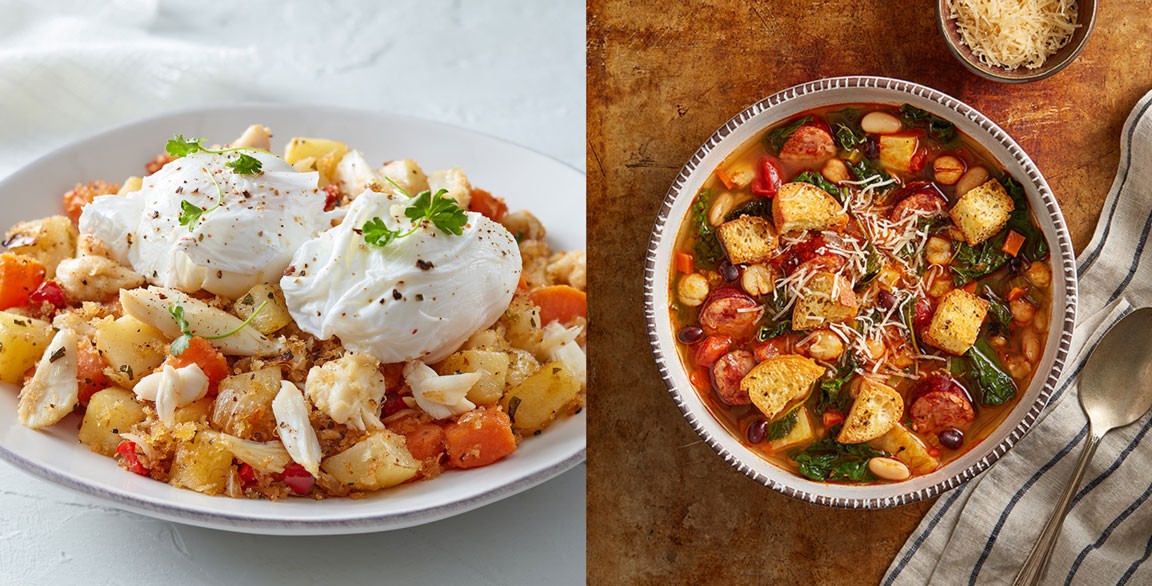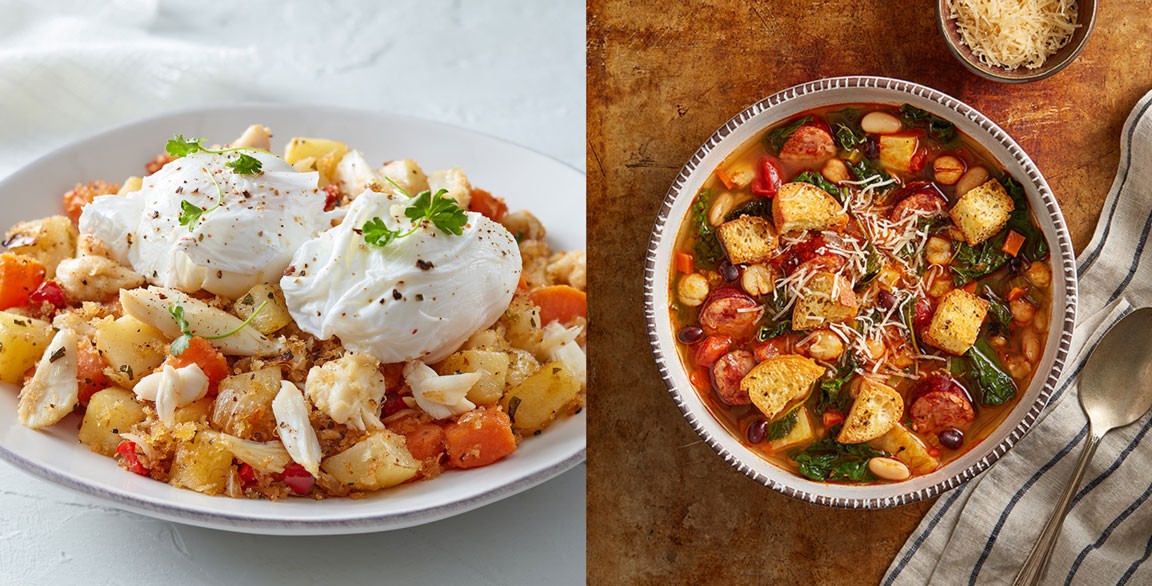 By Flavor & The Menu
June 29, 2020
Kitchen Collaborative is a recipe-development initiative formed by Summit F&B and Flavor & The Menu. To fuel flavor innovation, a group of talented chefs partnered with sponsor brands and commodity boards to create recipes that showcase the passion and potential of our industry.
CHEF SPOTLIGHT: MATT HARDING
Comfort food doesn't have to remain classic. In fact, right about now, consumers are probably looking to chefs for a little excitement and a lot of expert flavor development. Matt Harding, SVP of Culinary and Menu Innovation at The Piada Group, based in Columbus, Ohio, demonstrates that fine balance in both of his recipes. His Idaho® Potato and Crab Hash with Poached Eggs takes a traditional, beloved brunch format and introduces an unexpected, but pleasing combination of ingredients. For his version of the soul-soothing Portuguese soup, caldo verde, Harding draws on memory and signaturizes his rendition with modern updates.
Idaho® Potato and Crab Hash with Poached Eggs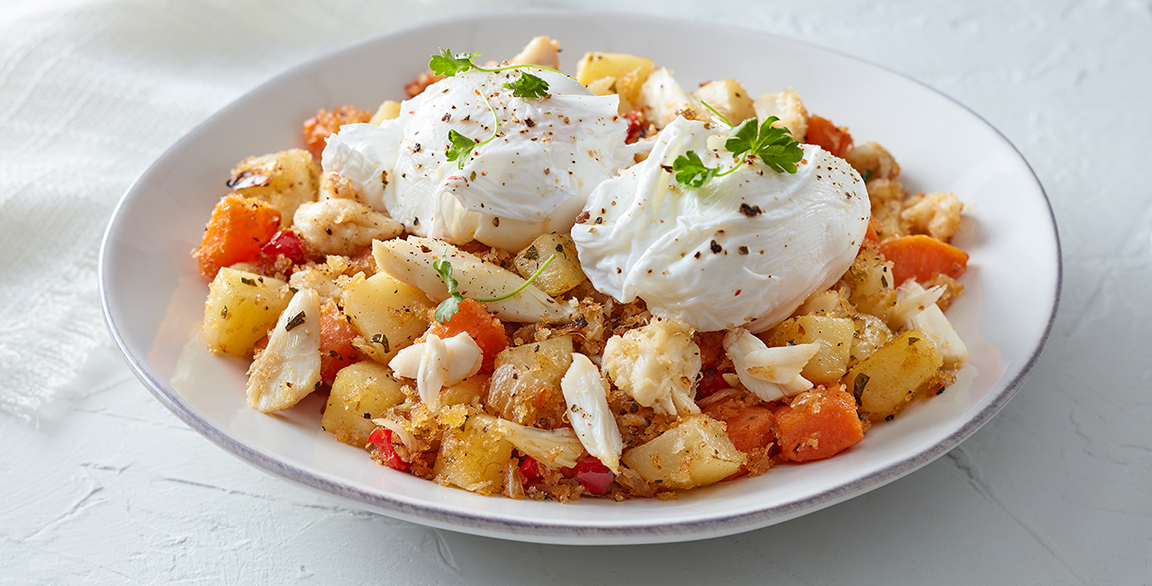 Photography: Carlos Garcia // Food Styling: Peg Blackley & Bree Williams
There are a number of reasons that hash stands out as a good place for innovation. Hash provides a practical solution for the times, working well in the curbside/delivery model. "It keeps its core temperature well, and it doesn't really rely on being super crispy so hash can reheat well, too," says Harding. "Plus, it contains comfort in abundance." His version builds off of a combination of boiled and diced Idaho® russets and yellow potatoes, as well as sweet potato. "They each add their own flavor and texture," he says. His add-ins offer a sweet-savory-rich flavor with a satisfying textural counterpoint. He tosses the potatoes with red pepper, yellow onion, herb-infused compound butter, honey and panko breadcrumbs. An unexpected player here is sweet jumbo lump crab, which he folds in after mixing the other ingredients. "Crab has a special appeal among brunch-goers and isn't often seen outside of a crab cake," he says. To order, Harding sautés the hash, then crowns it with soft-poached eggs.
Portuguese Chorizo, Kale, and Bean Soup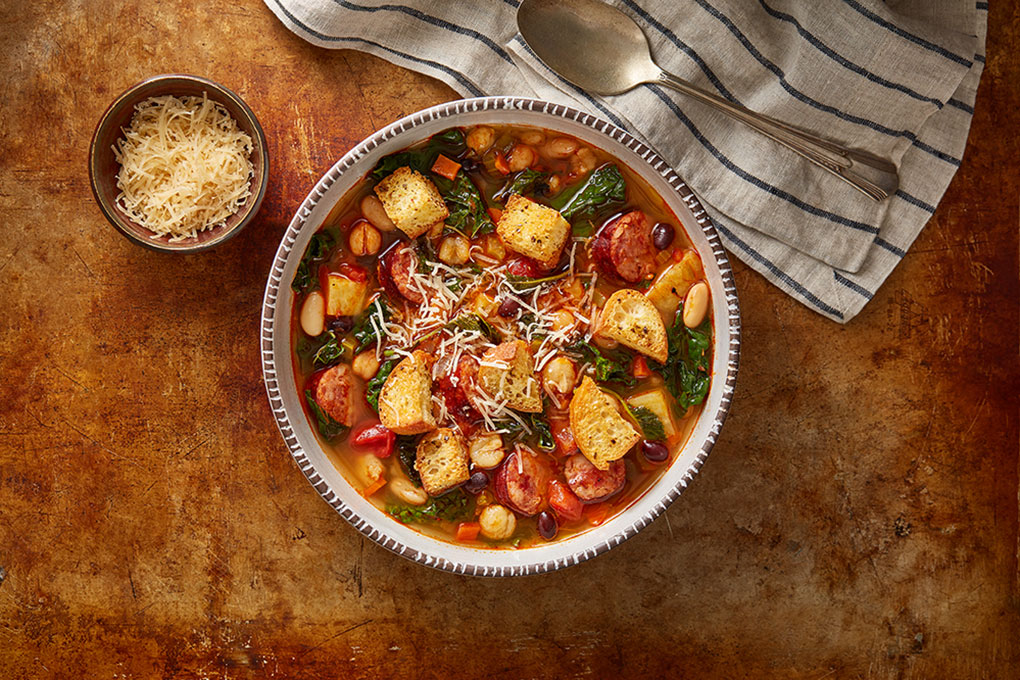 Photography: Carlos Garcia // Food Styling: Peg Blackley & Bree Williams
Harding's Portuguese Chorizo, Kale and Bean Soup reflects the comfort of his childhood memories while offering a few well-placed updates. "I grew up in southeastern Massachusetts where we had a lot of immigration from the Azores and Portugal," he says. "Portuguese soup was one that most restaurants served, and one that we often shared between family and friends. It was a point of pride on which family made the best version." Today, Harding's rendition features the plant-centric goodness of Japanese yams, black beans, chickpeas, cannellini beans and hominy. It subs out the traditional pork chorizo with smoked chicken chorizo. Nourishing, hearty and flavorful, Harding thinks dining consumers would embrace this recipe. "While people may not be familiar with this soup, it provides comfort with the smoky flavors, and the kale and beans are satiating because of their fiber," says Harding. He finishes the soup with pecorino and a drizzle of olive oil.
Project Management: Summit F&B
Photography: Carlos Garcia // Food Styling: Peg Blackley & Bree Williams