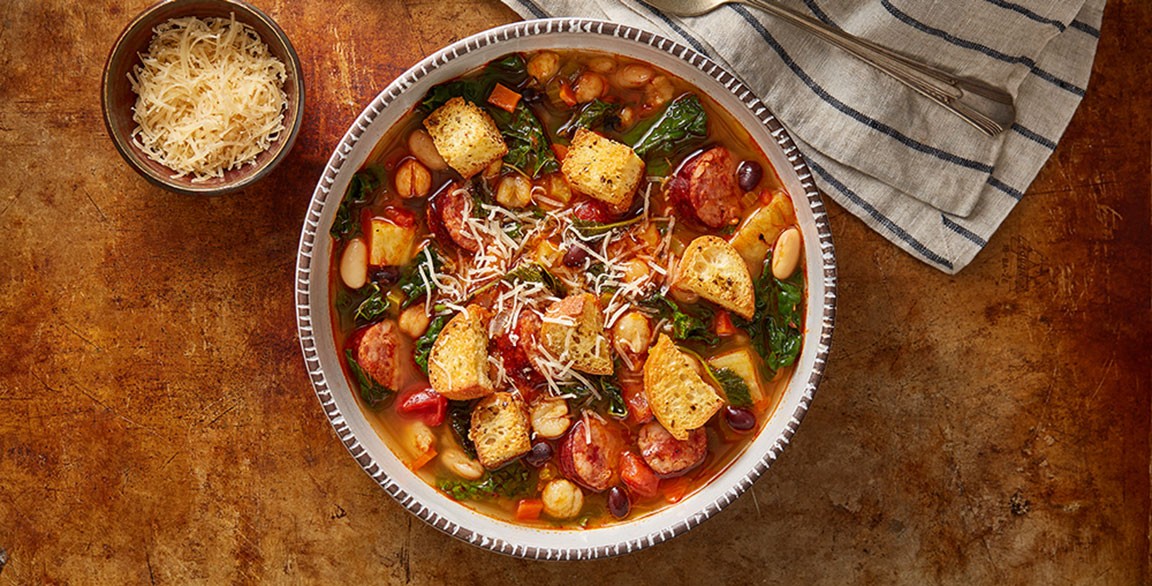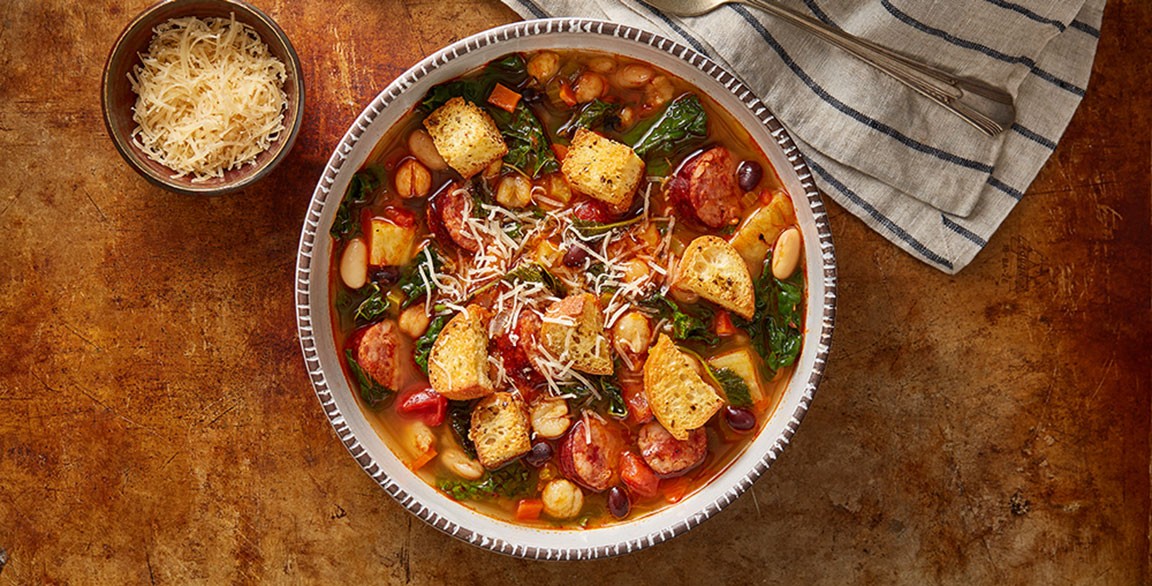 Portuguese Chorizo, Kale, and Bean Soup
Recipe courtesy of Chef Matt Harding, Piada Italian Street Food
Sponsor: Bush's Best
Servings: 24
Ingredients:
Rice & Beans:
4 ounces extra-virgin olive oil
12 ounces yellow onion, cut in small dice
8 ounces carrot, cut in small dice
8 ounces celery, cut in small dice
4 ounces green bell pepper, cut in small dice
2 tablespoons minced garlic
2 teaspoons chile flakes
1 tablespoon Spanish paprika
3 bay leaves
6 sprigs fresh oregano
1 pound smoked chicken chorizo, cut into ½-inch pieces
18 ounces fire-roasted tomatoes
1 pound Bush's chickpeas, drained
8 ounces Bush's hominy, drained
1 pound Bush's cannellini beans, drained
1 pound Bush's black beans, drained
2 gallons chicken stock
20 ounces stemmed, washed, kale, cut into 1 ½-inch pieces
1 pound Japanese yams, cut into ¾ -nch cubes
Toasted croutons, for garnish
Grated pecorino cheese, for garnish
Extra-virgin olive oil, for garnish
Directions:
Sweat the onions, carrots, celery, and bell peppers in the olive oil over medium heat until soft, 8 to 10 minutes.
Add the garlic and toast until light brown. Add in the chile flakes and paprika, let them perfume 30 seconds, then add the bay leaves, oregano, chorizo, and tomatoes.
Add in all the beans and stock and bring to a simmer; cook 10 minutes.
Add in the kale and yams, cook 30 minutes more over low heat, then check for seasonings. Either refrigerate or serve.
When serving, garnish with crusty toasted croutons, grated pecorino, and extra virgin finishing oil.
Project Management: Summit F&B
Photography: Carlos Garcia // Food Styling: Peg Blackley & Bree Williams